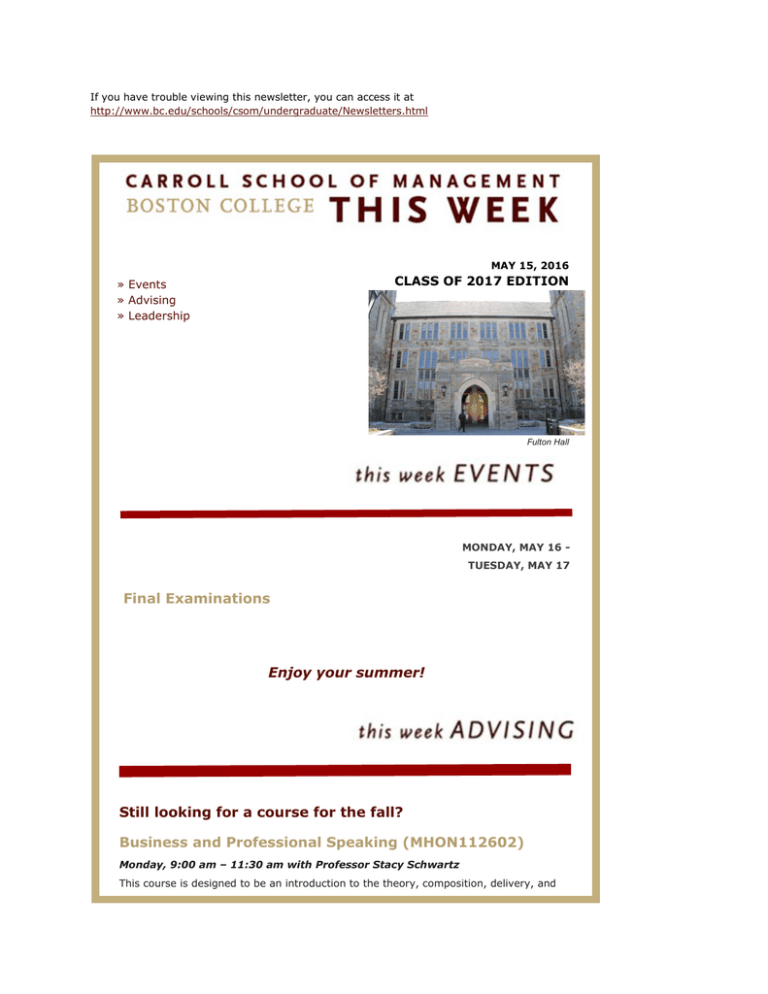 If you have trouble viewing this newsletter, you can access it at
http://www.bc.edu/schools/csom/undergraduate/Newsletters.html
MAY 15, 2016
CLASS OF 2017 EDITION
» Events
» Advising
» Leadership
Fulton Hall
MONDAY, MAY 16 TUESDAY, MAY 17
Final Examinations
Enjoy your summer!
Still looking for a course for the fall?
Business and Professional Speaking (MHON112602)
Monday, 9:00 am – 11:30 am with Professor Stacy Schwartz
This course is designed to be an introduction to the theory, composition, delivery, and
criticism of speeches. Individual as well as group speaking assignments will be used to
help the student become more comfortable and confident in speaking situations. The
following areas will be developed: the uses of evidence, the development of clear
organizational structure, and the development of a dynamic presentation style. The
student will also examine speaking from the audience perspective, and learning ways to
analyze and evaluate the oral presentations of others.
Attend Business Today Conference!
Business Today's 42nd Annual International Conference. Each year, we hold an allexpenses paid, 3-day business conference for undergraduate students at the Grand
Hyatt in New York City. This year the conference will take place on November 20-22,
2016.
Focusing the impact of the Millennial Generation on the business world, this year's
conference promises to be better than ever! Participants at past conferences had the
chance to meet outstanding executives (including Muhtar Kent, CEO of Coca Cola;
Stephen Schwarzman, Chairman and CEO of Blackstone; Mark Thomson, President
and CEO of The New York Times), participate in a case study competition that has
previously been organized by Ernst & Young and Deloitte, and visit the headquarters
of some of the largest companies in America. Business Today, a nonprofit founded by
Steve Forbes in 1968, will cover ALL expenses (including international travel and
lodging).
Visit our website for more details.
Still looking for work experience this summer?
Founded by two BC students, www.theatriumnews.com is a student run, businessfocused new site. Its goal is to educate the minds of amateur investors, businessmen,
and entrepreneurs on topics encompassing global business and the world economy.
Any student interested in the opportunity to be able to work from home on their own
schedules and add valuable experience to their resume should email
chris.jewett@theatriumnews.com. Writing, editing, marketing, and potential
leadership opportunities are available.
Want to stay on top of the latest events within the
Carroll School?
Facebook: Like us! "This Week in the Carroll School."
Twitter: Follow us! @Fulton315
IF YOU HAVE NEWS OR UPCOMING EVENTS PLEASE
CONTACT CSOMWEEK@BC.EDU BY FRIDAY AT NOON.