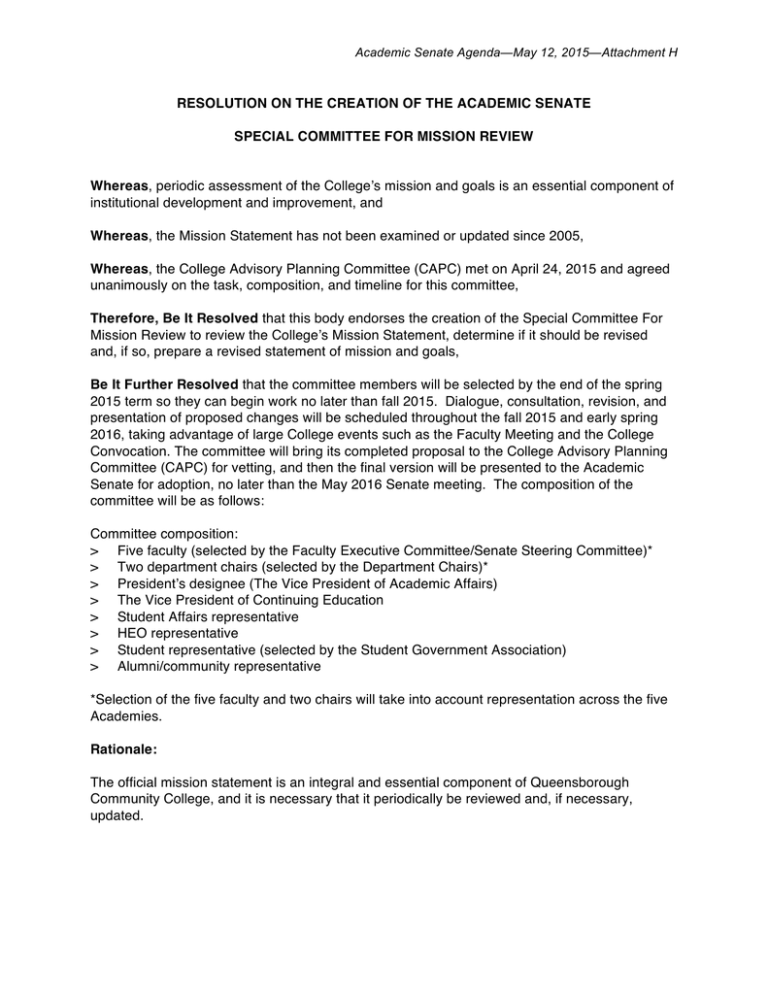 Academic Senate Agenda—May 12, 2015—Attachment H
RESOLUTION ON THE CREATION OF THE ACADEMIC SENATE
SPECIAL COMMITTEE FOR MISSION REVIEW
Whereas, periodic assessment of the College's mission and goals is an essential component of
institutional development and improvement, and
Whereas, the Mission Statement has not been examined or updated since 2005,
Whereas, the College Advisory Planning Committee (CAPC) met on April 24, 2015 and agreed
unanimously on the task, composition, and timeline for this committee,
Therefore, Be It Resolved that this body endorses the creation of the Special Committee For
Mission Review to review the College's Mission Statement, determine if it should be revised
and, if so, prepare a revised statement of mission and goals,
Be It Further Resolved that the committee members will be selected by the end of the spring
2015 term so they can begin work no later than fall 2015. Dialogue, consultation, revision, and
presentation of proposed changes will be scheduled throughout the fall 2015 and early spring
2016, taking advantage of large College events such as the Faculty Meeting and the College
Convocation. The committee will bring its completed proposal to the College Advisory Planning
Committee (CAPC) for vetting, and then the final version will be presented to the Academic
Senate for adoption, no later than the May 2016 Senate meeting. The composition of the
committee will be as follows:
Committee composition:
> Five faculty (selected by the Faculty Executive Committee/Senate Steering Committee)*
> Two department chairs (selected by the Department Chairs)*
> President's designee (The Vice President of Academic Affairs)
> The Vice President of Continuing Education
> Student Affairs representative
> HEO representative
> Student representative (selected by the Student Government Association)
> Alumni/community representative
*Selection of the five faculty and two chairs will take into account representation across the five
Academies.
Rationale:
The official mission statement is an integral and essential component of Queensborough
Community College, and it is necessary that it periodically be reviewed and, if necessary,
updated.