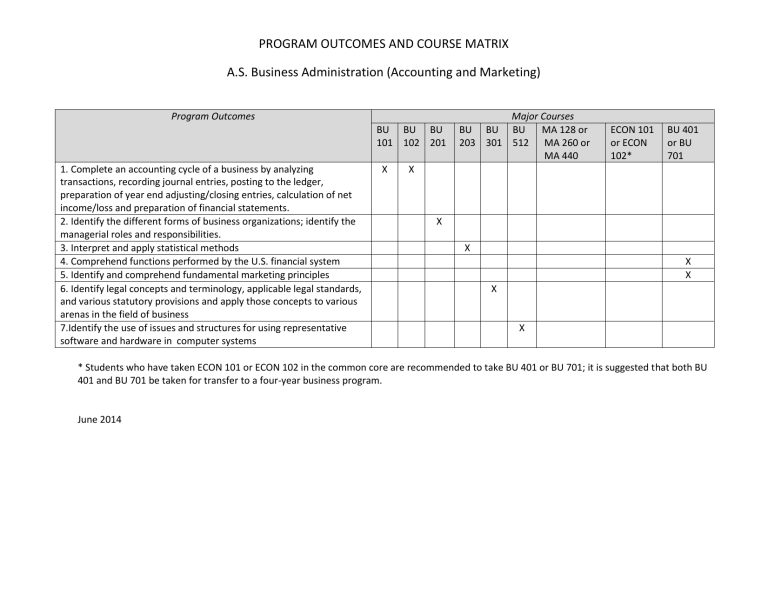 PROGRAM OUTCOMES AND COURSE MATRIX
A.S. Business Administration (Accounting and Marketing)
Program Outcomes
BU
101
BU
102
BU
201
BU
203
BU
301
Major Courses
BU
512
MA 128 or
MA 260 or
MA 440
ECON 101 or ECON
102*
BU 401 or BU
701
1. Complete an accounting cycle of a business by analyzing transactions, recording journal entries, posting to the ledger, preparation of year end adjusting/closing entries, calculation of net income/loss and preparation of financial statements.
2. Identify the different forms of business organizations; identify the managerial roles and responsibilities.
3. Interpret and apply statistical methods
4. Comprehend functions performed by the U.S. financial system
X X
X
5. Identify and comprehend fundamental marketing principles
6. Identify legal concepts and terminology, applicable legal standards, and various statutory provisions and apply those concepts to various arenas in the field of business
7.Identify the use of issues and structures for using representative software and hardware in computer systems
X
X
X
X
X
* Students who have taken ECON 101 or ECON 102 in the common core are recommended to take BU 401 or BU 701; it is suggested that both BU
401 and BU 701 be taken for transfer to a four-year business program.
June 2014