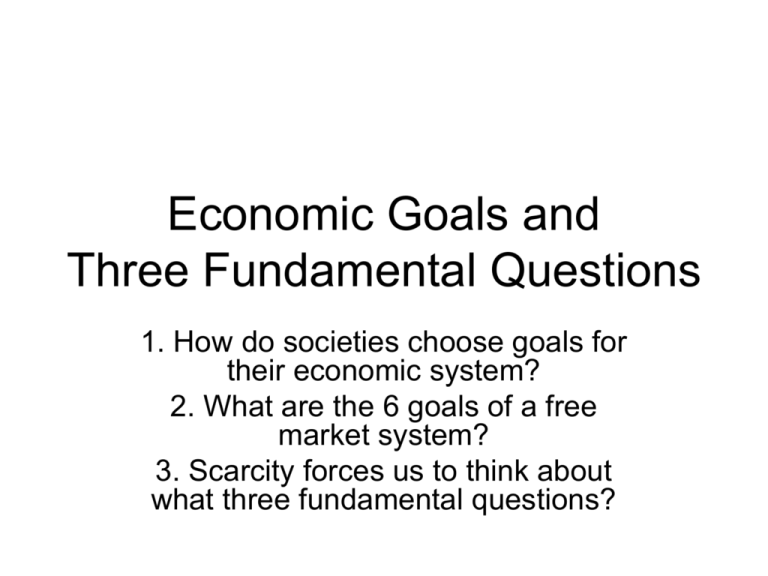 Economic Goals and
Three Fundamental Questions
1. How do societies choose goals for
their economic system?
2. What are the 6 goals of a free
market system?
3. Scarcity forces us to think about
what three fundamental questions?
• Societies choose different economic
systems and different goals
• Goals based on values, collective
judgments on what's most important
economically
– What to accomplish?
– What's the end result?
Free Market Goals 1 & 2
ECONOMIC FREEDOM
• Minimal gov't intervention
• Personal economic
freedoms
–
–
–
–
–
Econ. Choices
Property ownership
Start businesses
Spend/save
Job choice
•
•
•
•
ECON. EFFICIENCY
Producing the most
goods/services with
limited resources
High income based on
skill of job
Incentive to reduce
waste, lower costs,
increase profit
Achieve best possible
gov't services (schools…)
Goals 3 & 4
ECON. SECURITY
• Some gov't intervention
prevents some from
being exploited
• Protection against
economic hardships,
based on society's
decisions
• Funding provided by
society for certain aid
programs
•
•
•
•
ECONOMIC EQUITY
Difficult to define, deals
with what people perceive
as "fair" or "unfair"
Which people are
better/worse off in a
system?
Who gains/loses?
Is there an equal
opportunity for each
person to
participate/benefit from
system?
Goals 5 & 6
Full Employment &
Stable Prices
• Goal to achieve low
unemployment
• Avoid raising prices for
goods and services too
high
• Price rise=more money to
buy goods/services
ECONOMIC GROWTH
• Standard of living—
level of econ. wellbeing of people
• Necessary to provide
more jobs and income
for people
Three Fundamental Questions
• What to produce?
– Requires economy to decide mix/amount of goods/services it will
produce (make)
– Due to scarcity, forces U.S. to feature consumer sovereignty
• How to produce it?
– Economy must decide which combination of technology,
resources to use in producing g/s
– Will production be more/less capital intensive?
– Education plays a key role in ability of workers to perform their
jobs
• For whom to produce?
– Economy must decide which people receive g/s—concerns
economic equality
– Society must have a method to decide who will be rich, who will
be poor—this is price
Check yourself…
1. Why is the economic goal of security
important when the economy experiences
a downturn?
2. Why must a society answer the three
basic economic questions?