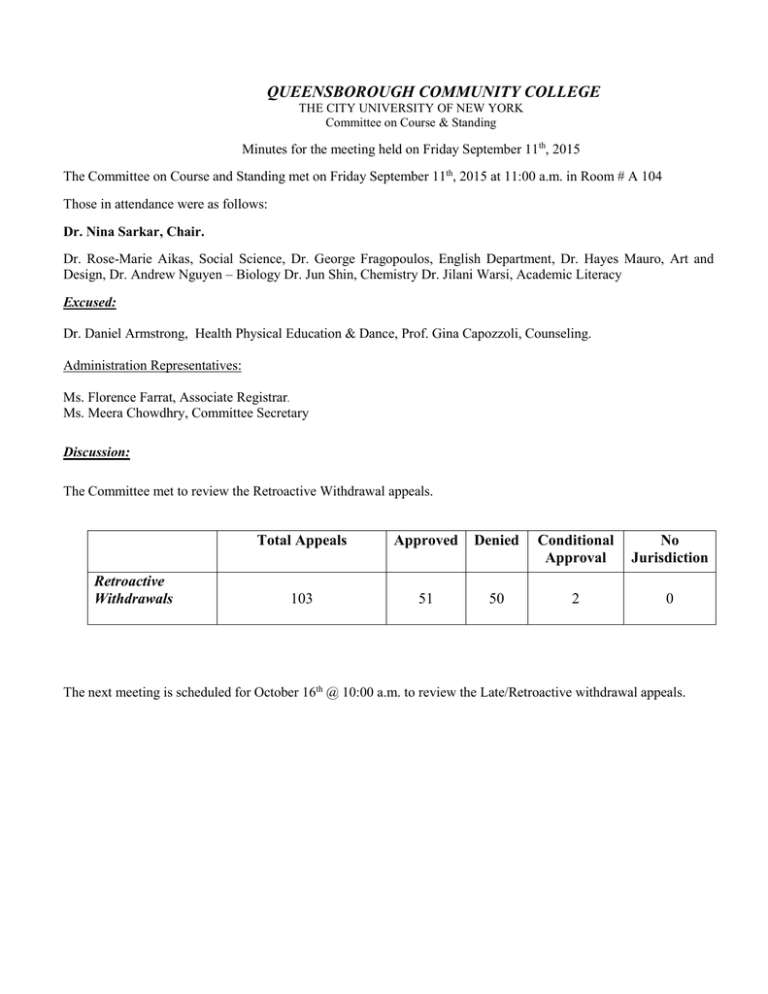 QUEENSBOROUGH COMMUNITY COLLEGE
THE CITY UNIVERSITY OF NEW YORK
Committee on Course & Standing
Minutes for the meeting held on Friday September 11th, 2015
The Committee on Course and Standing met on Friday September 11th, 2015 at 11:00 a.m. in Room # A 104
Those in attendance were as follows:
Dr. Nina Sarkar, Chair.
Dr. Rose-Marie Aikas, Social Science, Dr. George Fragopoulos, English Department, Dr. Hayes Mauro, Art and
Design, Dr. Andrew Nguyen – Biology Dr. Jun Shin, Chemistry Dr. Jilani Warsi, Academic Literacy
Excused:
Dr. Daniel Armstrong, Health Physical Education & Dance, Prof. Gina Capozzoli, Counseling.
Administration Representatives:
Ms. Florence Farrat, Associate Registrar.
Ms. Meera Chowdhry, Committee Secretary
Discussion:
The Committee met to review the Retroactive Withdrawal appeals.
Retroactive
Withdrawals
Total Appeals
Approved
Denied
Conditional
Approval
No
Jurisdiction
103
51
50
2
0
The next meeting is scheduled for October 16th @ 10:00 a.m. to review the Late/Retroactive withdrawal appeals.