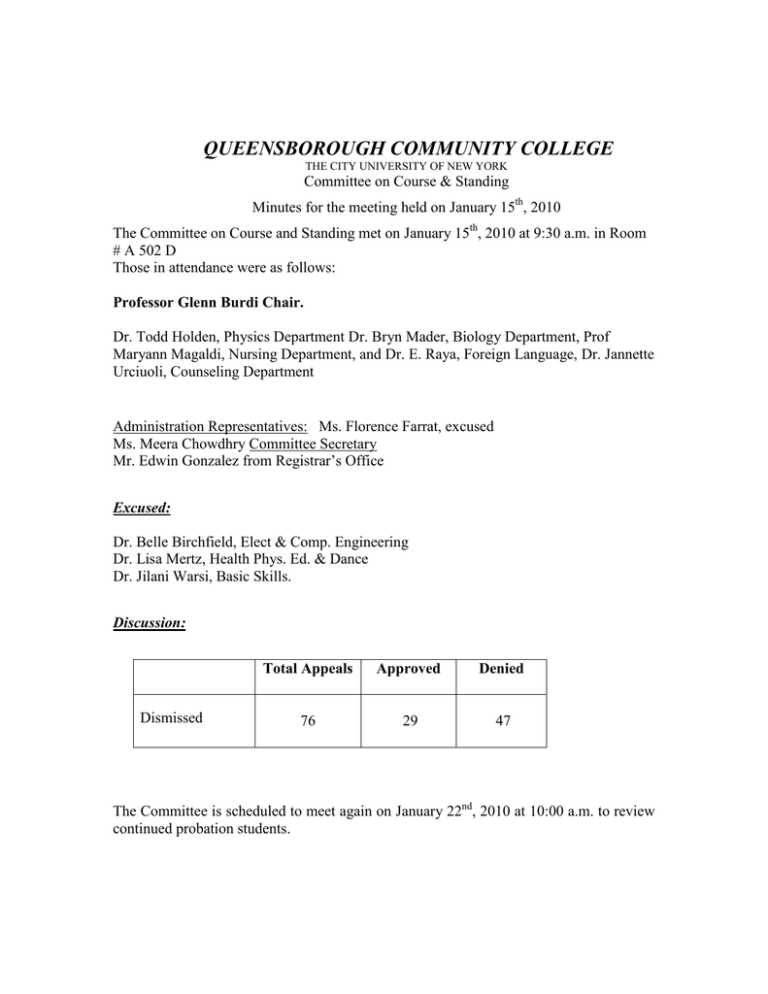 QUEENSBOROUGH COMMUNITY COLLEGE
THE CITY UNIVERSITY OF NEW YORK
Committee on Course & Standing
Minutes for the meeting held on January 15th, 2010
The Committee on Course and Standing met on January 15th, 2010 at 9:30 a.m. in Room
# A 502 D
Those in attendance were as follows:
Professor Glenn Burdi Chair.
Dr. Todd Holden, Physics Department Dr. Bryn Mader, Biology Department, Prof
Maryann Magaldi, Nursing Department, and Dr. E. Raya, Foreign Language, Dr. Jannette
Urciuoli, Counseling Department
Administration Representatives: Ms. Florence Farrat, excused
Ms. Meera Chowdhry Committee Secretary
Mr. Edwin Gonzalez from Registrar's Office
Excused:
Dr. Belle Birchfield, Elect & Comp. Engineering
Dr. Lisa Mertz, Health Phys. Ed. & Dance
Dr. Jilani Warsi, Basic Skills.
Discussion:
Dismissed
Total Appeals
Approved
Denied
76
29
47
The Committee is scheduled to meet again on January 22nd, 2010 at 10:00 a.m. to review
continued probation students.