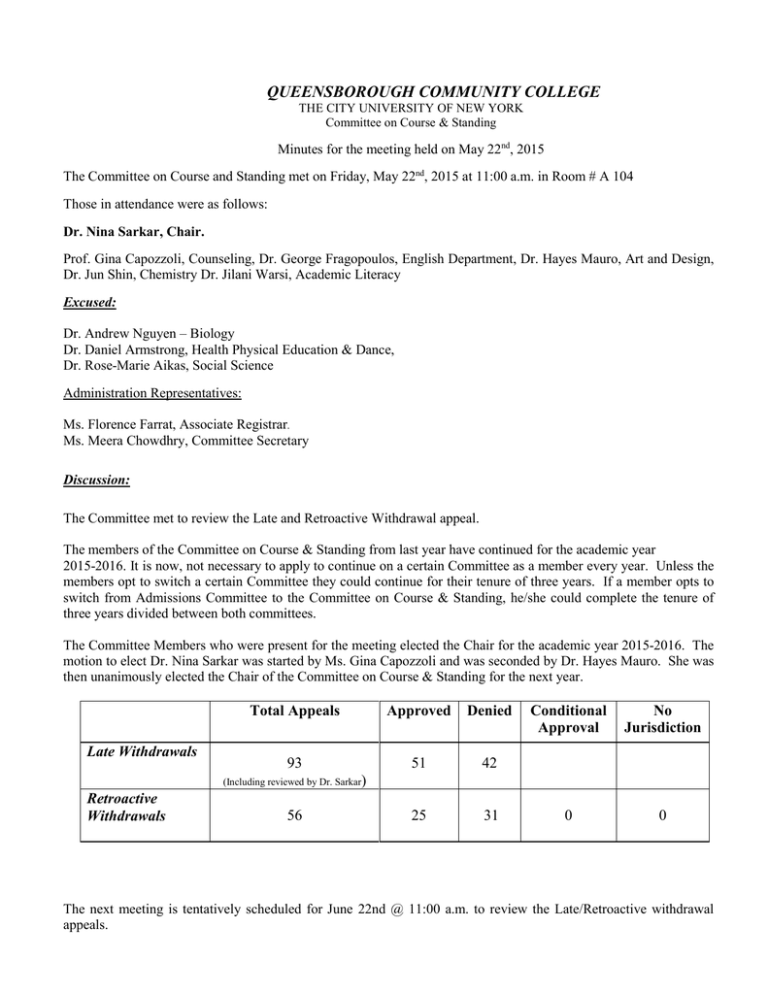 QUEENSBOROUGH COMMUNITY COLLEGE
THE CITY UNIVERSITY OF NEW YORK
Committee on Course & Standing
Minutes for the meeting held on May 22nd, 2015
The Committee on Course and Standing met on Friday, May 22nd, 2015 at 11:00 a.m. in Room # A 104
Those in attendance were as follows:
Dr. Nina Sarkar, Chair.
Prof. Gina Capozzoli, Counseling, Dr. George Fragopoulos, English Department, Dr. Hayes Mauro, Art and Design,
Dr. Jun Shin, Chemistry Dr. Jilani Warsi, Academic Literacy
Excused:
Dr. Andrew Nguyen – Biology
Dr. Daniel Armstrong, Health Physical Education & Dance,
Dr. Rose-Marie Aikas, Social Science
Administration Representatives:
Ms. Florence Farrat, Associate Registrar.
Ms. Meera Chowdhry, Committee Secretary
Discussion:
The Committee met to review the Late and Retroactive Withdrawal appeal.
The members of the Committee on Course & Standing from last year have continued for the academic year
2015-2016. It is now, not necessary to apply to continue on a certain Committee as a member every year. Unless the
members opt to switch a certain Committee they could continue for their tenure of three years. If a member opts to
switch from Admissions Committee to the Committee on Course & Standing, he/she could complete the tenure of
three years divided between both committees.
The Committee Members who were present for the meeting elected the Chair for the academic year 2015-2016. The
motion to elect Dr. Nina Sarkar was started by Ms. Gina Capozzoli and was seconded by Dr. Hayes Mauro. She was
then unanimously elected the Chair of the Committee on Course & Standing for the next year.
Late Withdrawals
Total Appeals
Approved
Denied
93
51
42
25
31
Conditional
Approval
No
Jurisdiction
0
0
(Including reviewed by Dr. Sarkar)
Retroactive
Withdrawals
56
The next meeting is tentatively scheduled for June 22nd @ 11:00 a.m. to review the Late/Retroactive withdrawal
appeals.