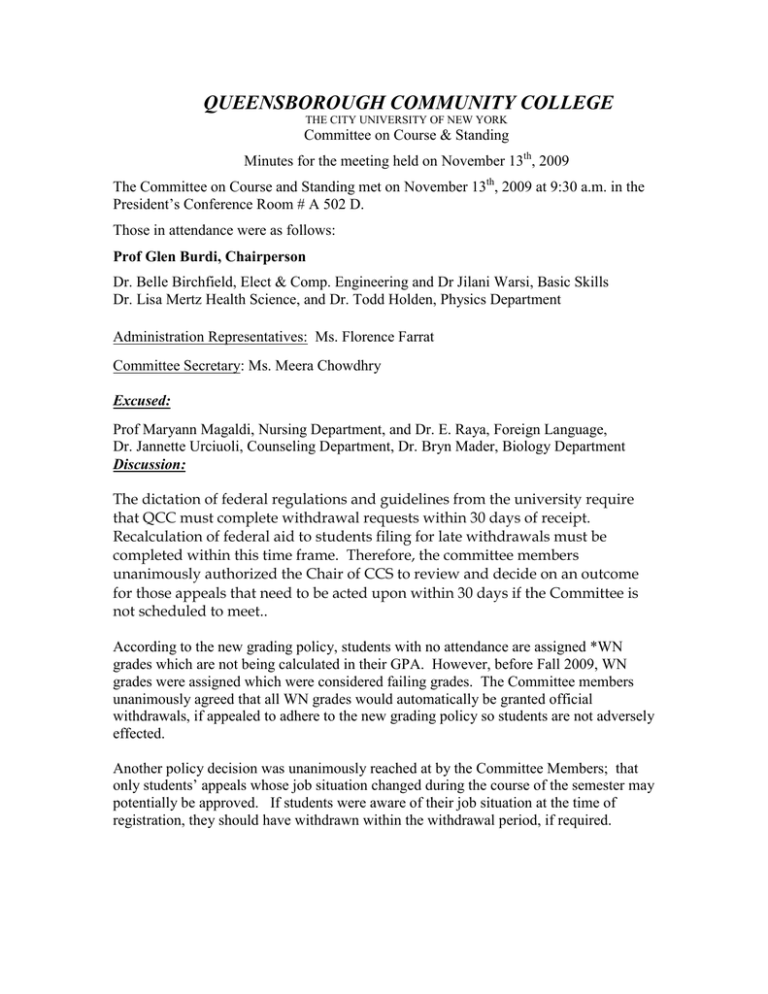 QUEENSBOROUGH COMMUNITY COLLEGE
THE CITY UNIVERSITY OF NEW YORK
Committee on Course & Standing
Minutes for the meeting held on November 13th, 2009
The Committee on Course and Standing met on November 13th, 2009 at 9:30 a.m. in the
President's Conference Room # A 502 D.
Those in attendance were as follows:
Prof Glen Burdi, Chairperson
Dr. Belle Birchfield, Elect & Comp. Engineering and Dr Jilani Warsi, Basic Skills
Dr. Lisa Mertz Health Science, and Dr. Todd Holden, Physics Department
Administration Representatives: Ms. Florence Farrat
Committee Secretary: Ms. Meera Chowdhry
Excused:
Prof Maryann Magaldi, Nursing Department, and Dr. E. Raya, Foreign Language,
Dr. Jannette Urciuoli, Counseling Department, Dr. Bryn Mader, Biology Department
Discussion:
The dictation of federal regulations and guidelines from the university require
that QCC must complete withdrawal requests within 30 days of receipt.
Recalculation of federal aid to students filing for late withdrawals must be
completed within this time frame. Therefore, the committee members
unanimously authorized the Chair of CCS to review and decide on an outcome
for those appeals that need to be acted upon within 30 days if the Committee is
not scheduled to meet..
According to the new grading policy, students with no attendance are assigned *WN
grades which are not being calculated in their GPA. However, before Fall 2009, WN
grades were assigned which were considered failing grades. The Committee members
unanimously agreed that all WN grades would automatically be granted official
withdrawals, if appealed to adhere to the new grading policy so students are not adversely
effected.
Another policy decision was unanimously reached at by the Committee Members; that
only students' appeals whose job situation changed during the course of the semester may
potentially be approved. If students were aware of their job situation at the time of
registration, they should have withdrawn within the withdrawal period, if required.
Following appeals were reviewed:
Total
Appeals
Approved
Denied
Conditional No Jurisdiction
Approval
Late/w
28
25
3
0
Retro/w
40
25
14
1
0
The next meeting date would be decided with the consent of the entire members, at an
early date.