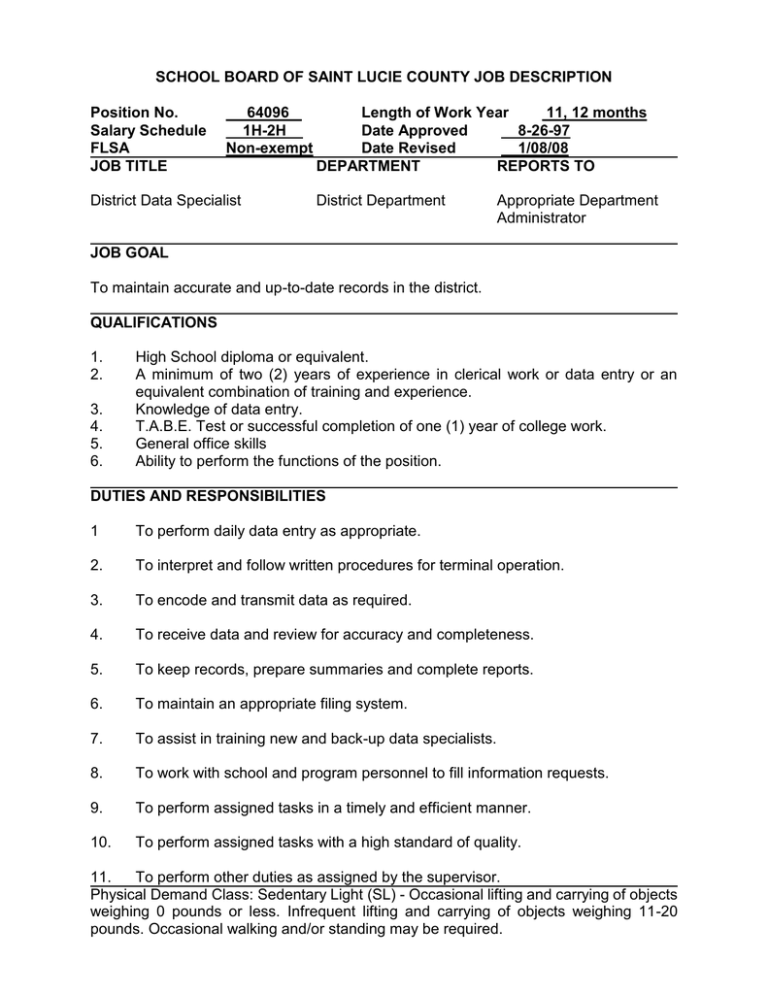 SCHOOL BOARD OF SAINT LUCIE COUNTY JOB DESCRIPTION
Position No.
Salary Schedule
FLSA
JOB TITLE
64096
1H-2H
Non-exempt
District Data Specialist
Length of Work Year
11, 12 months
Date Approved
8-26-97
Date Revised
1/08/08
DEPARTMENT
REPORTS TO
District Department
Appropriate Department
Administrator
JOB GOAL
To maintain accurate and up-to-date records in the district.
QUALIFICATIONS
1.
2.
3.
4.
5.
6.
High School diploma or equivalent.
A minimum of two (2) years of experience in clerical work or data entry or an
equivalent combination of training and experience.
Knowledge of data entry.
T.A.B.E. Test or successful completion of one (1) year of college work.
General office skills
Ability to perform the functions of the position.
DUTIES AND RESPONSIBILITIES
1
To perform daily data entry as appropriate.
2.
To interpret and follow written procedures for terminal operation.
3.
To encode and transmit data as required.
4.
To receive data and review for accuracy and completeness.
5.
To keep records, prepare summaries and complete reports.
6.
To maintain an appropriate filing system.
7.
To assist in training new and back-up data specialists.
8.
To work with school and program personnel to fill information requests.
9.
To perform assigned tasks in a timely and efficient manner.
10.
To perform assigned tasks with a high standard of quality.
11.
To perform other duties as assigned by the supervisor.
Physical Demand Class: Sedentary Light (SL) - Occasional lifting and carrying of objects
weighing 0 pounds or less. Infrequent lifting and carrying of objects weighing 11-20
pounds. Occasional walking and/or standing may be required.