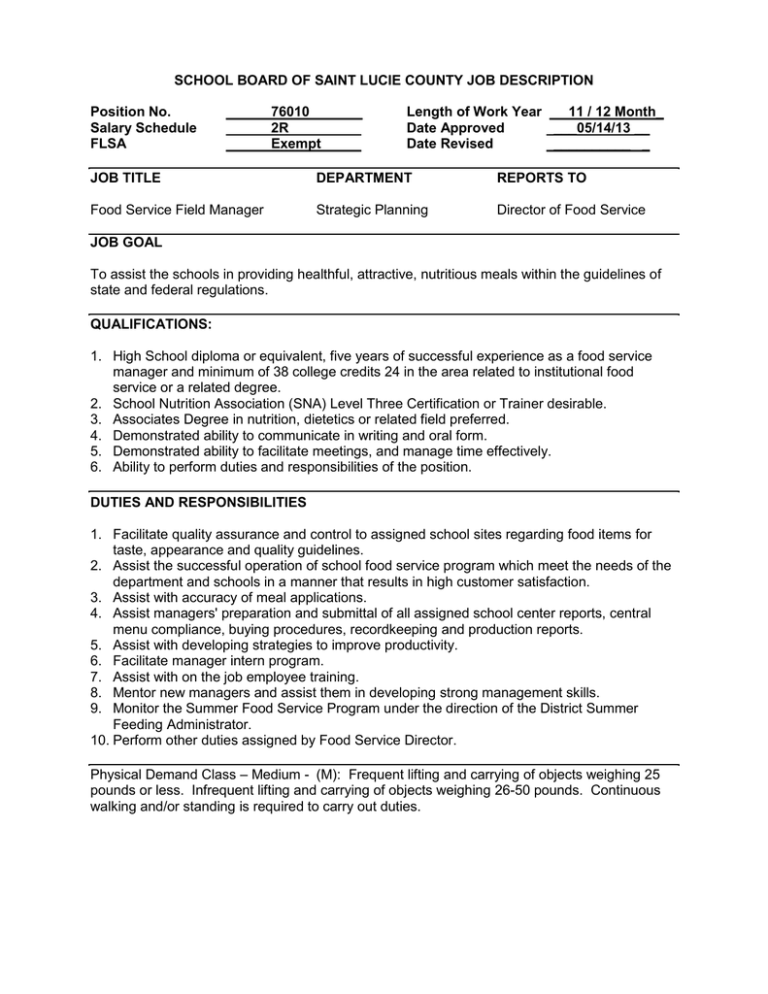 SCHOOL BOARD OF SAINT LUCIE COUNTY JOB DESCRIPTION
Position No.
Salary Schedule
FLSA
76010
2R
Exempt
Length of Work Year
11 / 12 Month_
Date Approved
___05/14/13 __
Date Revised
__________ _
JOB TITLE
DEPARTMENT
REPORTS TO
Food Service Field Manager
Strategic Planning
Director of Food Service
JOB GOAL
To assist the schools in providing healthful, attractive, nutritious meals within the guidelines of
state and federal regulations.
QUALIFICATIONS:
1. High School diploma or equivalent, five years of successful experience as a food service
manager and minimum of 38 college credits 24 in the area related to institutional food
service or a related degree.
2. School Nutrition Association (SNA) Level Three Certification or Trainer desirable.
3. Associates Degree in nutrition, dietetics or related field preferred.
4. Demonstrated ability to communicate in writing and oral form.
5. Demonstrated ability to facilitate meetings, and manage time effectively.
6. Ability to perform duties and responsibilities of the position.
DUTIES AND RESPONSIBILITIES
1. Facilitate quality assurance and control to assigned school sites regarding food items for
taste, appearance and quality guidelines.
2. Assist the successful operation of school food service program which meet the needs of the
department and schools in a manner that results in high customer satisfaction.
3. Assist with accuracy of meal applications.
4. Assist managers' preparation and submittal of all assigned school center reports, central
menu compliance, buying procedures, recordkeeping and production reports.
5. Assist with developing strategies to improve productivity.
6. Facilitate manager intern program.
7. Assist with on the job employee training.
8. Mentor new managers and assist them in developing strong management skills.
9. Monitor the Summer Food Service Program under the direction of the District Summer
Feeding Administrator.
10. Perform other duties assigned by Food Service Director.
Physical Demand Class – Medium - (M): Frequent lifting and carrying of objects weighing 25
pounds or less. Infrequent lifting and carrying of objects weighing 26-50 pounds. Continuous
walking and/or standing is required to carry out duties.