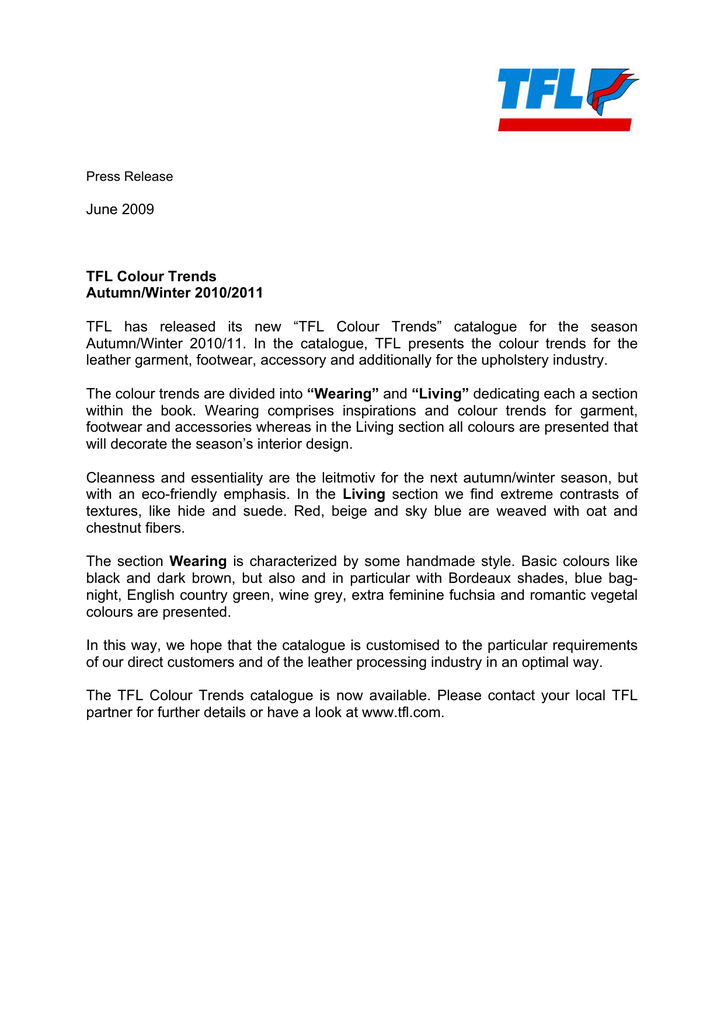 Press Release
June 2009
TFL Colour Trends
Autumn/Winter 2010/2011
TFL has released its new "TFL Colour Trends" catalogue for the season
Autumn/Winter 2010/11. In the catalogue, TFL presents the colour trends for the
leather garment, footwear, accessory and additionally for the upholstery industry.
The colour trends are divided into "Wearing" and "Living" dedicating each a section
within the book. Wearing comprises inspirations and colour trends for garment,
footwear and accessories whereas in the Living section all colours are presented that
will decorate the season's interior design.
Cleanness and essentiality are the leitmotiv for the next autumn/winter season, but
with an eco-friendly emphasis. In the Living section we find extreme contrasts of
textures, like hide and suede. Red, beige and sky blue are weaved with oat and
chestnut fibers.
The section Wearing is characterized by some handmade style. Basic colours like
black and dark brown, but also and in particular with Bordeaux shades, blue bagnight, English country green, wine grey, extra feminine fuchsia and romantic vegetal
colours are presented.
In this way, we hope that the catalogue is customised to the particular requirements
of our direct customers and of the leather processing industry in an optimal way.
The TFL Colour Trends catalogue is now available. Please contact your local TFL
partner for further details or have a look at www.tfl.com.