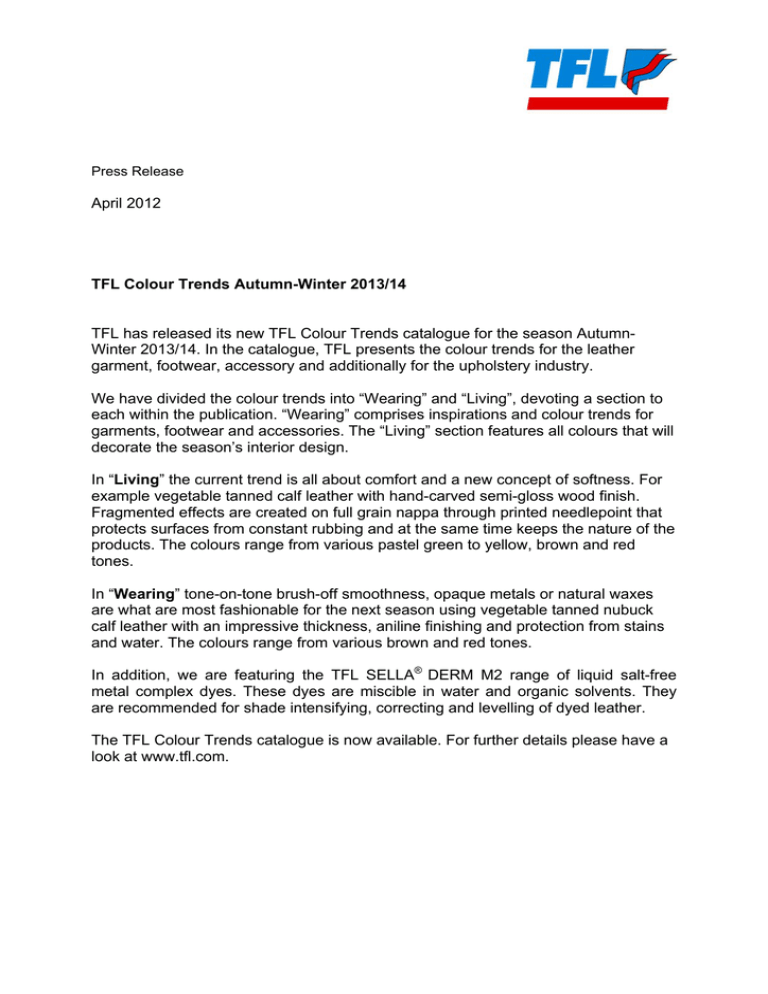 Press Release
April 2012
TFL Colour Trends Autumn-Winter 2013/14
TFL has released its new TFL Colour Trends catalogue for the season AutumnWinter 2013/14. In the catalogue, TFL presents the colour trends for the leather
garment, footwear, accessory and additionally for the upholstery industry.
We have divided the colour trends into "Wearing" and "Living", devoting a section to
each within the publication. "Wearing" comprises inspirations and colour trends for
garments, footwear and accessories. The "Living" section features all colours that will
decorate the season's interior design.
In "Living" the current trend is all about comfort and a new concept of softness. For
example vegetable tanned calf leather with hand-carved semi-gloss wood finish.
Fragmented effects are created on full grain nappa through printed needlepoint that
protects surfaces from constant rubbing and at the same time keeps the nature of the
products. The colours range from various pastel green to yellow, brown and red
tones.
In "Wearing" tone-on-tone brush-off smoothness, opaque metals or natural waxes
are what are most fashionable for the next season using vegetable tanned nubuck
calf leather with an impressive thickness, aniline finishing and protection from stains
and water. The colours range from various brown and red tones.
In addition, we are featuring the TFL SELLA® DERM M2 range of liquid salt-free
metal complex dyes. These dyes are miscible in water and organic solvents. They
are recommended for shade intensifying, correcting and levelling of dyed leather.
The TFL Colour Trends catalogue is now available. For further details please have a
look at www.tfl.com.