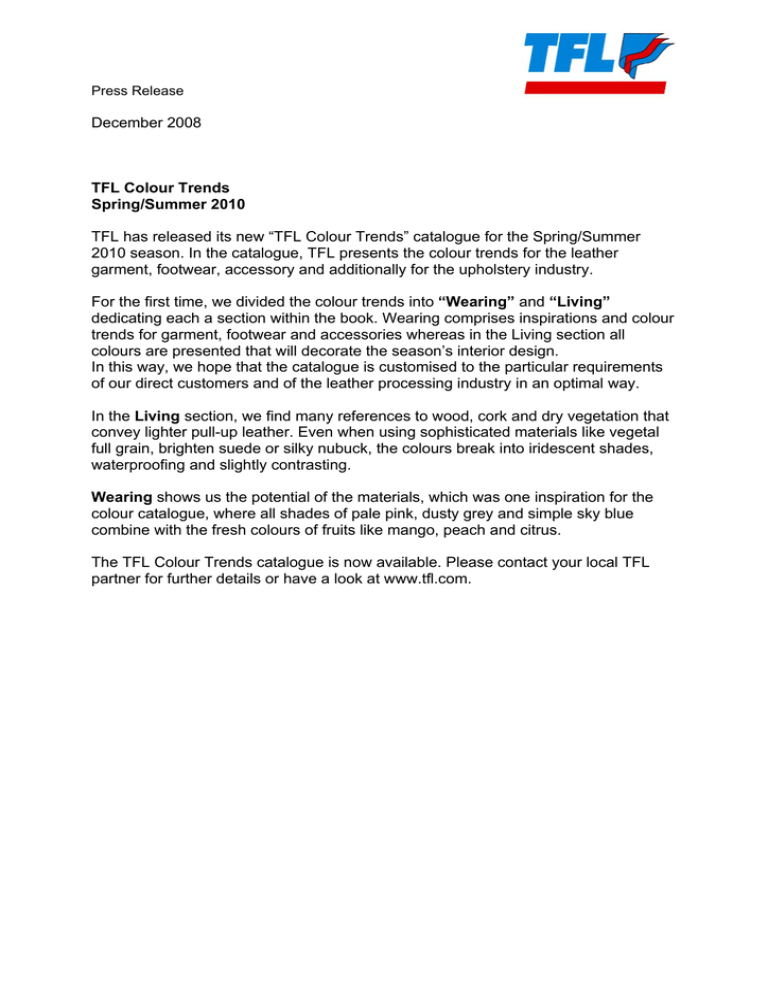 Press Release
December 2008
TFL Colour Trends
Spring/Summer 2010
TFL has released its new "TFL Colour Trends" catalogue for the Spring/Summer
2010 season. In the catalogue, TFL presents the colour trends for the leather
garment, footwear, accessory and additionally for the upholstery industry.
For the first time, we divided the colour trends into "Wearing" and "Living"
dedicating each a section within the book. Wearing comprises inspirations and colour
trends for garment, footwear and accessories whereas in the Living section all
colours are presented that will decorate the season's interior design.
In this way, we hope that the catalogue is customised to the particular requirements
of our direct customers and of the leather processing industry in an optimal way.
In the Living section, we find many references to wood, cork and dry vegetation that
convey lighter pull-up leather. Even when using sophisticated materials like vegetal
full grain, brighten suede or silky nubuck, the colours break into iridescent shades,
waterproofing and slightly contrasting.
Wearing shows us the potential of the materials, which was one inspiration for the
colour catalogue, where all shades of pale pink, dusty grey and simple sky blue
combine with the fresh colours of fruits like mango, peach and citrus.
The TFL Colour Trends catalogue is now available. Please contact your local TFL
partner for further details or have a look at www.tfl.com.