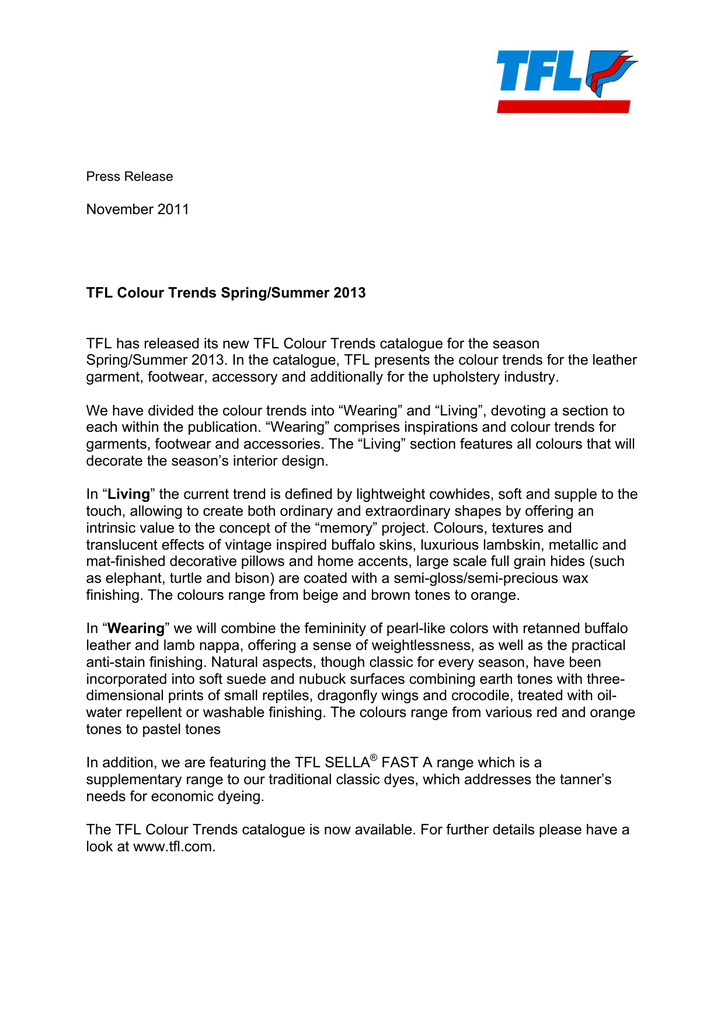 Press Release
November 2011
TFL Colour Trends Spring/Summer 2013
TFL has released its new TFL Colour Trends catalogue for the season
Spring/Summer 2013. In the catalogue, TFL presents the colour trends for the leather
garment, footwear, accessory and additionally for the upholstery industry.
We have divided the colour trends into "Wearing" and "Living", devoting a section to
each within the publication. "Wearing" comprises inspirations and colour trends for
garments, footwear and accessories. The "Living" section features all colours that will
decorate the season's interior design.
In "Living" the current trend is defined by lightweight cowhides, soft and supple to the
touch, allowing to create both ordinary and extraordinary shapes by offering an
intrinsic value to the concept of the "memory" project. Colours, textures and
translucent effects of vintage inspired buffalo skins, luxurious lambskin, metallic and
mat-finished decorative pillows and home accents, large scale full grain hides (such
as elephant, turtle and bison) are coated with a semi-gloss/semi-precious wax
finishing. The colours range from beige and brown tones to orange.
In "Wearing" we will combine the femininity of pearl-like colors with retanned buffalo
leather and lamb nappa, offering a sense of weightlessness, as well as the practical
anti-stain finishing. Natural aspects, though classic for every season, have been
incorporated into soft suede and nubuck surfaces combining earth tones with threedimensional prints of small reptiles, dragonfly wings and crocodile, treated with oilwater repellent or washable finishing. The colours range from various red and orange
tones to pastel tones
In addition, we are featuring the TFL SELLA® FAST A range which is a
supplementary range to our traditional classic dyes, which addresses the tanner's
needs for economic dyeing.
The TFL Colour Trends catalogue is now available. For further details please have a
look at www.tfl.com.