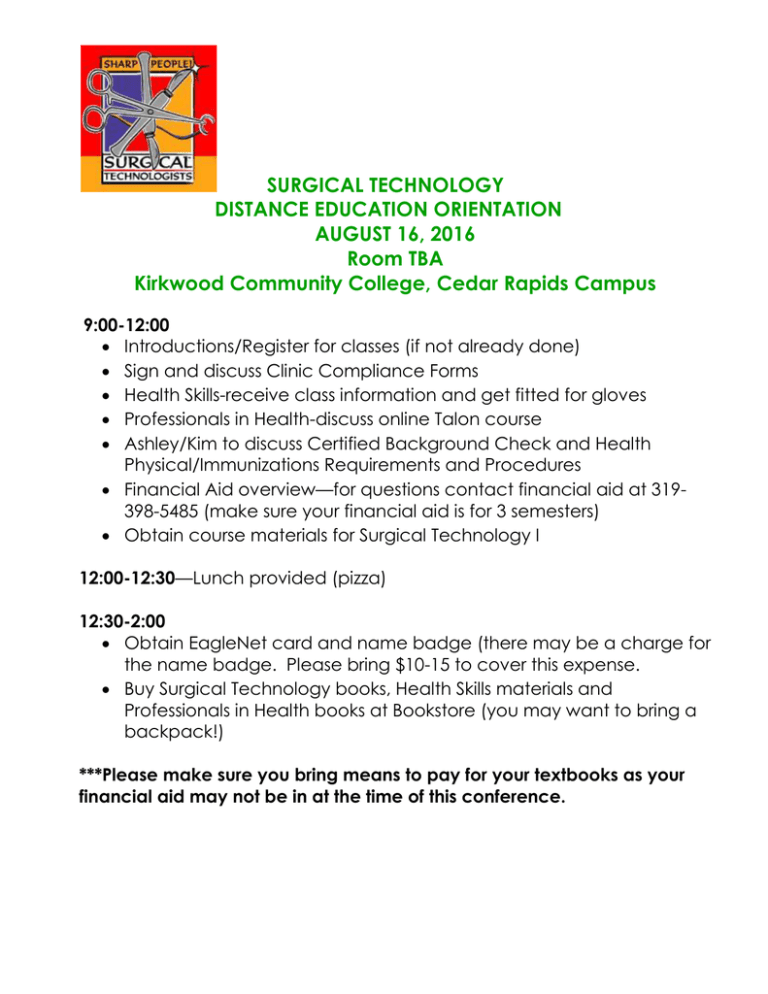 SURGICAL TECHNOLOGY
DISTANCE EDUCATION ORIENTATION
AUGUST 16, 2016
Room TBA
Kirkwood Community College, Cedar Rapids Campus
9:00-12:00
 Introductions/Register for classes (if not already done)
 Sign and discuss Clinic Compliance Forms
 Health Skills-receive class information and get fitted for gloves
 Professionals in Health-discuss online Talon course
 Ashley/Kim to discuss Certified Background Check and Health
Physical/Immunizations Requirements and Procedures
 Financial Aid overview—for questions contact financial aid at 319398-5485 (make sure your financial aid is for 3 semesters)
 Obtain course materials for Surgical Technology I
12:00-12:30—Lunch provided (pizza)
12:30-2:00
 Obtain EagleNet card and name badge (there may be a charge for
the name badge. Please bring $10-15 to cover this expense.
 Buy Surgical Technology books, Health Skills materials and
Professionals in Health books at Bookstore (you may want to bring a
backpack!)
***Please make sure you bring means to pay for your textbooks as your
financial aid may not be in at the time of this conference.