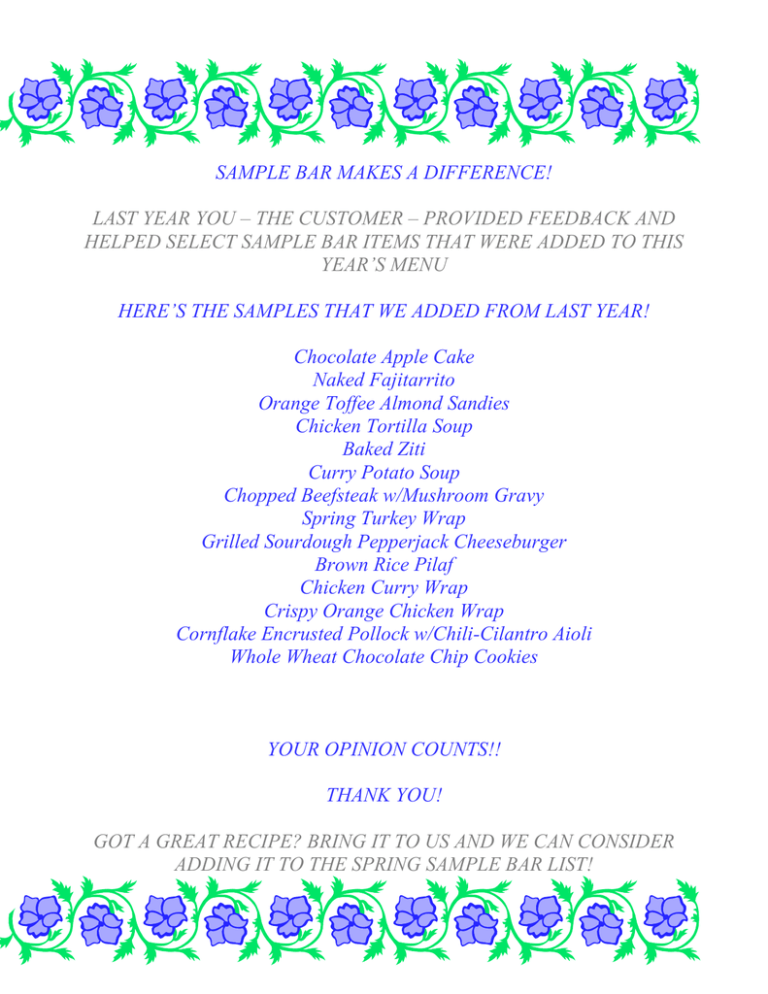 SAMPLE BAR MAKES A DIFFERENCE!
LAST YEAR YOU – THE CUSTOMER – PROVIDED FEEDBACK AND
HELPED SELECT SAMPLE BAR ITEMS THAT WERE ADDED TO THIS
YEAR'S MENU
HERE'S THE SAMPLES THAT WE ADDED FROM LAST YEAR!
Chocolate Apple Cake
Naked Fajitarrito
Orange Toffee Almond Sandies
Chicken Tortilla Soup
Baked Ziti
Curry Potato Soup
Chopped Beefsteak w/Mushroom Gravy
Spring Turkey Wrap
Grilled Sourdough Pepperjack Cheeseburger
Brown Rice Pilaf
Chicken Curry Wrap
Crispy Orange Chicken Wrap
Cornflake Encrusted Pollock w/Chili-Cilantro Aioli
Whole Wheat Chocolate Chip Cookies
YOUR OPINION COUNTS!!
THANK YOU!
GOT A GREAT RECIPE? BRING IT TO US AND WE CAN CONSIDER
ADDING IT TO THE SPRING SAMPLE BAR LIST!