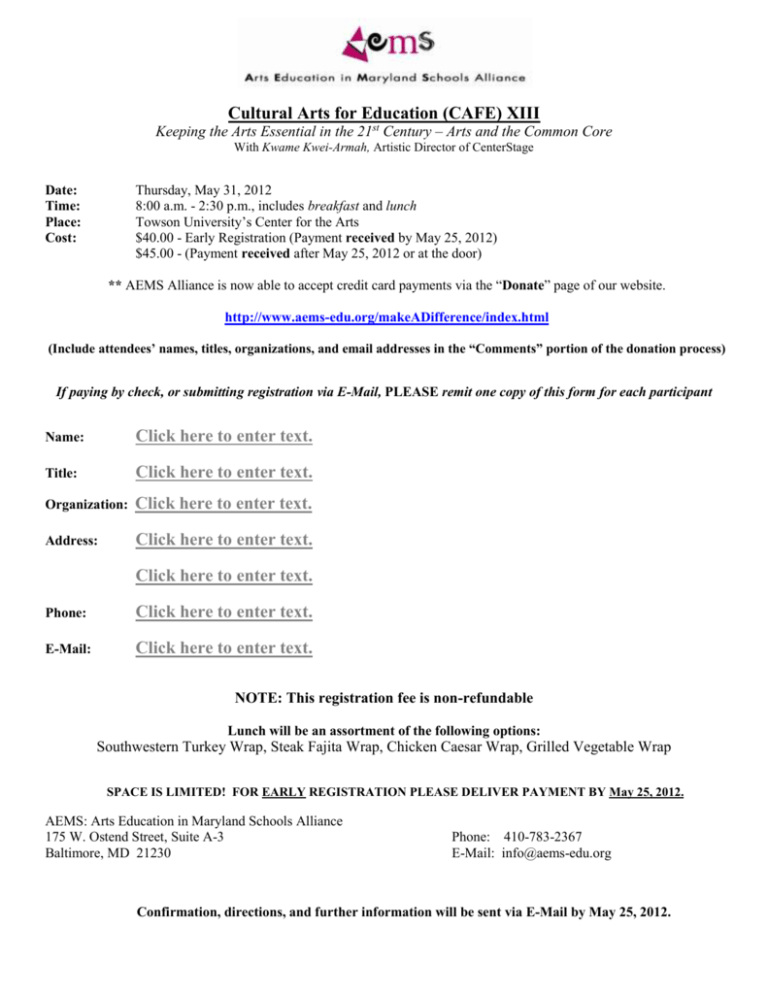 Cultural Arts for Education (CAFE) XIII
Keeping the Arts Essential in the 21st Century – Arts and the Common Core
With Kwame Kwei-Armah, Artistic Director of CenterStage
Date:
Time:
Place:
Cost:
Thursday, May 31, 2012
8:00 a.m. - 2:30 p.m., includes breakfast and lunch
Towson University's Center for the Arts
$40.00 - Early Registration (Payment received by May 25, 2012)
$45.00 - (Payment received after May 25, 2012 or at the door)
** AEMS Alliance is now able to accept credit card payments via the "Donate" page of our website.
http://www.aems-edu.org/makeADifference/index.html
(Include attendees' names, titles, organizations, and email addresses in the "Comments" portion of the donation process)
If paying by check, or submitting registration via E-Mail, PLEASE remit one copy of this form for each participant
Name:
Click here to enter text.
Title:
Click here to enter text.
Organization:
Click here to enter text.
Address:
Click here to enter text.
Click here to enter text.
Phone:
Click here to enter text.
E-Mail:
Click here to enter text.
NOTE: This registration fee is non-refundable
Lunch will be an assortment of the following options:
Southwestern Turkey Wrap, Steak Fajita Wrap, Chicken Caesar Wrap, Grilled Vegetable Wrap
SPACE IS LIMITED! FOR EARLY REGISTRATION PLEASE DELIVER PAYMENT BY May 25, 2012.
AEMS: Arts Education in Maryland Schools Alliance
175 W. Ostend Street, Suite A-3
Baltimore, MD 21230
Phone: 410-783-2367
E-Mail: info@aems-edu.org
Confirmation, directions, and further information will be sent via E-Mail by May 25, 2012.