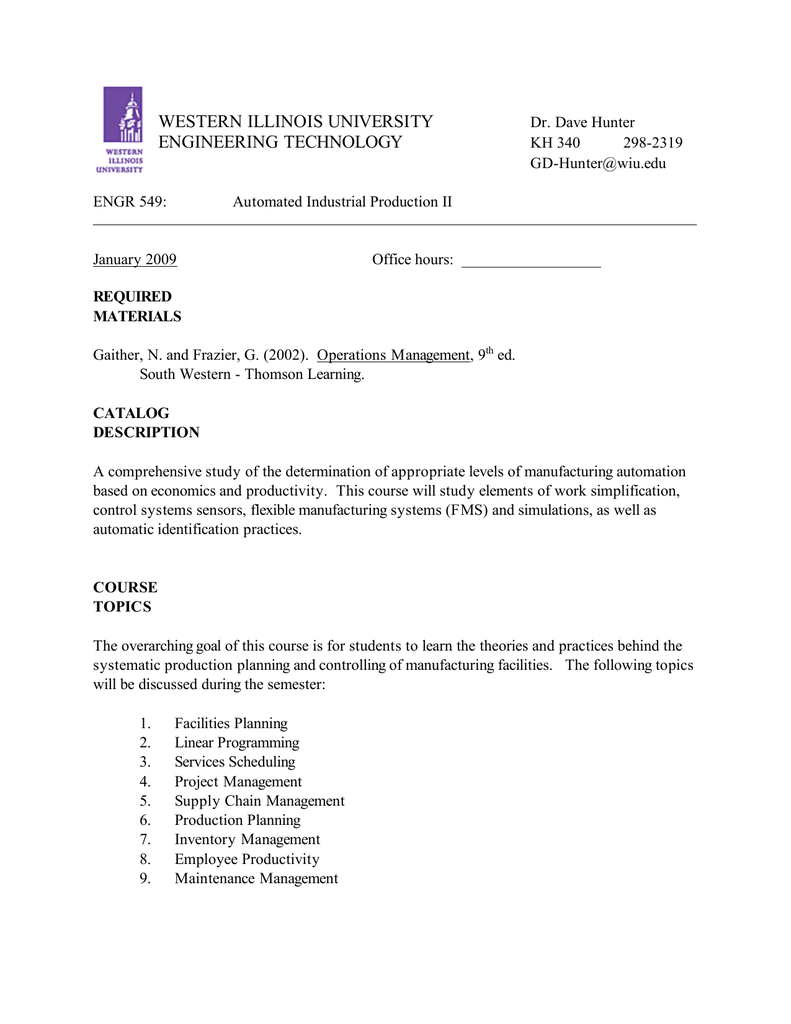 WESTERN ILLINOIS UNIVERSITY
ENGINEERING TECHNOLOGY
ENGR 549:
Dr. Dave Hunter
KH 340
298-2319
[email protected]
Automated Industrial Production II
January 2009
Office hours: __________________
REQUIRED
MATERIALS
Gaither, N. and Frazier, G. (2002). Operations Management, 9th ed.
South Western - Thomson Learning.
CATALOG
DESCRIPTION
A comprehensive study of the determination of appropriate levels of manufacturing automation
based on economics and productivity. This course will study elements of work simplification,
control systems sensors, flexible manufacturing systems (FMS) and simulations, as well as
automatic identification practices.
COURSE
TOPICS
The overarching goal of this course is for students to learn the theories and practices behind the
systematic production planning and controlling of manufacturing facilities. The following topics
will be discussed during the semester:
1.
2.
3.
4.
5.
6.
7.
8.
9.
Facilities Planning
Linear Programming
Services Scheduling
Project Management
Supply Chain Management
Production Planning
Inventory Management
Employee Productivity
Maintenance Management
ATTENDANCE
This course meets once each week. You will be expected to attend all scheduled lecture and lab
sessions and any off-campus field events. If you are unable to attend a class meeting, let the
instructor know as soon as possible. You are responsible to make up any work missed due to an
absence.
During the course you may be assigned to work in groups on many projects. Occasionally, your
group may find it necessary to meet outside of class. If so, YOU ARE EXPECTED TO
ATTEND ALL MEETINGS OF YOUR WORKGROUPS.
PROPOSED COURSE
OUTLINE
Homework exercises and lab assignments will be assigned weekly. The course will cover roughly
1 chapter per week and you are expected to come to class with the assigned reading completed.
There will be spontaneous quizzes over the reading materials and you may not make up a
missed quiz.
Week
1-6
Lecture
Syllabus & Course Overview
Facilities Planning
Linear Programming
Scheduling Service Operations
Project Management
Test 1: chapters 5, 8, 9, 10
Reading
chapter 5
chapter 8
chapter 9
chapter 10
7 – 11 Supply Chain Management
Production Planning
Inventory Management
Test 1: chapters 11, 13, 14
chapter 11
chapter 13
chapter 14
8 – 14 Employee Productivity
Maintenance Management
chapter 18
chapter 19
GRADING:
There will be a number of written and lab assignments in addition to the scheduled exams. All
work is graded by points. At the end of the semester, the total number of points earned will be
divided into the number of points possible. Grades will then be based on this percentage:
A = 96 – 100%
B = 87 - 95% C = 80 - 86
F = 79% or below
Save all assignments after they are graded and returned. Mistakes can inadvertently be made
during the grade recording process and if a question should arise about your grade, it will be easier
to absolve if all graded and returned work is available.
STUDENTS WITH DISABILITIES:
If there is any student in this class who has need for test-taking, or other, accommodations due to
a disability, please feel free to discuss this with your instructor.
MATERIALS COST AND SOFTWARE USAGE FEE:
There are no fees for this course.
REMEMBER
CELL PHONES SHOULD BE ON "VIBRATE" ANY TIME IN CLASS OR LAB. You may
take important calls in the hallway away from any classroom. Remember to be considerate of
other classes in session when talking on the phone – keep you voice low.
You may see your grade anytime simply by asking the instructor.
Your instructor has posted lab hours. Please use them. If you cannot meet during a posted
office hour, ask for an appointment.
Use email or voicemail when possible. If you are going to be late miss a class, notify me on
email or leave a message on my voicemail.