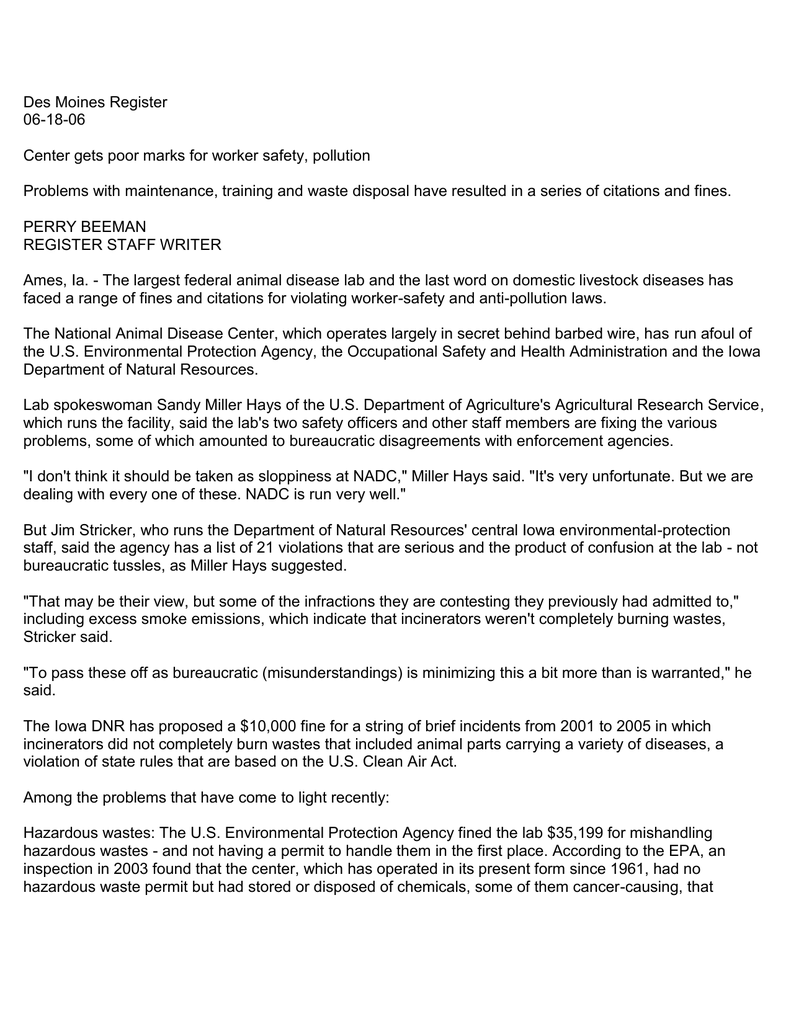 Des Moines Register
06-18-06
Center gets poor marks for worker safety, pollution
Problems with maintenance, training and waste disposal have resulted in a series of citations and fines.
PERRY BEEMAN
REGISTER STAFF WRITER
Ames, Ia. - The largest federal animal disease lab and the last word on domestic livestock diseases has
faced a range of fines and citations for violating worker-safety and anti-pollution laws.
The National Animal Disease Center, which operates largely in secret behind barbed wire, has run afoul of
the U.S. Environmental Protection Agency, the Occupational Safety and Health Administration and the Iowa
Department of Natural Resources.
Lab spokeswoman Sandy Miller Hays of the U.S. Department of Agriculture's Agricultural Research Service,
which runs the facility, said the lab's two safety officers and other staff members are fixing the various
problems, some of which amounted to bureaucratic disagreements with enforcement agencies.
"I don't think it should be taken as sloppiness at NADC," Miller Hays said. "It's very unfortunate. But we are
dealing with every one of these. NADC is run very well."
But Jim Stricker, who runs the Department of Natural Resources' central Iowa environmental-protection
staff, said the agency has a list of 21 violations that are serious and the product of confusion at the lab - not
bureaucratic tussles, as Miller Hays suggested.
"That may be their view, but some of the infractions they are contesting they previously had admitted to,"
including excess smoke emissions, which indicate that incinerators weren't completely burning wastes,
Stricker said.
"To pass these off as bureaucratic (misunderstandings) is minimizing this a bit more than is warranted," he
said.
The Iowa DNR has proposed a $10,000 fine for a string of brief incidents from 2001 to 2005 in which
incinerators did not completely burn wastes that included animal parts carrying a variety of diseases, a
violation of state rules that are based on the U.S. Clean Air Act.
Among the problems that have come to light recently:
Hazardous wastes: The U.S. Environmental Protection Agency fined the lab $35,199 for mishandling
hazardous wastes - and not having a permit to handle them in the first place. According to the EPA, an
inspection in 2003 found that the center, which has operated in its present form since 1961, had no
hazardous waste permit but had stored or disposed of chemicals, some of them cancer-causing, that
included xylene, used oil, waste vaccine containing mercury, chloroform, silver nitrate and spent
hydrochloric acid.
The EPA also said the lab illegally disposed of a pint of solvents and didn't perform required inspections of a
waste-storage area at least six times in a year. Inspectors found an open container of hydrochloric acid and
another open container marked only "hazardous waste."
Five other containers holding flammable or otherwise dangerous chemicals weren't labeled as hazardous
waste. The lab also had failed to give local emergency crews a contingency plan in case of an emergency
incident, as required. The shortcomings are violations of the Resource Conservation and Recovery Act, the
EPA noted in a complaint.
Miller Hays said the problems cited by the EPA were all fixed later that year.
Worker safety: OSHA cited the lab for three violations classified as "serious," meaning workers could have
been injured or killed. OSHA didn't assess a fine because it doesn't fine federal agencies.
Workers toiled under lights so dim that OSHA ordered the fixtures replaced.
An emergency phone in an animal-holding area in Building 134 was dead for a year after a construction
crew cut its line. The lab eventually bought two-way radios for the building.
Some workers weren't properly trained in safety procedures.
Lab officials say the problems have been fixed, other than some replacement lights that are awaiting
installation.
Sewage: A panel of experts is studying how the lab disposes of its diseased-animal carcasses after two
workers alerted federal and local officials of potential problems that they feared could endanger Iowans and
the state's livestock industry.
Lab review panel
The city of Ames and the U.S. Department of Agriculture, which runs the National Animal Disease Center,
have chosen an international panel to review the lab's sewage-handling procedures. The panel is expected
to meet through the summer. For updates, see NADC.htm. Members are:
_ Dr. Ermias Belay, epidemiologist, Centers for Disease Control and Prevention; expert on prion diseases.
_ Dr. Pierluigi Gambetti, director, National Prion Disease Pathology Surveillance Center; neuropathology
director, Case Western Reserve University.
_ Dr. Linda Detwiler, consultant on prion issues, adjunct professor, Virginia-Maryland Regional College of
Veterinary Medicine.
_ Katherine McMahon, researcher studying ability of prions to withstand sewage treatment, University of
Wisconsin engineering college.
_ Dr. Alwynelle Ahl, former director, office of risk assessment, U.S. Department of Agriculture.
_ Dr. Robert Ellis, microbiology professor, certified biological safety professor, Colorado State University.
_ Robert Rohwer, director, Molecular Neurovirology Laboratory, Veterans Administration Medical Center,
Baltimore.
_ Robert Somerville, research team leader, Institute for Animal Health, United Kingdom.
_ Fran Kremer, senior science adviser, U.S. Environmental Protection Agency.
_ John Dunn, assistant director, Ames water and pollution-control department.
_ Jim Colbert, citizen observer; head of water-quality group called Skunk River Navy; associate professor,
Iowa State University department of ecology, evolution and organismal biology.