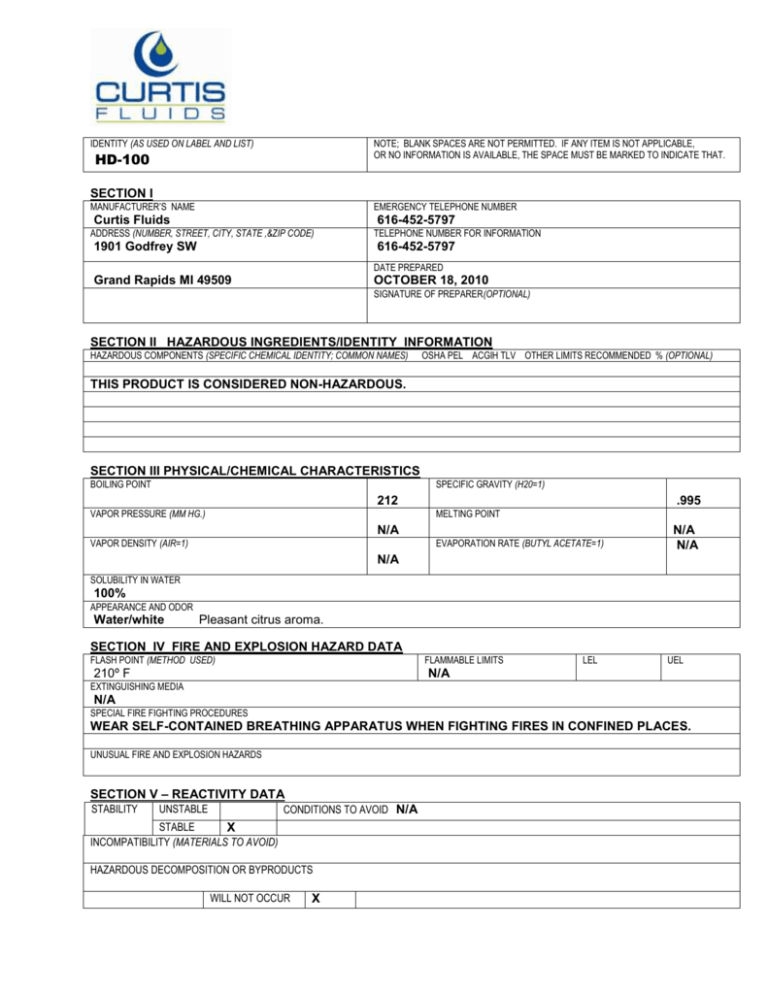 IDENTITY (AS USED ON LABEL AND LIST)
NOTE; BLANK SPACES ARE NOT PERMITTED. IF ANY ITEM IS NOT APPLICABLE,
OR NO INFORMATION IS AVAILABLE, THE SPACE MUST BE MARKED TO INDICATE THAT.
HD-100
SECTION I
MANUFACTURER'S NAME
EMERGENCY TELEPHONE NUMBER
Curtis Fluids
616-452-5797
ADDRESS (NUMBER, STREET, CITY, STATE ,&ZIP CODE)
1901 Godfrey SW
TELEPHONE NUMBER FOR INFORMATION
616-452-5797
DATE PREPARED
Grand Rapids MI 49509
OCTOBER 18, 2010
SIGNATURE OF PREPARER(OPTIONAL)
SECTION II HAZARDOUS INGREDIENTS/IDENTITY INFORMATION
HAZARDOUS COMPONENTS (SPECIFIC CHEMICAL IDENTITY; COMMON NAMES)
OSHA PEL ACGIH TLV OTHER LIMITS RECOMMENDED % (OPTIONAL)
THIS PRODUCT IS CONSIDERED NON-HAZARDOUS.
SECTION III PHYSICAL/CHEMICAL CHARACTERISTICS
BOILING POINT
SPECIFIC GRAVITY (H20=1)
212
VAPOR PRESSURE (MM HG.)
.995
MELTING POINT
N/A
VAPOR DENSITY (AIR=1)
EVAPORATION RATE (BUTYL ACETATE=1)
N/A
N/A
N/A
SOLUBILITY IN WATER
100%
APPEARANCE AND ODOR
Water/white
Pleasant citrus aroma.
SECTION IV FIRE AND EXPLOSION HAZARD DATA
FLASH POINT (METHOD USED)
FLAMMABLE LIMITS
LEL
UEL
N/A
210º F
EXTINGUISHING MEDIA
N/A
SPECIAL FIRE FIGHTING PROCEDURES
WEAR SELF-CONTAINED BREATHING APPARATUS WHEN FIGHTING FIRES IN CONFINED PLACES.
UNUSUAL FIRE AND EXPLOSION HAZARDS
SECTION V – REACTIVITY DATA
STABILITY
UNSTABLE
CONDITIONS TO AVOID N/A
STABLE
X
INCOMPATIBILITY (MATERIALS TO AVOID)
HAZARDOUS DECOMPOSITION OR BYPRODUCTS
WILL NOT OCCUR
X
SECTION VI-HEALTH HAZARD DATA
ROUTE(S) OF ENTRY;
INHALATION?
HEALTH HAZARDS(ACUTE AND CHRONIC)
SKIN?
X
INGESTION?
NO ADVERSE ACUTE OR CHRONIC EFFECTS EXPECTED WHEN USED AS RECOMMENDED.
CARCINOGENCITY;
NTP? NO
IARC MONOGRAPHS? NO
OSHA REGULATED? NO
SIGNS AND SYMPTOMS OF EXPOSURE
THIS IS NOT A PRIMARY SKIN IRRITANT. PROLONGED SKIN CONTACT MAY CAUSE IRRITATION.
MEDICAL CONDITIONS GENERALLY AGGRAVATED BY EXPOSURE
MAY AGGRAVATE EXISTING SKIN IRRITATION WHERE FURTHER DEFATTING OR SKIN PENETRATION
COULD OCCUR.
EMERGENCY AND FIRST AID PROCEDURES
EYES: FLUSH WITH COPIOUS AMOUNTS OF WATER.
SKIN: WASH WITH SOAP AND WATER.
INGESTION: CONSULT A PHYSICIAN.
INHALATION: REMOVE TO FRESH AIR.
SECTION VII-PRECAUTIONS FOR SAFE HANDLING AND USE
STEPS TO BE TAKEN IN CASE MATERIAL IS RELEASED OR SPILLED
CONTAIN SPILL. REMOVE WITH GROUNDED SUCTION PUMP TO SALVAGE CONTAINER. DO NOT FLUSH
TO SEWERS. COVER WITH ABRASIVE/ABSORBENT MATERIAL TO AVOID SLIPPERY SURFACES.
WASTE DISPOSAL METHOD
TREAT AS OILY WASTE AS LOCAL, STATE, FEDERAL REGULATIONS PERMIT.
PRECAUTIONS TO BE TAKEN IN HANDLING AND STORING
AVOID HIGH HEAT AND OPEN FLAME.
OTHER PRECAUTIONS
AVOID CONTACT WITH EYES AND PROLONGED CONTACT WITH SKIN.
SECTION VIII-CONTROL MEASURES
RESPIRATORY PROTECTION (SPECIFY TYPE ) NONE DEEMED NECESSARY.
VENTILATION
LOCAL EXHAUST ONLY IF MISTED.
SPECIAL N/A
MECHANICAL (GENERAL) N/A
OTHER N/A
PROTECTIVE GLOVES OIL/WATER RESISTANT
EYE PROTECTION SAFETY GOGGLES.
OTHER PROTECTIVE CLOTHING OR EQUIPMENT N/A
WORK/HYGIENIC PRACTICES GOOD PERSONAL HYGIENE SHOULD ALWAYS BE PRACTICED.