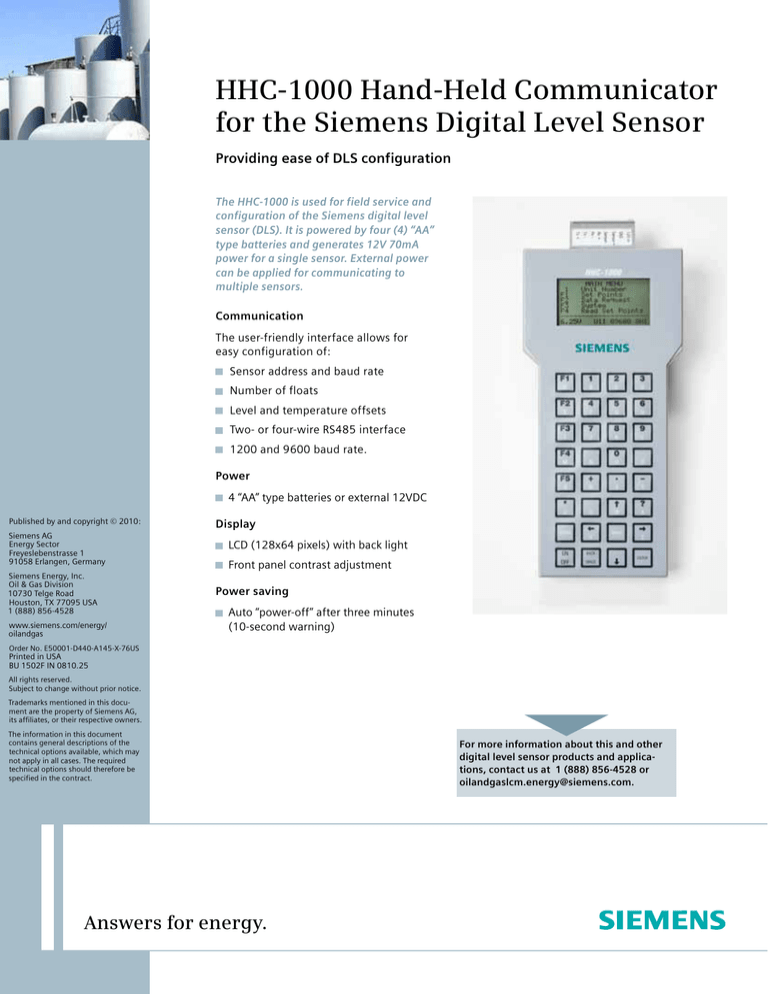 HHC-1000 Hand-Held Communicator
for the Siemens Digital Level Sensor
Providing ease of DLS configuration
The HHC-1000 is used for field service and
configuration of the Siemens digital level
sensor (DLS). It is powered by four (4) "AA"
type batteries and generates 12V 70mA
power for a single sensor. External power
can be applied for communicating to
multiple sensors.
Communication
The user-friendly interface allows for
easy configuration of:
Sensor address and baud rate
Number of floats
Level and temperature offsets
Two- or four-wire RS485 interface
1200 and 9600 baud rate.
Power
4 "AA" type batteries or external 12VDC
Published by and copyright © 2010:
Siemens AG
Energy Sector
Freyeslebenstrasse 1
91058 Erlangen, Germany
Siemens Energy, Inc.
Oil & Gas Division
10730 Telge Road
Houston, TX 77095 USA
1 (888) 856-4528
www.siemens.com/energy/
oilandgas
Display
LCD (128x64 pixels) with back light
Front panel contrast adjustment
Power saving
Auto "power-off" after three minutes
(10-second warning)
Order No. E50001-D440-A145-X-76US
Printed in USA
BU 1502F IN 0810.25
All rights reserved.
Subject to change without prior notice.
Trademarks mentioned in this document are the property of Siemens AG,
its affiliates, or their respective owners.
The information in this document
contains general descriptions of the
technical options available, which may
not apply in all cases. The required
technical options should therefore be
specified in the contract.
Answers for energy.
For more information about this and other
digital level sensor products and applications, contact us at 1 (888) 856-4528 or
oilandgaslcm.energy@siemens.com.