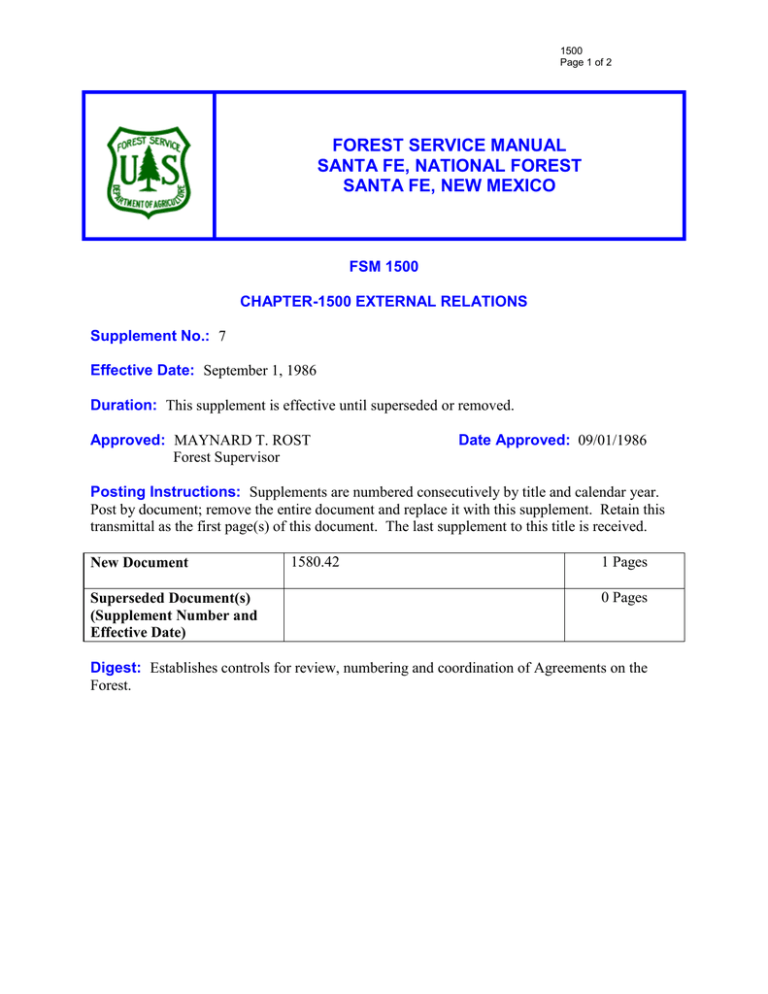 1500
Page 1 of 2
FOREST SERVICE MANUAL
SANTA FE, NATIONAL FOREST
SANTA FE, NEW MEXICO
FSM 1500
CHAPTER-1500 EXTERNAL RELATIONS
Supplement No.: 7
Effective Date: September 1, 1986
Duration: This supplement is effective until superseded or removed.
Approved: MAYNARD T. ROST
Forest Supervisor
Date Approved: 09/01/1986
Posting Instructions: Supplements are numbered consecutively by title and calendar year.
Post by document; remove the entire document and replace it with this supplement. Retain this
transmittal as the first page(s) of this document. The last supplement to this title is received.
New Document
Superseded Document(s)
(Supplement Number and
Effective Date)
1580.42
1 Pages
0 Pages
Digest: Establishes controls for review, numbering and coordination of Agreements on the
Forest.
SFNF SUPPLEMENT 1500-86-7
EFFECTIVE DATE: 09/01/1986
DURATION: This supplement is effective until superseded or removed.
1500
Page 2 of 2
FSM TITLE 1500
CHAPTER 80 EXTERNAL RELATIONS
1580.42 - The Supervisory Budget Analyst position will be responsible for reviewing
agreements for content, format, required clauses, legal authorities, indirect costs,
apportionment, and so forth
A number system will be maintained in B & F/Resource for all agreements.
Prior to signature, all agreements will be reviewed in B & F/Resource and then
forwarded to the Forest Supervisor or R. O. for signature.