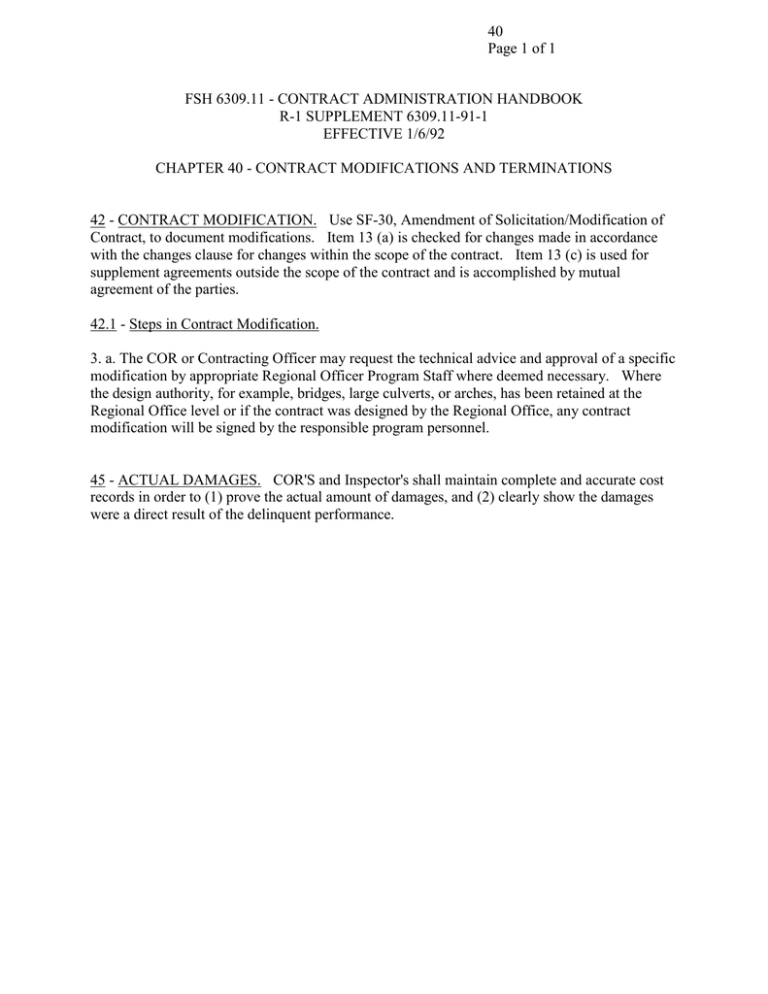 40
Page 1 of 1
FSH 6309.11 - CONTRACT ADMINISTRATION HANDBOOK
R-1 SUPPLEMENT 6309.11-91-1
EFFECTIVE 1/6/92
CHAPTER 40 - CONTRACT MODIFICATIONS AND TERMINATIONS
42 - CONTRACT MODIFICATION. Use SF-30, Amendment of Solicitation/Modification of
Contract, to document modifications. Item 13 (a) is checked for changes made in accordance
with the changes clause for changes within the scope of the contract. Item 13 (c) is used for
supplement agreements outside the scope of the contract and is accomplished by mutual
agreement of the parties.
42.1 - Steps in Contract Modification.
3. a. The COR or Contracting Officer may request the technical advice and approval of a specific
modification by appropriate Regional Officer Program Staff where deemed necessary. Where
the design authority, for example, bridges, large culverts, or arches, has been retained at the
Regional Office level or if the contract was designed by the Regional Office, any contract
modification will be signed by the responsible program personnel.
45 - ACTUAL DAMAGES. COR'S and Inspector's shall maintain complete and accurate cost
records in order to (1) prove the actual amount of damages, and (2) clearly show the damages
were a direct result of the delinquent performance.