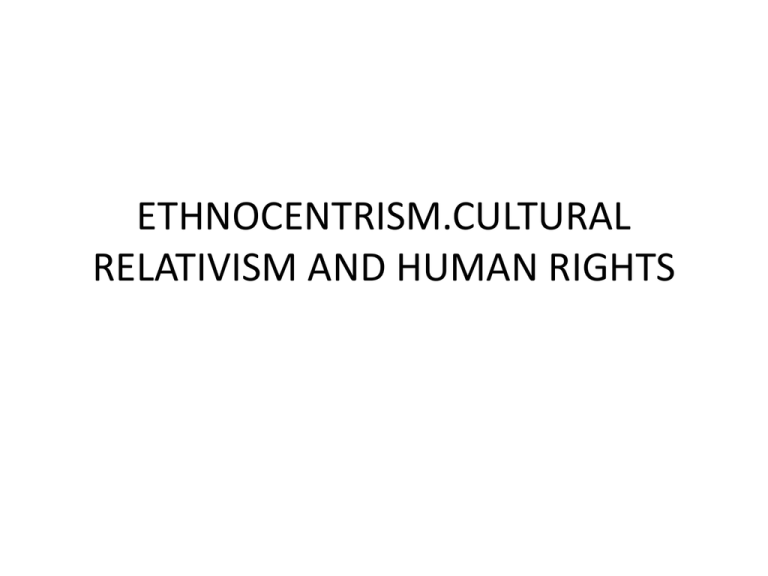 ETHNOCENTRISM.CULTURAL
RELATIVISM AND HUMAN RIGHTS
ETHNOCENTRISM
• Definition
• The tendency to view one's own culture as
superior and apply one's own cultural values
to judging the behavior and beliefs of people
raised in other cultures
• Everybody is a little ethnocentric
• We hear ethnocentric statements all the time
PATRIOTISM VS ETHNOCENTRISM
• Patriotism is love of one's culture.
• Can be patriotic without being ethnocentric
ETHNOCENTRIC IF
• You judge the behavior and beliefs of people
who are different from you
• You believe that there are primitive cultures,
especially if their life ways are different than
your own
• You believe that some cultures are backward if
they lack the technology and consumerism of
your own culture
NOT TRUE
• No such thing as primitive or backward
cultures. All cultures provide their members
with the means for meeting all human needs.
• Ethnocentrism has to be taught. You have to
be taught that your culture is superior and all
other cultures are inferior
• Stop ethnocentric behavior you must stop
judging others who are different from you
CHARACTERISTICS OF
ETHNOCENTRISM
• Contributes to Social Solidarity, a sense of
value and community among people who
share a cultural tradition
• People everywhere think that the familiar
expectations, and their opinions and customs
are right, true, proper, natural and moral
• Regard different behavior as strange, unnatural, immoral and savage
THINK
• Can you think of examples of ethnocentrism
you have encountered?
• What is your opinion of Iran and Iranians?
• In Trans-Fly region of Papua New Guinea,
homosexuality is values over heterosexuality
• Men of the Etoro tribe favor homosexuality
while their neighbors encourage men to
engage in anal sex.
OPPOSING ETHNOCENTRISM
• Cultural Relativism is a viewpoint&position
• That behavior in one culture should not be
judged by the standards of another culture,
i.e., values and standards of one's own
culture
• That the values and standards of culture differ
and deserve respect
HUMAN RIGHTS
• Challenge some aspects of Cultural Relativism
• Some cultures in Africa and Middle East
practice female genital modification
• CLITORIDECTOMY is the removal of the
clitoris& INFIBULATION involves the sewing of
the lips of the vagina.
• Both procedures reduce female sexual
pleasure & is a way that men control female
sexuality
Why?
• Cultures are male dominate and patrilineal.
• Property, resources and wealth passed from
father to sons
• Need to assure father that son is of father's
bloodline
• Fear of the likelihood of female adultery
HUMAN RIGHTS ADVOCATES
• Oppose such practices
• Such practices infringe on basic human right—
control over one's body and one's sexuality
• Some African nations have banned such
practices
• What about infant male circumcision?
• Distinguish between moral and
methodological relativism
METHODOLOGICAL RELATIVISM
• In anthropology, cultural relativism is not a
moral position but a methodological position
• To understand another culture fully, you must
try to see how the people in that culture see
things
• What motivates them—what are they
thinking—when they do those things?
METHODOLOGICAL RELATIVISM IS A
STANCE
• Cultural Relativism as Methodological
relativism does not preclude making a moral
judgment or taking action
• When faced with Nazi atrocities, a
cultural/methodological relativist would have
a moral obligation to stop being an
anthropologist and take action to intervene
HUMAN RIGHTS AND CULTURAL
RIGHTS
• Human rights invokes a realm of justice and
morality that is beyond and superior to the laws
and customs of particular countries
• Unlike Human Rights Cultural Rights are vested
not in individuals but in groups, such as religious
and ethnic minorities and in indigenous societies
• CR include the right to preserve its culture, to
raise its children in their cultural traditions, to
continue its language and have economic rights
POSSIBLE CONFLICTS
• Idea of cultural rights is related to the idea of
cultural relativism
• What does one do about cultural rights that
interfere with human rights?
• Anthropologist main task is to understand
another culture
• Anthropologist does not have to approve its
practices
WHAT DO YOU THINK?
• Most ethnographers(anthropologist who do
fieldwork) strive to be objective, accurate and
sensitive in their studies of other cultures.
• However, objectivity, sensitivity and a crosscultural perspective don't mean that
anthropologists have to ignore international
standards of justice and morality
• What do you think?