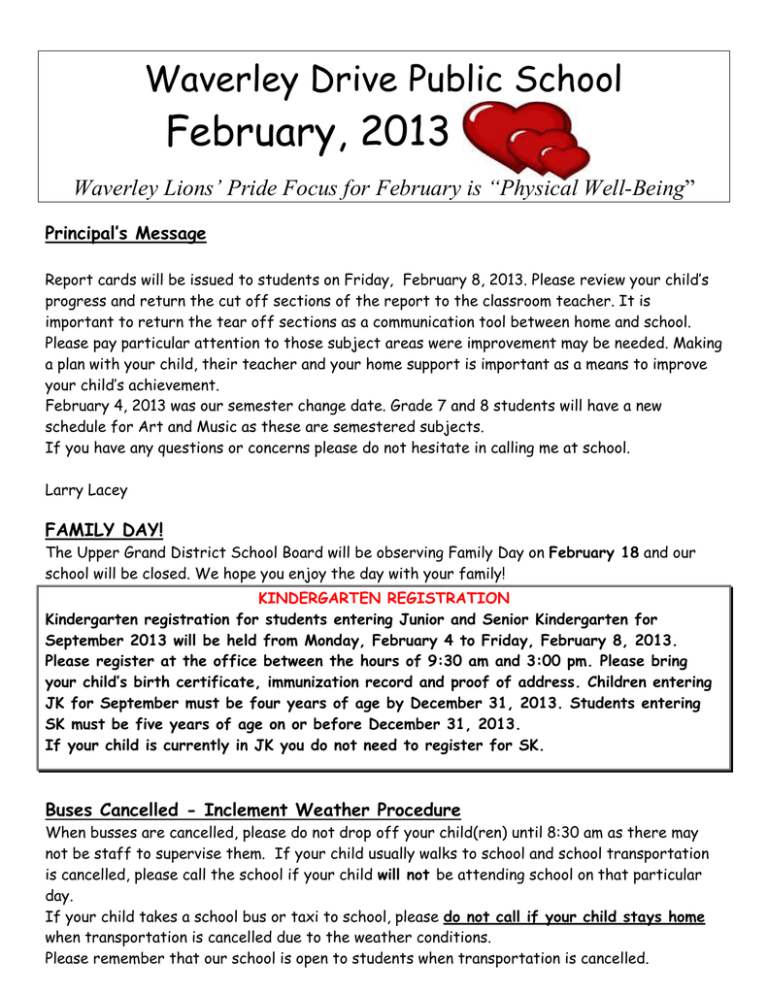 Waverley Drive Public School
February, 2013
Waverley Lions' Pride Focus for February is "Physical Well-Being"
Principal's Message
Report cards will be issued to students on Friday, February 8, 2013. Please review your child's
progress and return the cut off sections of the report to the classroom teacher. It is
important to return the tear off sections as a communication tool between home and school.
Please pay particular attention to those subject areas were improvement may be needed. Making
a plan with your child, their teacher and your home support is important as a means to improve
your child's achievement.
February 4, 2013 was our semester change date. Grade 7 and 8 students will have a new
schedule for Art and Music as these are semestered subjects.
If you have any questions or concerns please do not hesitate in calling me at school.
Larry Lacey
FAMILY DAY!
The Upper Grand District School Board will be observing Family Day on February 18 and our
school will be closed. We hope you enjoy the day with your family!
KINDERGARTEN REGISTRATION
Kindergarten registration for students entering Junior and Senior Kindergarten for
September 2013 will be held from Monday, February 4 to Friday, February 8, 2013.
Please register at the office between the hours of 9:30 am and 3:00 pm. Please bring
your child's birth certificate, immunization record and proof of address. Children entering
JK for September must be four years of age by December 31, 2013. Students entering
SK must be five years of age on or before December 31, 2013.
If your child is currently in JK you do not need to register for SK.
Buses Cancelled - Inclement Weather Procedure
When busses are cancelled, please do not drop off your child(ren) until 8:30 am as there may
not be staff to supervise them. If your child usually walks to school and school transportation
is cancelled, please call the school if your child will not be attending school on that particular
day.
If your child takes a school bus or taxi to school, please do not call if your child stays home
when transportation is cancelled due to the weather conditions.
Please remember that our school is open to students when transportation is cancelled.
School Council
Our next meeting is on Monday, February 25, 2013 from 7:00pm to 8:30pm
Cold Weather Is Here
It is extremely important that our students dress appropriately for the winter. This includes
warm coats, hats, mitts or gloves, scarves, and perhaps snow pants. All students are expected
to participate in school activities, including joining their classmates
outside at recess and noon hours. Even when a student has a cold, it is
healthy to get fresh air and exercise. When the weather is extreme we
hold an indoor recess. From time to time, we receive notes asking that
students remain indoors for recess. We feel that if a student is healthy
enough to attend school, she or he should take part in outdoor recess.
Grade 8 Option Sheets
A reminder to Grade 8 students, your option sheets for JF Ross are due to your homeroom
teacher no later than February 15. JF Ross expects students to enter course selections on line.
Please ensure this is done prior to the 15th as the online program will close. Students attending
College Heights must submit course selection sheets to their teacher no later than February
8th. Parents, if you have questions or concerns about your child's placement or course selections
for next year, please contact your son/daughter's teacher or contact Mrs. Topping at extension
224.
Wellington Live Free Campaign
On March 1, students will be taking part in the Live Free campaign taking place throughout
Guelph and Wellington County. This campaign will help generate awareness and understanding of
the reality that many people in our community and around the world live with less daily. At our
school, students will be encouraged to take the Live Free challenge. The challenge will ask
students to give something up for one day to show support/empathy for those who live without
each and every day. Students are asking to bring in a toonie donation that goes directly towards
food for students in our school who need snacks provided. As a thank you for the toonie
donation they will be permitted to wear a hat in school that day.
Beach Day
Beach Day date is Friday, March 8, 2013
Waverley Lunch/Snack Program
We continue to provide lunches and snacks to our students who need more to eat or have
forgotten their lunch. A HUGE thank you to Caroline in the Neighbourhood Group who is
preparing the lunches and snacks for our students. The Breakfast program is back up and
running. Students can come in to school at 8:30am to eat before going to class at 8:40am.
THANK YOU to Heather Jane and Andrew who arrive every morning to prepare and feed our
students breakfast.
Report Cards
On February 8th report cards will be coming home. These term 1 report cards represent of all
the work you child has done since the beginning of the school year. Unlike the progress report,
the report card is evaluative. The report will indicate your child's level of achievement and
highlight strengths and areas for growth to help your child improve. Notice that learning skills
and work habits are the first page of the report because they are an important reflection of
character. Please read and discuss the report card with your child and complete the comments
and goals section which should be returned to the school.
UGDSB recognizes February as Black History Month
Every year Canadians are invited to take part in the festivities and events that honour the
legacy of black Canadians, past and present, during Black History Month.
Black History Month exists to remind us all of the rich contributions within our society from
people of African and Caribbean decent, and of their ongoing struggle for equity and social
justice. This is a time to celebrate the many achievements and contributions of black Canadians
who, throughout history, have done so much to make Canada the culturally diverse,
compassionate and prosperous nation we know today. It is also an opportunity for the majority
of Canadians to learn about the experiences of black Canadians in our society, and the vital role
this community has played throughout our shared history.
School Lockdown Drills
New board policy requires all schools to do lockdown drills. We will be
holding drills in February. Students are directed by the staff as to where
to go and what to do in case an intruder enters the school and poses a
threat to the safety of our students and staff. Staff will be reviewing the
emergency procedures developed in conjunction with the Guelph Police.
Lockdown drills will become familiar to students just like fire and tornado
drills which are also a requirement every year. If you have any questions,
we would be happy to discuss them with you.
Saving for post-secondary education
A Registered Education Savings Plan (RESP) helps you, your family or friends to save early for a
child's education after high school. The Government of Canada supplements your savings
through the Canadian Education Savings Grant. Even with no savings, you could qualify for $500
or more from a Canada Learning Bond. To learn more, visit www.canlearn.ca, or inquire at your
bank or credit union.
February 2013
Winter Walk to School Day February 6th 2013
Walk to school or at school for daily physical activity, a healthier environment, safer streets, making friends and
... having fun! Can't walk to school? Hold a Winter Walk Day during school. Walk to the local skating rink for
a skate or hold a Winter carnival in the school yard at lunch.
TIPS FOR DRESSING FOR WINTER WALKING
Keep hands and head covered to prevent heat loss
On really cold days wear a scarf over your face and mouth
Wear warm, waterproof boots
Wear a warm coat that deflects the wind
Woollen clothing helps to retain the heat
Wear clothing or carry knapsacks with reflective material – it's important to be seen
If possible, change wet clothes at school – tuck an extra pair of socks and mitts into knapsacks
Below -25oC is considered too cold for walking so move your walk in-doors or select another day for
outdoor activities or walking to school
The Canadian Physical Activity Guidelines suggests 60 minutes of moderate-to vigorous-intensity
physical activity daily. Make walking a part of your day.
Wellington-Dufferin-Guelph Public Health
1-800-265-7293 | www.wdgpublichealth.ca
info@wdgpublichealth.ca
Waverley Drive
School Council
February 2013
Principal: Larry Lacey
Principal: Tara Topping
Co-Chairs: Nancy Nicol and Penny Devries
Treasurer: Rhonda Gatto
Secretary: Lori Dewar
Fundraising Chair: Sue Russell
Communication Chairs: Lori Dewar
Erika O'Krafka and Kathryn Selves
Upcoming School Council Meetings (7pm in the School Library)
Feb 25
March 27
April 24
May 27
June 19
Speaker Caroline McCullough from the Waverley Neighbourhood Group will bring
information on the WN Group, services provided and upcoming programs and services.
Brett Friesen Trellis Mental Health and Developmental Services will be our Speaker,
bringing us information on adolescent mental health and communication
Speaker to be determined
Jan Apgar-brining information on the Upper Grand web based data management that our
students are using in the classroom
School Council is hosting a volunteer fair with a wide variety of organizations in
attendance. This opportunity will provide families, students in high school & those
entering high school & meeting their needs to get qualifying volunteer hours towards
their SSGD
Please plan to attend! We'd love to see you!
Volunteers Needed
Wanted
Parent volunteers to assist with
the Foods & Friends Program.
Urgent assistance required to
feed the healthy minds of our
students. Volunteers could do
shopping and / or help with
distribution.
Please contact Tara Topping
tara.topping@ugdsb.on.ca
Or 519-824-7742
- Wanted Help, ASAP
Some fun loving, community
oriented people to assist with
with organizing & working on
the Family Fun Festival which
will be held on June 7th.
This is always a GREAT
community event!
Please contact Sue Russell
suerussell2010@hotmail.com
Wanted
Parents to participate in an
open forum discussion & data
collection regarding parent
involvement & participation at
the school & suggestions on
how to improve this
Please contact Heather Janes
heather.janes@rogers.com
FUNdraising
Great News!
Your school Council, in partnership with the school will be purchasing NEW GYM MATS
for the Auditorium. Your fundraising efforts once again, are benefiting all of our children! Thank you!
Here are some things that we've done lately & more opportunities for you to volunteer and participate in!
• Guelph Storm game- Nov 30 - A great night with our school band playing! 133 tickets were sold.
• Smencil Sales- Dec 10-14 were a huge success. The small surplus was donated back to the school.
• Bottle drive-Jan 13-was a huge amount of work & not all that successful. Will reconsider for next year.
• Dance-a-thon-planned for March. Watch for upcoming date and details.
Fun night June 7th -See above notice for volunteers needed in a wide variety of opportunities to make
this event a huge success! High School students can even qualify for volunteer hours!!!