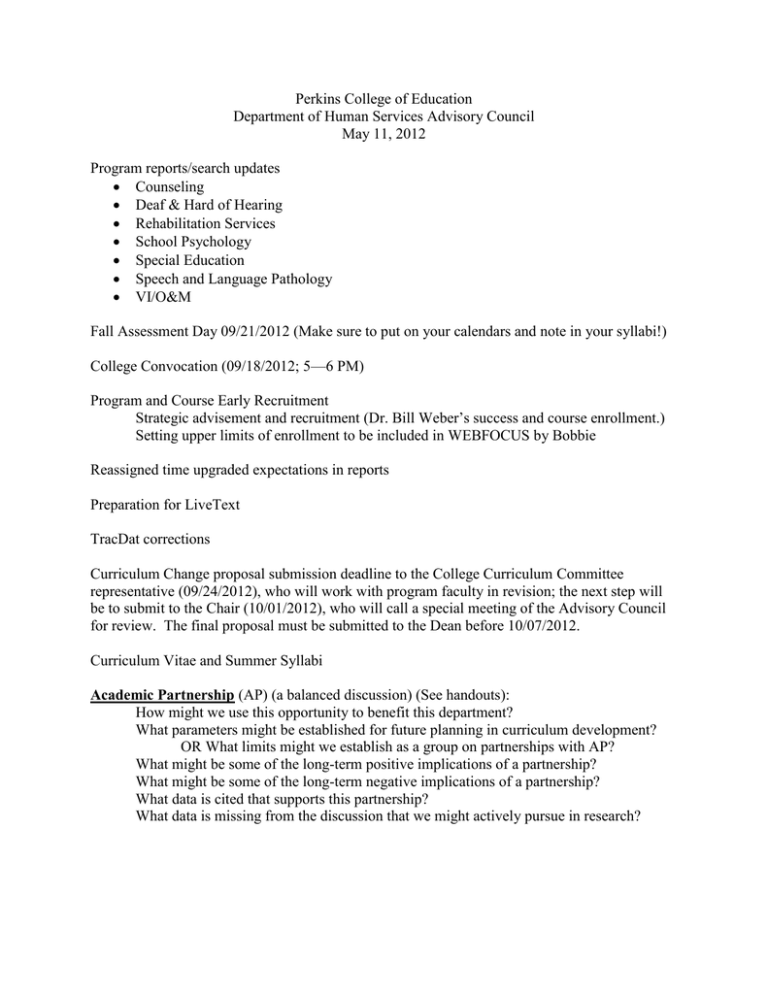 Perkins College of Education
Department of Human Services Advisory Council
May 11, 2012
Program reports/search updates
 Counseling
 Deaf & Hard of Hearing
 Rehabilitation Services
 School Psychology
 Special Education
 Speech and Language Pathology
 VI/O&M
Fall Assessment Day 09/21/2012 (Make sure to put on your calendars and note in your syllabi!)
College Convocation (09/18/2012; 5—6 PM)
Program and Course Early Recruitment
Strategic advisement and recruitment (Dr. Bill Weber's success and course enrollment.)
Setting upper limits of enrollment to be included in WEBFOCUS by Bobbie
Reassigned time upgraded expectations in reports
Preparation for LiveText
TracDat corrections
Curriculum Change proposal submission deadline to the College Curriculum Committee
representative (09/24/2012), who will work with program faculty in revision; the next step will
be to submit to the Chair (10/01/2012), who will call a special meeting of the Advisory Council
for review. The final proposal must be submitted to the Dean before 10/07/2012.
Curriculum Vitae and Summer Syllabi
Academic Partnership (AP) (a balanced discussion) (See handouts):
How might we use this opportunity to benefit this department?
What parameters might be established for future planning in curriculum development?
OR What limits might we establish as a group on partnerships with AP?
What might be some of the long-term positive implications of a partnership?
What might be some of the long-term negative implications of a partnership?
What data is cited that supports this partnership?
What data is missing from the discussion that we might actively pursue in research?