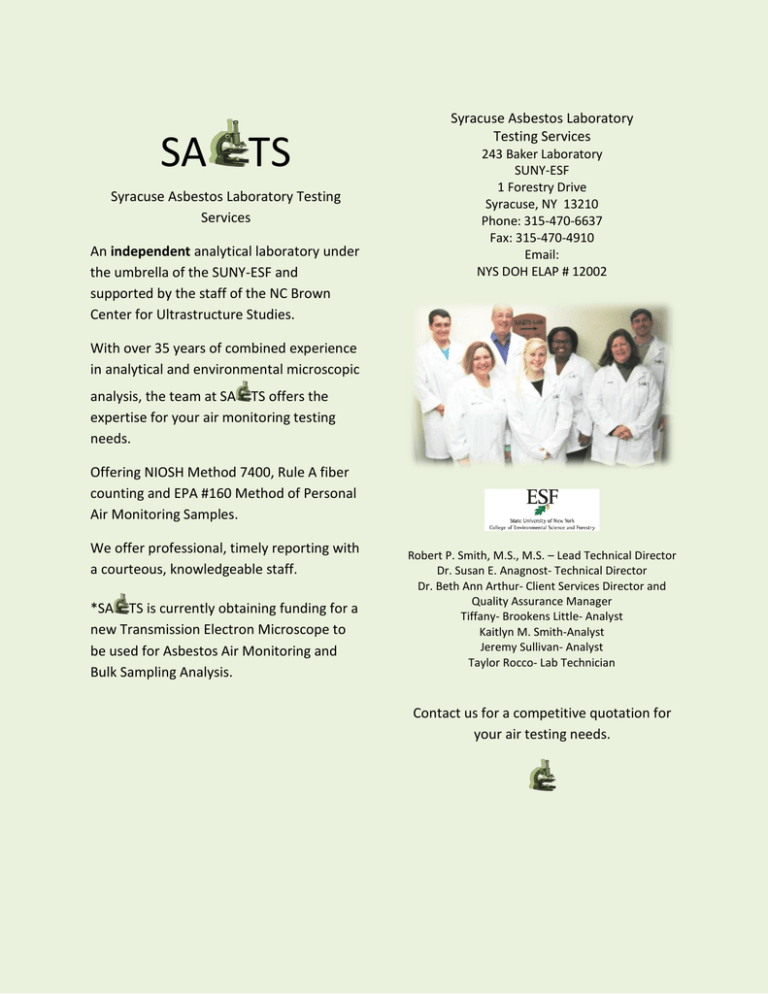 SA TS
Syracuse Asbestos Laboratory Testing
Services
An independent analytical laboratory under
the umbrella of the SUNY-ESF and
supported by the staff of the NC Brown
Center for Ultrastructure Studies.
Syracuse Asbestos Laboratory
Testing Services
243 Baker Laboratory
SUNY-ESF
1 Forestry Drive
Syracuse, NY 13210
Phone: 315-470-6637
Fax: 315-470-4910
Email:
NYS DOH ELAP # 12002
With over 35 years of combined experience
in analytical and environmental microscopic
analysis, the team at SA TS offers the
expertise for your air monitoring testing
needs.
Offering NIOSH Method 7400, Rule A fiber
counting and EPA #160 Method of Personal
Air Monitoring Samples.
We offer professional, timely reporting with
a courteous, knowledgeable staff.
*SA TS is currently obtaining funding for a
new Transmission Electron Microscope to
be used for Asbestos Air Monitoring and
Bulk Sampling Analysis.
Robert P. Smith, M.S., M.S. – Lead Technical Director
Dr. Susan E. Anagnost- Technical Director
Dr. Beth Ann Arthur- Client Services Director and
Quality Assurance Manager
Tiffany- Brookens Little- Analyst
Kaitlyn M. Smith-Analyst
Jeremy Sullivan- Analyst
Taylor Rocco- Lab Technician
Contact us for a competitive quotation for
your air testing needs.