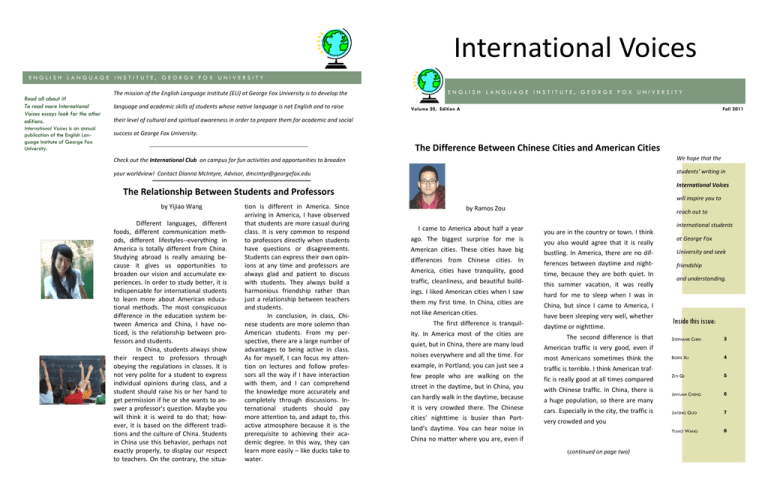 International Voices
ENGLISH LANGUAGE INSTITUTE, GEORGE FOX UNIVERSITY
Read all about it!
To read more International
Voices essays look for the other
editions.
International Voices is an annual
publication of the English Language Institute of George Fox
University.
The mission of the English Language Institute (ELI) at George Fox University is to develop the
language and academic skills of students whose native language is not English and to raise
ENGLISH LANGUAGE INSTITUTE, GEORGE FOX UNIVERSITY
Volume 20, Edition A
Fall 2011
their level of cultural and spiritual awareness in order to prepare them for academic and social
success at George Fox University.
The Difference Between Chinese Cities and American Cities
Check out the International Club on campus for fun activities and opportunities to broaden
We hope that the
your worldview! Contact Dianna McIntyre, Advisor, dmcintyr@georgefox.edu
students' writing in
International Voices
The Relationship Between Students and Professors
by Yijiao Wang
Different languages, different
foods, different communication methods, different lifestyles--everything in
America is totally different from China.
Studying abroad is really amazing because it gives us opportunities to
broaden our vision and accumulate experiences. In order to study better, it is
indispensable for international students
to learn more about American educational methods. The most conspicuous
difference in the education system between America and China, I have noticed, is the relationship between professors and students.
In China, students always show
their respect to professors through
obeying the regulations in classes. It is
not very polite for a student to express
individual opinions during class, and a
student should raise his or her hand to
get permission if he or she wants to answer a professor's question. Maybe you
will think it is weird to do that; however, it is based on the different traditions and the culture of China. Students
in China use this behavior, perhaps not
exactly properly, to display our respect
to teachers. On the contrary, the situa-
tion is different in America. Since
arriving in America, I have observed
that students are more casual during
class. It is very common to respond
to professors directly when students
have questions or disagreements.
Students can express their own opinions at any time and professors are
always glad and patient to discuss
with students. They always build a
harmonious friendship rather than
just a relationship between teachers
and students.
In conclusion, in class, Chinese students are more solemn than
American students. From my perspective, there are a large number of
advantages to being active in class.
As for myself, I can focus my attention on lectures and follow professors all the way if I have interaction
with them, and I can comprehend
the knowledge more accurately and
completely through discussions. International students should pay
more attention to, and adapt to, this
active atmosphere because it is the
prerequisite to achieving their academic degree. In this way, they can
learn more easily – like ducks take to
water.
will inspire you to
by Ramos Zou
reach out to
international students
I came to America about half a year
you are in the country or town. I think
ago. The biggest surprise for me is
you also would agree that it is really
American cities. These cities have big
differences from Chinese cities. In
bustling. In America, there are no dif-
University and seek
ferences between daytime and night-
friendship
America, cities have tranquility, good
time, because they are both quiet. In
traffic, cleanliness, and beautiful build-
this summer vacation, it was really
ings. I liked American cities when I saw
hard for me to sleep when I was in
them my first time. In China, cities are
China, but since I came to America, I
not like American cities.
have been sleeping very well, whether
The first difference is tranquil-
daytime or nighttime.
ity. In America most of the cities are
The second difference is that
quiet, but in China, there are many loud
American traffic is very good, even if
noises everywhere and all the time. For
most Americans sometimes think the
example, in Portland, you can just see a
traffic is terrible. I think American traf-
few people who are walking on the
fic is really good at all times compared
street in the daytime, but in China, you
with Chinese traffic. In China, there is
can hardly walk in the daytime, because
it is very crowded there. The Chinese
cities' nighttime is busier than Port-
at George Fox
and understanding.
Inside this issue:
STEPHANIE CHEN
3
BORIS XU
4
ZIYI QI
5
JINYUAN CHENG
6
JIATENG GUO
7
YIJIAO WANG
8
a huge population, so there are many
cars. Especially in the city, the traffic is
very crowded and you
land's daytime. You can hear noise in
China no matter where you are, even if
(continued on page two)
Volume 20, Edition A
International Voices
Hometown Festivals
The Difference Between Chinese Cities and American Cities
continued from page one
THE CHINESE
can't find room to drive. In the Chinese
buildings from a fairy tale. But in
CITIES'
countryside, the situation is better
China, the buildings are boring, and
than in the city, but it is much worse
the same buildings are everywhere. In
than in America. The number of cars is
America, buildings are made from
NIGHTTIME IS
BUSIER THAN
not too great, but the traffic rules are
wood, and I think this is very good,
PORTLAND'S
confusing, and just a few people ob-
because it's environmental. In China,
DAYTIME.
serve driving etiquette. The drivers
buildings are made from cement and
change lanes anywhere, just because
reinforcing steel bar. My house is a
they want to, and manners are nothing
villa, and in China it is better than
for them. One day, when my mother
most people's, but I also think it is
and I were driving from city to village, I
ugly.
saw people and vehicles crossing inter-
I like American cities, espe-
sections whether the traffic light was
cially their tranquility, good traffic,
red or green.
cleanliness, and beautiful buildings. I
Third, in America, you can find
also like my mother country, and I
that it is clean. But in China, especially
wish its cities can be like American
in some cities, you will be thinking you
cities one day.
are at a waste-yard. In America, it is
hard to find rubbish on the ground, but
in China, it is hard to find no rubbish
on the ground. If you are a garbage
collection member in China, I think you
will be a rich man. My uncle was a garbage collection member when he was
young, and now he has a lot of money.
Last but not least, there are
many beautiful buildings in the U.S.
These buildings are fantastic and like
Page 2
by Jiateng Guo
I come from Shandong
province, China which is Confucius'
hometown, and is a province with a
rich cultural background and rich
cultural activities. There are many
local festivals held there every
year. Let me introduce to you two
different kinds of famous festivals.
The first type of festival is represented by the Weifang International Kite Festival and the Heze
International Peony Festival. The
second kind of festival is the Qufu
International Confucius Cultural
Festival.
Since 1984, The Weifang
International Kite Festival has been
held every year from April 20th to
25th in Weifang, which is known as
the "city of kites." This event attracts kite enthusiasts from many
countries and regions all over the
world. Many excellent kites are displayed and flown during the festival. There are so many different
kinds of kites: Beijing opera masks,
dragons, swallows, sleds and so on.
Recently, some kite designers are
keeping a close eye on current
trends and continue to innovate.
You can see novelty kites, diamond
kites, and some that are like rockets or water cubes. All of them are
very lively.
The second festival is the
Heze International Peony Festival.
Heze is my parent's hometown, so I
have gone to this festival twice; the
flowers are so gorgeous there because Heze has a 400 year history of
planting peonies. Since 1992, the
Heze International Peony Festival
has been held 14 times. It is held
during the months of April and May,
every year. The festival has over 20
activities, including the opening
ceremony, and the square art performances. During this festival,
Heze's peony garden is an ocean of
flowers; there are more than 1100
different species, 9 colors and 10
patterns of these flowers.
The third festival is the Qufu
International Confucius Cultural Festival. As we all know, Confucius was
a famous educator and ideologist in
Chinese history. So a festival is held
from September to October in order
to remember and carry forward the
Confucian culture. Some of the activities during this time include: sacrificial ceremonies, and tours of both
the Temple and Cemetery of Confucius and of the Kong Family Mansion. There are also some antique
Confucian dance shows and archery
performances.
These three festivals represent the culture of my hometown;
there are so many different festivals
held every year in my hometown.
So, welcome to China and welcome
to Shandong.
Page 7
THERE ARE SO
MANY DIFFERENT
KINDS OF KITES:
BEIJING OPERA
MASKS,
DRAGONS,
SWALLOWS,
SLEDS ...
Volume 20, Edition A
International Voices
Food in Different Countries
Hong Kong—A Place That Represents Freedom
by Jinyuan Cheng
BECAUSE OF THE
'ONE COUNTRY,
TWO SYSTEMS'
POLICY, THE PEOPLE
WHO LIVE IN HONG
KONG ENJOY A KIND
OF ATMOSPHERE
THAT THE
MAINLAND CHINESE
PEOPLE WILL NEVER
KNOW.
As we all know, China is a
socialist country, but Hong Kong
and Macau are the only two capitalist cities in this country. Because of
the "One country, two systems"
policy, the people who live in Hong
Kong enjoy a kind of atmosphere
that the mainland Chinese people
will never know.
Hongkongnese are free to
have their beliefs. Hong Kong was
ruled by the United
Kingdom for ninetynine years, which
makes it an intercultural city. Therefore,
under the influence
of the Englishmen,
there are many
Christians
and
Churches in Hong
Kong, and they do
the same things as
the other Christians
do around the world. Also, some
Hongkongnese believe in Falum
Gong Cul, a religion that is forbidden in China. (In some cases people
who believe in it will be put into
prison!)
In addition, Hongkongnese
are free to express their opinions to
society. The Chinese government
spends a lot of money and manpower to block news that they regard as sensitive political matters.
by Stephanie Chen
However, Hongkongnese just say,
"No way!" For example, the governments in Guangdong, Hong
Kong and Macau are building a "Y"
shaped bridge; when the engineers
worked hard on the two parts in
Guangdong and Macau, the procession of the bridge project in Hong
Kong had to be postponed because
an old woman who lives near the
new bridge questioned the environmental assessment report. The
Chinese Government couldn't help
Hong Kong's government on it because of the "one
country, two systems" policy!
Those are two differences between
living in mainland
China and living in
Hong Kong. I think Hong Kong is
like the United States since people
can do and say whatever they want
(except crimes of course).
When you think about the differences in food between China and
America, what's the first thing to come
to your mind? Chopsticks and forks?
The food style? These are differences.
But just a little part. The meaning of a
good cook and what aspects of food
people care about are very different.
Firstly, the meaning of a good
cook is totally different in
the taste of the food while Americans
care about the nutrition of food.
Americans are particular about the
caloric, vitamin and protein content.
They eat one kind of food every day.
They eat because they need nutrition.
In China, we don't care if the food is
healthy. We only care about the taste
of food. There are four
China than in America.
points of perfect food in
Since I came to America, I
understand
this
point
more. I have seen how
Americans
cook.
have cookbooks of West-
delicious food. But for Chinese food, I
think a cookbook won't work. In China,
people from different places have
their own styles of making food. In the
south of China, they like sweet food.
The people in the north like salty. And
in the east, people eat spicy, and in
the west people like sour. To cook
food, all you need is experience choos-
should
have
"nice
HEALTHY. WE
"good smell,"
ONLY CARE
"delicious taste" and a
ABOUT THE
when we put the taste
even tells you the size of
you follow the cookbook, you can cook
THE FOOD IS
the taste. What a pity,
sugar you need. The book
the egg you need! It's hidebound. If
food
The most important is
plains how much flour and
DON'T CARE IF
Perfect
"beautiful appearance."
ern food. The book ex-
IN CHINA, WE
China.
color,"
They
ing and seasoning food.
Page 6
Secondly, Chinese care about
in the first place, we
ignore the nutrition when the food is
cooked. It's the biggest weakness of
Chinese food.
The special glamour of Chinese
food is the production of taste—the
taste of the food itself, the taste after
the food has been cooked, and the
seasoning. They help each other and
become a special taste. The food is a
special way to find the differences in
two cultures.
Page 3
TASTE OF FOOD.
Volume 20, Edition A
International Voices
My Experience at Fox
by Boris Xu
CHAPEL MAY BE
ONE OF THE
MOST SPECIAL
THINGS FOR
INTERNATIONAL
STUDENTS IN A
CHRISTIAN
UNIVERSITY.
I am Boris. I have been at
Fox for a year. Fox is a Christian university which I had never been to
and had totally no idea about. Today I would love to share some of
my experiences at Fox with you.
Here are my experiences of going
to chapel and getting along with
people at Fox.
Chapel may be one of the
most special things for international
students in a Christian university. I
had never gone to any chapel before I came to Fox. I have no idea,
even today, whether there are any
differences between our chapel and
the church that I go to with my host
family. I do like to sing together
with others in chapel with the fantastic band. Maybe one of the reasons is that the melody and all of
the songs' lyrics are pretty simple.
There always is a speech after singing. Sometimes during the speech, I
have trouble understanding it because of the vocabulary or because
I fall asleep. There was a time I was
trying to finish my homework and
submit it on FoxTALE in chapel
time, but I failed. There is no Wi-Fi
in that whole area. Then I found
someone was smiling at me in the
dark, "Freshman, aren't you? Don't
waste your time on trying this.
There is no Wi-Fi in this room. "
Yes, chapel is fun. And it is
Page 4
Valentine's Day
by Ziyi Qi
fun to meet people in the lobby
before chapel also. Students at Fox
are amazing in a way that is unimaginable.
Fox people are kind of different than the American standard
in my mind. They are nice, passionate, and peaceful. Once I fell from
my long board when I was going
super fast down the canyon to
class. I hit a little rock on the road.
It really hurt. I was lying on the
roadside and could not stop groaning. Then a girl showed up like an
angel from God. She came close
and asked in a voice that made it
sound like I was dying: "Are you
okay?" "I'm good." I regretted
those words at the moment I heard
myself say them. I was not, obviously. "Would you mind if I pray for
you?" I actually had no idea what
would happen. I was reading her
face while she was praying, because it was so painful that I couldn't focus on her words, and I found
peace. She let me feel that God
was with me at least at that moment. Thank you, American angel.
That's right. Everything I
have talked about is related to
Christianity because Fox is a Christian university. I benefit from this. I
can have a break in our chapel after the morning classes. And it is so
comforting to get along with Fox's
people. I am glad I am here.
What do you think is the
most interesting festival you have
ever experienced? For me, it is Valentine's Day. Couples exchange
chocolates, roses, and gifts on that
day. Shops are decorated with pink
hearts and fancy roses. I am not
going to expound upon the Western Valentine's Day, but rather, I
will introduce the Chinese Valentine's Day.
The Chinese Valentine's Day is celebrated on
July 7th, based on the lunar
calendar. The tradition is
from a lovely, but also sad,
story. In the tale, there are
two
main
characters
whose names are Niulang,
the husband, and Zhinv,
the wife. And, in the story, there
are also lucky birds called magpies.
This lovely pair, Niulang and Zhinv,
can only meet once a year. That is
because Zhinv broke a law of
heaven. Her punishment is that she
can't see her husband until the Chinese Valentine's Day. Because she
is in the heaven, and her husband
is a normal man who resides on
earth, on July 7th , the magpies establish a bridge with their bodies
and help the couple meet.
It is well known that Chinese people are very shy and show
their emotions indirectly, particularly love between lovers. As a result, my parents generation and
before didn't pay attention to this
passionate festival. Nowadays, it
has become the favorite festival of
the youth. In Europe and other
Western countries, gentlemen give
the roses to the ladies they admire
to show their love. The ladies also
give chocolates to the gentlemen in
return. It is almost the same in
China because of the impact of
Western culture.
The Chinese Valentine's Day differs from
the Western Valentine's
Day, which is on the 14th
of February. The Western and the Chinese traditions come from different stories. Otherwise, they are celebrated in almost the
same way.
THE CHINESE
VALENTINE'S DAY
IS CELEBRATED ON
JULY 7TH, BASED
ON THE LUNAR
CALENDAR. THE
TRADITION IS
The Western Valentine's
Day and the Chinese traditional Valentine's Day are two of the most
romantic and lovely festivals. People exchange gifts and love notes
with each other, and make promises for the future about love, and
the singles make wishes for someone to love. Even though the Chinese Valentine's Day is not exactly
the same as the Western one, the
Chinese Valentine's Day is still influenced by Western customs, anyway.
Page 5
FROM A LOVELY,
BUT ALSO SAD,
STORY.