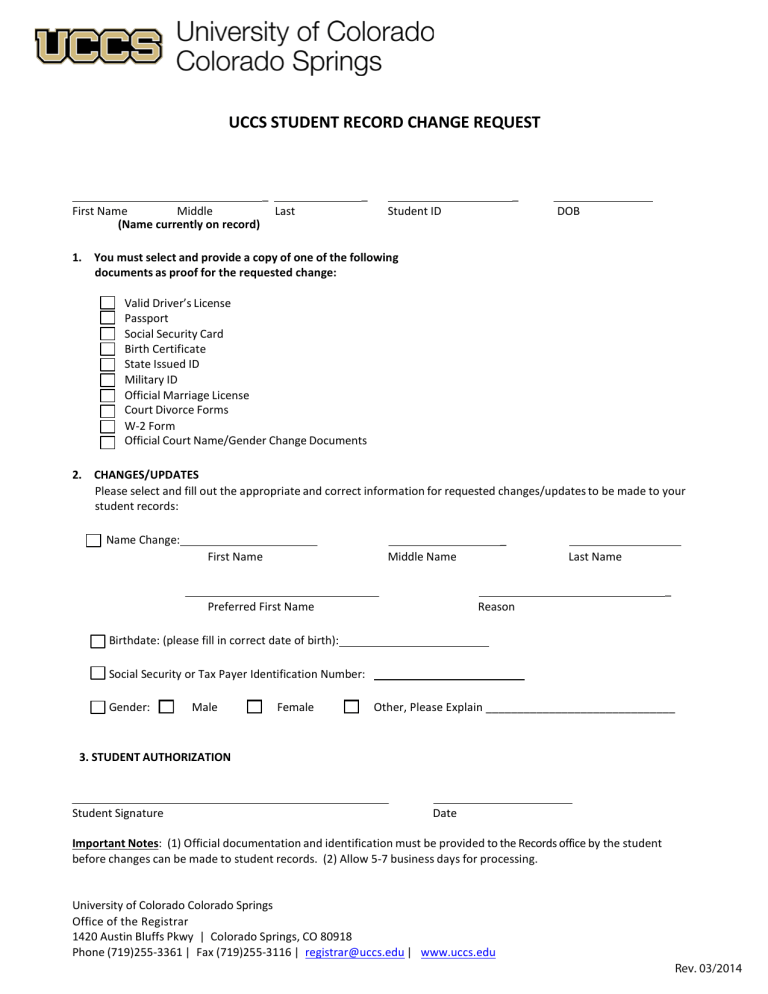 UCCS STUDENT RECORD CHANGE REQUEST
First Name Middle
(Name currently on record)
_
Last
_
Student ID
1. You must select and provide a copy of one of the following documents as proof for the requested change:
Valid Driver's License
Passport
Social Security Card
Birth Certificate
State Issued ID
Military ID
Official Marriage License
Court Divorce Forms
W-2 Form
Official Court Name/Gender Change Documents
_
DOB
2. CHANGES/UPDATES
Please select and fill out the appropriate and correct information for requested changes/updates to be made to your student records:
Name Change:
First Name Middle Name
_
Last Name
Preferred First Name Reason
_
Birthdate: (please fill in correct date of birth):
Social Security or Tax Payer Identification Number:
Gender: Male Female Other, Please Explain ______________________________
3. STUDENT AUTHORIZATION
Student Signature Date
Important Notes : (1) Official documentation and identification must be provided to the Records office by the student before changes can be made to student records. (2) Allow 5-7 business days for processing.
University of Colorado Colorado Springs
Office of the Registrar
1420 Austin Bluffs Pkwy | Colorado Springs, CO 80918
Phone (719)255-3361 | Fax (719)255-3116 | registrar@uccs.edu
| www.uccs.edu
Rev. 03/2014