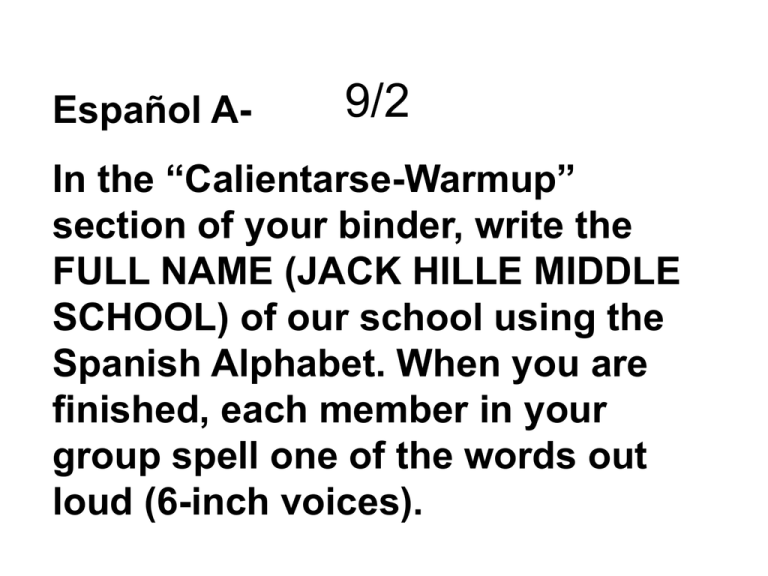 Español A-
9/2
In the "Calientarse-Warmup"
section of your binder, write the
FULL NAME (JACK HILLE MIDDLE
SCHOOL) of our school using the
Spanish Alphabet. When you are
finished, each member in your
group spell one of the words out
loud (6-inch voices).
9/3
List the COGNATES (words that
look, sound and mean the same
thing in two languages) from the
pledge of allegience.
9/7
1.Write down 3 greetings
and 3 goodbyes in
Spanish.
2.What is the difference
between "hasta luego" and
"nos vemos"?
9/8
1.How would you greet
someone at this time of
day:
a) 12:30pm b) 6pm
c) 3:40am
d)9:55 am
9/9
Write how you would ask each of
these people what their name is.
Write how they would respond.
1. Eva Rodriguez
2. Miguel Correa
3. Paco Huerta
9/10
Correct the mistakes.
1.Te llama Marta.
2.Se llamo Enrique.
3.Me llamas Isabel.
9/13
1. What do masculine
nouns usually end in?
2. What is the article that
comes before feminine
nouns?
9/14
1.Write your age using
numbers in Spanish.
2. Pick a person from your table
(don't tell them who), and
write 4 colors you see on
their clothes today.
9/15
Change the following nouns from
singular to plural:
1. La silla
2. La tarea
3. La pared
4. El cuaderno
5. El vaso
6. El papel
9/16
¡Feliz día de Independencia!
Answer the follwing questions about
yourself:
1. ¿Cómo te llamas?
2. ¿De dónde eres?
Answer the following about someone
in the class:
3. ¿Cómo se llama?
4. ¿De dónde es?
9/17
ESTUDIAN
9/20
A- Complete the sentences:
1. Me llam_ Pablo.
2. ¿Cómo te llam_ _?
3.¿Cómo se llam_ ?
B- Contesta las preguntas (oraciones
completas).
1. ¿Estudias mucho?
2. ¿Bailas con amigos?
3. ¿Hablas en la clase de español a veces?
4. ¿Tú y tu familia miran la televisión mucho?
9/21
A- Sacan los mapas and begin to
memorize the countries in
Norteamérica.
(5 minutos)
B- Sacan la canción "Yo quiero
aplaudir" y práctica en tus grupos.
(7 minutos)
9/22
A- 1. Is the word "días" masculine or feminine?
2. What is the name of the this mark: ~ which
sometimes goes over the letter n?
3. What is important about the country of
Panamá?
B- IF YOU GOT 34/50 or below on the testCORRECTIONS DUE TOMORROW!!!
1.What is the definition of an infinitive? Give 3
examples.
2. What is the rule about having two
conjugated verbs right next each other?
9/23
A- Write the answer using the Spanish
numbers.
4+6=_____ 12-1=____
8+6=____
7+8=____
What languages do the people in
Haití and Brasil mostly speak?
B- Write the word and it's opposite:
1. Arriba
6. Deprimido
2. Enfrente
7. tranquilo
3. Afuera
4. Derecha
5. En el medio
9/24
A- What is the difference
between ¿De dónde eres? and
¿De dónde es?
B- Using the "más emociones"
vocabulary, finish the following
sentences with 4 different
words.
1. Hoy estoy…
2. Normalmente estoy…
3. Mi mejor amigo(a) siempre
está…
4. Mi madre tipícamente está…
9/27
A1. Tell someone in your group how to
say 16-19 in Spanish. Now, escribe los
números 16-19.
2. ¿Qué significa "y"?
3. Staple and turn in your warm-ups.
B1.¿Cuándo estás enojado(a)?
2.¿Cuándo estás algre?
3. ¿Qué significa: adentro, atrás, afuera?