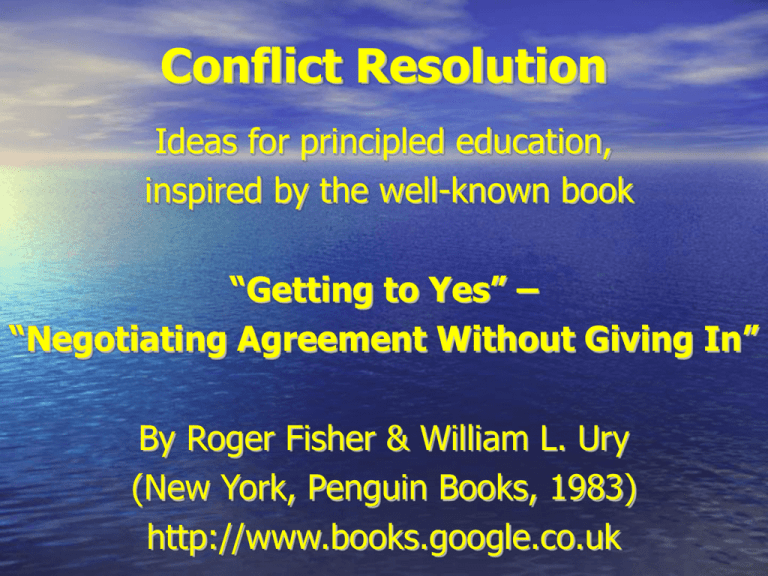 Conflict Resolution
Ideas for principled education,
inspired by the well-known book
"Getting to Yes" –
"Negotiating Agreement Without Giving In"
By Roger Fisher & William L. Ury
(New York, Penguin Books, 1983)
http://www.books.google.co.uk
'P – I – O – C'
A Simple Process for Resolving
Conflict
1. Preliminary Positions
2. The People and the Problem – 'P'
3. The Interests in Common – 'I'
4. The Options that are available – 'O'
5. A Criterion for Measuring – 'C'
And finally, an Evaluation
1. Preliminaries
THERE'S AN ESSENTIAL, BASIC RULE –
AVOID ALL FIXED POSITIONS!
Why?
Because they make positive negotiation
impossible.
Positive negotiation requires flexibility.
Keep an open mind, while at the same time
respecting every stage, and all participants,
in the total process.
AVOID ALL FIXED POSITIONS.
2. 'P' - Separate the PEOPLE
from the PROBLEM
A person is not a problem, as everyone has light
and shade. Put aside personal animosity and
IDENTIFY THE CENTRAL PROBLEM.
Concentrate objectively, exclusively on that.
Anyone who says "Person X is the problem," is
wrong, and should elevate their thinking.
There are always chains of causes and effects.
IDENTIFY THE CENTRAL PROBLEM.
3. 'I' – Identify The COMMON INTERESTS
There are always some interests that are shared,
that are common to all parties.
Everyone taking part in the negotiation should
ask themselves this simple question,
'What does everyone else really want?'
IDENTIFY THE COMMON INTERESTS
4. 'O' - Examine all the OPTIONS
Examine possible options with an open mind –
'brainstorming' is very useful here.
The most satisfactory option may lie well hidden
by people's habits and fixed ideas, and may
end up taking everyone by surprise.
EXAMINE ALL THE OPTIONS.
Then identify the best.
5. 'C' – Apply a fair, objective
CRITERION to the Option chosen
An objective criterion generates a sense of
fairness and therefore aids acceptance.
It may take the form of a comparison with similar
situations – behavioural, commercial (eg, a
written price list, salary scale, opinion poll,
vote, etc). It should be easy to observe.
APPLY A FAIR, OBJECTIVE CRITERION
In Summary AVOID:
Taking fixed positions
Indulging in personal animosities (P)
Focusing on issues irrelevant to the problem (p)
Dismissing others' interests as invalid (I)
Being rigid in considering alternatives (O)
Preferring opinions to objective criteria (C)
And you'll get to YES …
without having to give in.