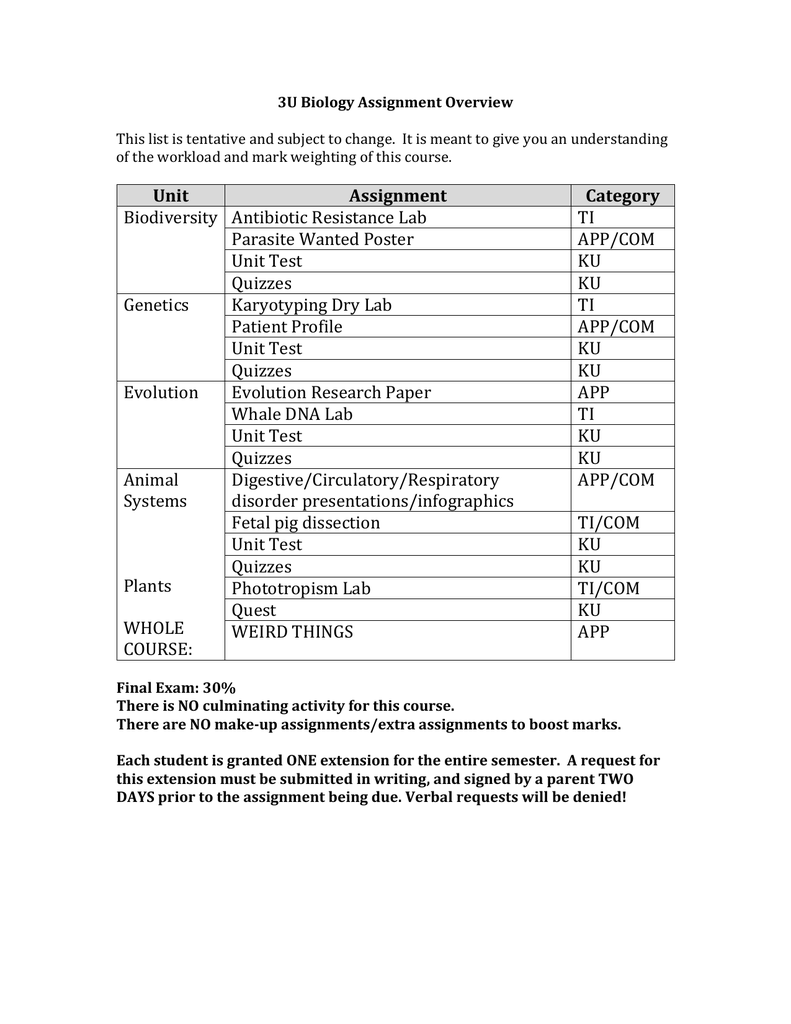 3U Biology Assignment Overview
This list is tentative and subject to change. It is meant to give you an understanding
of the workload and mark weighting of this course.
Unit
Assignment
Biodiversity Antibiotic Resistance Lab
Parasite Wanted Poster
Unit Test
Quizzes
Genetics
Karyotyping Dry Lab
Patient Profile
Unit Test
Quizzes
Evolution
Evolution Research Paper
Whale DNA Lab
Unit Test
Quizzes
Animal
Digestive/Circulatory/Respiratory
Systems
disorder presentations/infographics
Fetal pig dissection
Unit Test
Quizzes
Plants
Phototropism Lab
Quest
WHOLE
WEIRD THINGS
COURSE:
Category
TI
APP/COM
KU
KU
TI
APP/COM
KU
KU
APP
TI
KU
KU
APP/COM
TI/COM
KU
KU
TI/COM
KU
APP
Final Exam: 30%
There is NO culminating activity for this course.
There are NO make-up assignments/extra assignments to boost marks.
Each student is granted ONE extension for the entire semester. A request for
this extension must be submitted in writing, and signed by a parent TWO
DAYS prior to the assignment being due. Verbal requests will be denied!