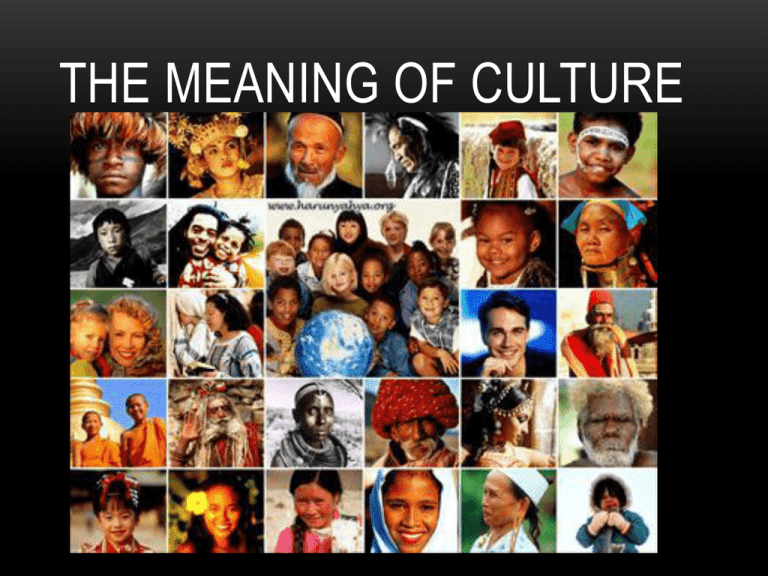 THE MEANING OF CULTURE
ELEMENTS OF CULTURE
• Culture
• All things that make up a
person's way of life.
• 7 Elements
• Social Organization
• Customs & Traditions
• Language
• Arts & Literature
• Religion
• Forms of Government
• Economic System
SOCIAL ORGANIZATION
•
Family Patterns
• Nuclear Family (Traditional)
• Comprised of mother, father,
and children
• Extended Family (Non-Traditional)
• Several generations in one
house
• Farming communities,
religious groups, Economic
•
Social Classes
• Based on money, occupation,
education, ancestry, or other factors
• How do you increase your social
class?
• Marriage, Education, Money
• You can move down in the social
class too.
CUSTOMS & TRADITIONS
&
LANGUAGE
•
Different Customs (Culturally Acceptable)
• Greetings
• Sitting Cross Legged
• Dressing
• Business
• Social
•
Language – Cornerstone of culture
• Uses
• Communicate: thoughts, feelings,
and knowledge
• Passing on beliefs to new
generations
• All cultures have a language BUT
not all have a written (Ebonics)
ARTS & LITERATURE
&
RELIGION
•
Styles of Arts and Literature
• Art, Music, Books, Movies, Stories
• Used to teach culture and entertain
•
Religion – Linked to Arts
• Major World Religions
• Hinduism
• Buddhism
• Judaism
• Christianity
• Islam
• Monotheism
• Belief in one God
• Polytheism
• Belief in multiple Gods
THREE
QUESTIONS OF
RELIGION:
1. WHERE DID
WE COME
FROM?
WE LIVE OUR
LIVES?
3. WHERE DO WE
GO WHEN WE
DIE?
COSMOLOGY:
THE STUDY AND
EXPLANATION OF
THE UNIVERSE
THEOLOGY:
A SYSTEM OF
RELIGIOUS
BELIEFS
ANIMISM: THE
BELIEF THAT
SPIRITS INHABIT
NATURE
Agnosticism:
Don't know
Atheism: Don't
believe in any divinity
or spiritual existence
Sect: A religious
group, division,
"branch" or faction
FORMS OF GOVERNMENT
•
Why do we need an organized
government?
•
People Organized Government
•
Historically
• Chiefs or Elders
•
Today: National Governments
• Thousands of officials
• Collect taxes, enforce
laws, and administer
justice
•
Types of Government's Today
•
Democracy
• People have supreme
power
•
Republic
• Form of Democracy; people
select leaders to represent
them
•
Dictatorship
• Ruler or group holds power
by force
•
ECONOMIC SYSTEM
Traditional Economy
• Produce what they need to
survive
• Hunting and Gathering,
Farming, and Herding
• Surplus is traded
•
Market Economy
• Buying and Selling
•
Command Economy
• Government controlled
• Individuals have little economic
power
•
Mixed Economy
• Individuals and Government
make decisions
• Cars are a great example:
People pick & Government
sets standards
MARKET
FORCES: WHAT
MAKES
SOMETHING
VALUABLE?