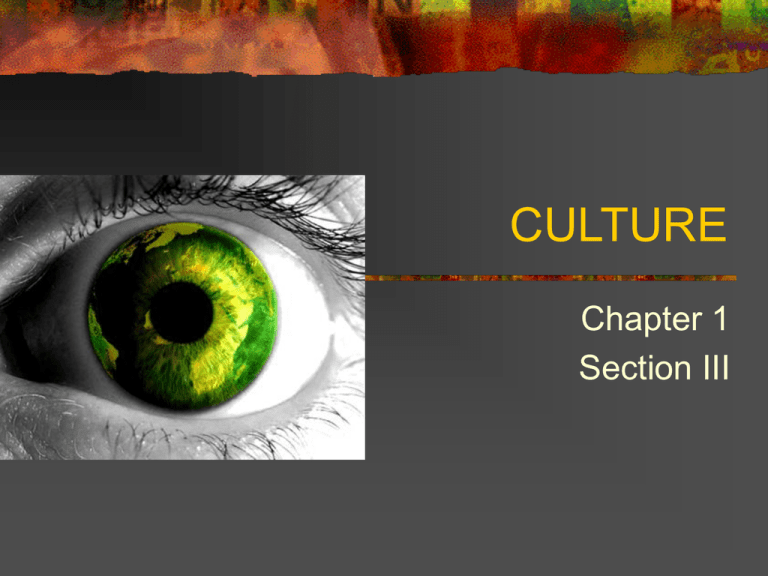 CULTURE
Chapter 1
Section III
What is culture?

Culture

All the things that make up a people's entire
way of life.
7 Elements of Culture







Social Organization
Customs and Traditions
Language
Arts and Literature
Religion
Forms of Government
Economic Systems

SCLARFE
Social Organization

Purpose: Help people of a culture work
together to meet basic needs

What are basic needs?
Social Organization

Family Patterns

Nuclear Family

Parts:

Wife, Husband, Children

Typical in industrial societies

What are some other industrial societies?
United States – Family Arrangements


Purple – 2000
Blue 1970

What does this
show us?
Extended Family

Several generations living in one
household.


Generations?
Characteristics:
May not have a lot of money
 Common in farming societies
 Respect for elders

Patriarchal/Matriarchal Families

Patriarchal Families

Men exercise more authority than women


Typical the eldest male is decision maker.
Matriarchal Families

Women exercise more authority than men.
Social Classes

Purpose:


Rank people in order of status.
Basis:







Money
Occupation
Education
Ancestry
Land Owned
Animals Owned
Religious leader
Social Mobility

The ability to move amongst classes



Was it always this way?
Is it this way everywhere?
How might one rise in society?
Family and Society

5 Minutes


Write about your families history:
How did you come to be where you are today.
Think about Family Structure
 Think about Social Classes


Do you know?
 If not, consider another families history, or make-up a
logical history one might be a part of.
Customs and Traditions

Rules and Behavior



How to sleep
How to greet
How to eat

SOCIAL NORMS – Customs and Traditions

What are some differences between our culture and
other cultures customs and traditions?
Language

The CORNERSTONE of culture

How would you communicate thoughts,
feelings, and knowledge without it?

INDIA

OVER 700 Languages!

Government recognizes 15 official languages.
Should the U.S. have an official language?

Arts and Literature

Products of the human imagination.

Teach a culture's beliefs and values.
Example?
Folk Tales

Art and Literature



Help promote pride and unity
Religion

Helps a culture answer questions about
the meaning and purpose of life.

Monotheism – the worship of one God

Polytheism – the worship of more than one
God
The Major Religions





Hinduism
Buddhism
Judaism
Islam
Christianity

What kind of
problems has
religion caused?
Sources of Religious Conflict

Internal


Fighting within a religion
External

Fighting outside of religion (against another)
Forms of Government

Government

1) Refers to


People who hold power in a society
2) Refers to
Society's Laws
 Political Institutions

Government

Why are governments formed?
Types of Government

Democracy



Republic


People have supreme power
Government can only act with the people's consent
People choose leaders who represent them
Dictatorship

A ruler or group holds power by force

Sometimes will claim to be republics
Economic Systems

Economics

How people use limited resources to satisfy
their wants and needs.

3 Basic Questions
3 Basic Economic Questions



What goods and services should be
produced?
How should the goods and services be
produced?
For whom should the goods and services
be produced?
Traditional Economy

People produce most of what they need to
survive.

For thousands of years most cultures had
traditional economies.
Market Economy

Individuals answer the three basic
economic questions by buying and selling
goods and services.

Businesses/Manufacturers decide what to produce
based on what people will buy.
Command Economy

Government controls what goods and
services are produced, and what they will
cost.
Mixed Economy

Individuals make some economic
decisions and the government makes
others.

Example?
Causes of Culture Change

Technology

Changing Environment

New Ideas
Diffusion

The movement of ideas or customs from
one place to another

Peaceful Diffusion
War/Forced Diffusion

Subculture

Group of people within a society that
share certain beliefs, values, and customs.
Ethnocentrism

Judging other cultures by the standards of
one's own.
Racism

Believing one racial group is NATURALLY
SUPERIOR than another racial group.
Essay – 40%

Name and explain the 7 elements of
culture. Be sure to provide an example
of each and justify how it fits the
category.