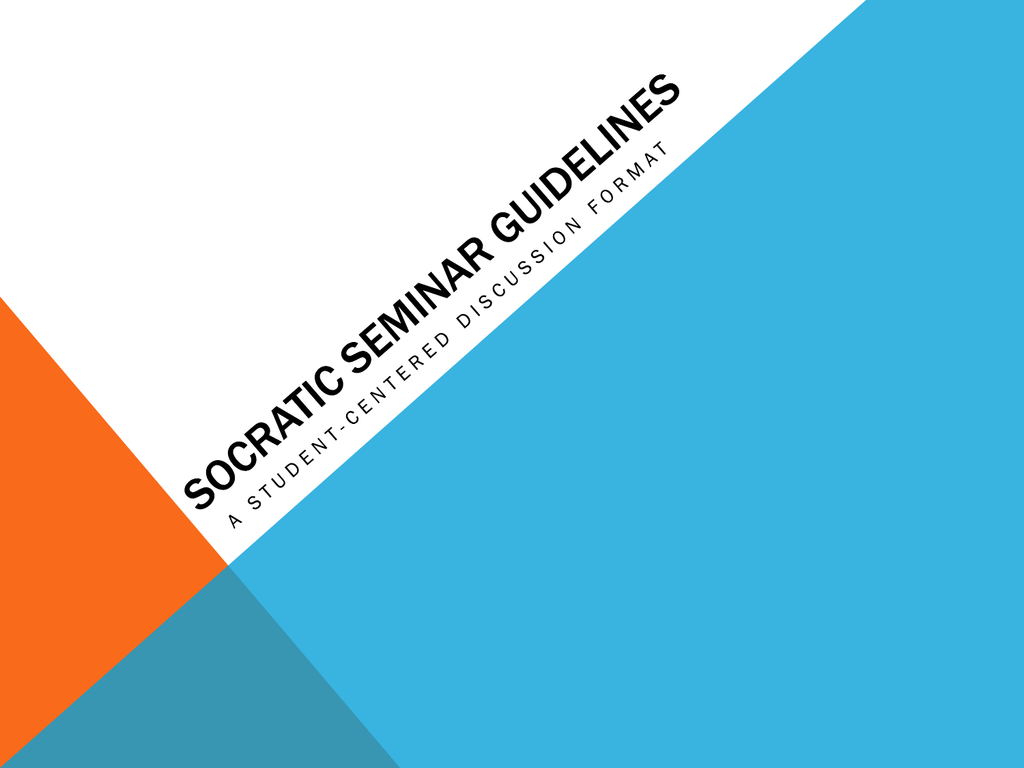 WHAT IS A SOCRATIC SEMINAR?
"The unexamined life is not worth living." -Socrates
•
The Socratic method of teaching is based on Socrates' theory that it is
more important to enable students to think for themselves than to
merely fill their heads with "right" answers.
•
One way to keep the conversation going is to respond to questions with
questions, instead of answers. This process encourages divergent
thinking rather than convergent.
• In short, the point is not to find the correct answer to a question but to
generate as many potential responses as possible.
CRITERIA FOR GRADED DISCUSSION
• Class participation grade 30 points total
• You will graded on your:
• level of participation .
• References to texts
• Level of analysis
HIGHER ORDER THINKING SKILLS
OPEN-ENDED QUESTION:
•
An insightful question about the text that will require evidence from the text and
group discussion to discover or explore the possible answer s to the question.
•
Many begin with the words "how," "what," or "why"?
•
Open-ended questions are usually not yes or not questions, or plot based
questions. An exception might be a question that makes you analyze or evaluate
whether or not a character, event, or written work meets a certain criteria. With
these types of questions, you need to supplement your response with reasoning
and evidence from the text.
•
For example: Does Beowulf represent the heroic ideal? (According to the code
and values of comitatus)
CRAFT AND STRUCTURE
•
Write a question dealing with HOW an author chose to compose a literary piece.
•
Example: Why is it important that the story is told through flashback?
•
OR How does Gardner's characterization of Grendel affect or change your
understanding of Beowulf?
UNIVERSAL THEME/ CORE QUESTION:
Write a question dealing with a theme(s) of the text that will
encourage group discussion about the universality of the text.
Example: After reading John Gardner's GRENDEL, can you identify its
existential elements?
What purpose do they serve for the novel as a whole?
What commentary do they provide for themes expressed in Beowulf?