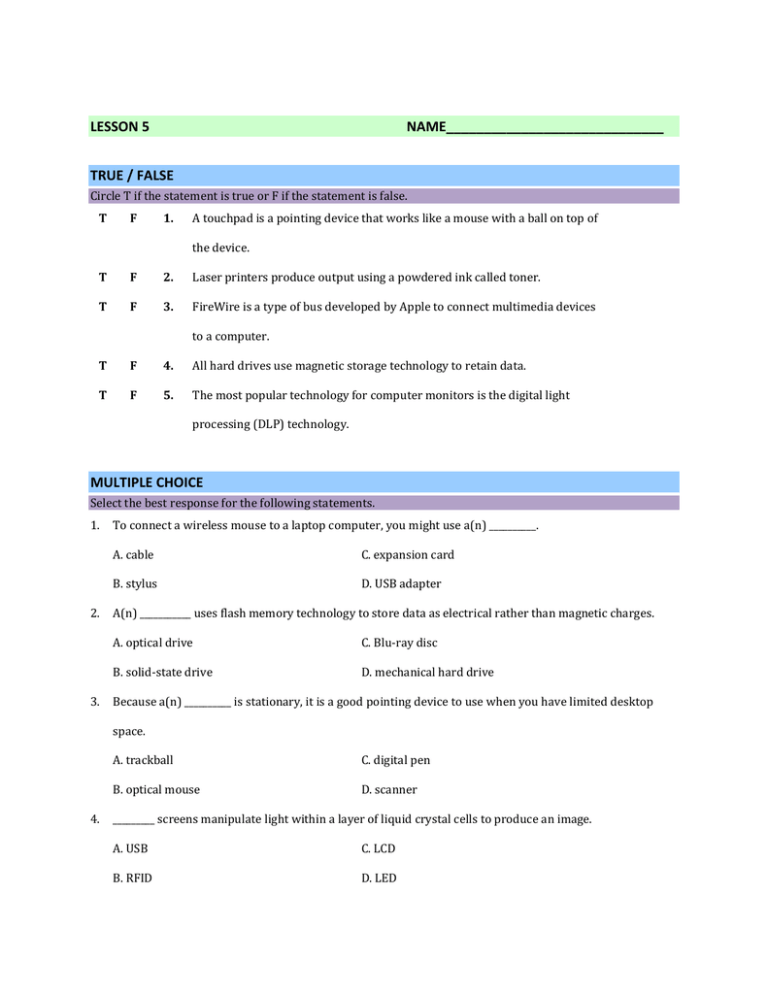 LESSON 5
NAME_____________________________
TRUE / FALSE
Circle T if the statement is true or F if the statement is false.
T
F
1.
A touchpad is a pointing device that works like a mouse with a ball on top of
the device.
T
F
2.
Laser printers produce output using a powdered ink called toner.
T
F
3.
FireWire is a type of bus developed by Apple to connect multimedia devices
to a computer.
T
F
4.
All hard drives use magnetic storage technology to retain data.
T
F
5.
The most popular technology for computer monitors is the digital light
processing (DLP) technology.
MULTIPLE CHOICE
Select the best response for the following statements.
1.
2.
3.
To connect a wireless mouse to a laptop computer, you might use a(n) __________.
A. cable
C. expansion card
B. stylus
D. USB adapter
A(n) ___________ uses flash memory technology to store data as electrical rather than magnetic charges.
A. optical drive
C. Blu-ray disc
B. solid-state drive
D. mechanical hard drive
Because a(n) __________ is stationary, it is a good pointing device to use when you have limited desktop
space.
4.
A. trackball
C. digital pen
B. optical mouse
D. scanner
_________ screens manipulate light within a layer of liquid crystal cells to produce an image.
A. USB
C. LCD
B. RFID
D. LED
5.
The smallest types of removable media are called ______.
A. ExpressCard modules
C. memory cards
B. CD-Rs
D. adapter cards
WRITTEN QUESTIONS
COMPLETE ALL 11
Write a brief answer to the following questions.
1.
Why does a computer have different types of ports?
2.
What advantage do ExpressCard modules and USB adapters offer over expansion cards?
3.
When might you want to use an ergonomic keyboard?
4.
Why do most laptop computers include a touchpad?
5.
What is the purpose of audio input devices? Give three examples of audio input devices.
6.
What is an RFID tag? How do you retrieve data from an RFID tag?
7.
Describe the difference between a high screen resolution such as 1600 x 900 and a low screen resolution
such as 1024 x 768.
8.
Explain in general how an inkjet printer produces text and images. Why is an inkjet printer considered a
nonimpact printer?
9.
What is the difference between storage media and storage devices?
10. In what two ways can you measure hard drive speed? Explain each of these measurements.
11. Why are optical storage media considered better than magnetic storage media?