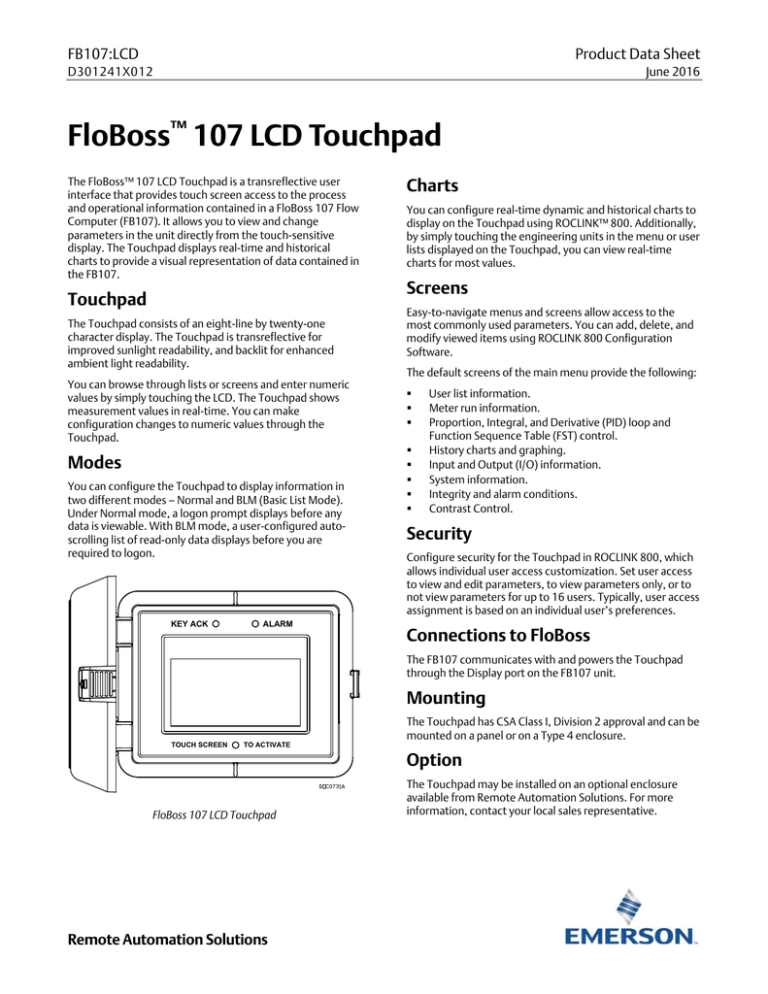 FB107:LCD
Product Data Sheet
D301241X012
June 2016
FloBoss™ 107 LCD Touchpad
The FloBoss™ 107 LCD Touchpad is a transreflective user
interface that provides touch screen access to the process
and operational information contained in a FloBoss 107 Flow
Computer (FB107). It allows you to view and change
parameters in the unit directly from the touch-sensitive
display. The Touchpad displays real-time and historical
charts to provide a visual representation of data contained in
the FB107.
Touchpad
The Touchpad consists of an eight-line by twenty-one
character display. The Touchpad is transreflective for
improved sunlight readability, and backlit for enhanced
ambient light readability.
You can browse through lists or screens and enter numeric
values by simply touching the LCD. The Touchpad shows
measurement values in real-time. You can make
configuration changes to numeric values through the
Touchpad.
Modes
You can configure the Touchpad to display information in
two different modes – Normal and BLM (Basic List Mode).
Under Normal mode, a logon prompt displays before any
data is viewable. With BLM mode, a user-configured autoscrolling list of read-only data displays before you are
required to logon.
KEY ACK
ALARM
Charts
You can configure real-time dynamic and historical charts to
display on the Touchpad using ROCLINK™ 800. Additionally,
by simply touching the engineering units in the menu or user
lists displayed on the Touchpad, you can view real-time
charts for most values.
Screens
Easy-to-navigate menus and screens allow access to the
most commonly used parameters. You can add, delete, and
modify viewed items using ROCLINK 800 Configuration
Software.
The default screens of the main menu provide the following:








User list information.
Meter run information.
Proportion, Integral, and Derivative (PID) loop and
Function Sequence Table (FST) control.
History charts and graphing.
Input and Output (I/O) information.
System information.
Integrity and alarm conditions.
Contrast Control.
Security
Configure security for the Touchpad in ROCLINK 800, which
allows individual user access customization. Set user access
to view and edit parameters, to view parameters only, or to
not view parameters for up to 16 users. Typically, user access
assignment is based on an individual user's preferences.
Connections to FloBoss
The FB107 communicates with and powers the Touchpad
through the Display port on the FB107 unit.
Mounting
The Touchpad has CSA Class I, Division 2 approval and can be
mounted on a panel or on a Type 4 enclosure.
TOUCH SCREEN
TO ACTIVATE
Option
FloBoss 107 LCD Touchpad
Remote Automation Solutions
The Touchpad may be installed on an optional enclosure
available from Remote Automation Solutions. For more
information, contact your local sales representative.
FB107:LCD
June 2016
FB107 LCD Touchpad
Physical
Touchpad
128 x 64 pixel, backlit, liquid crystal display.
LEDs
Red LED
Displays alarm or integrity alerts
Green LED
Displays positive key press indication
Communications
Connects to the FB107's Display port, maximum cable length of 15 m (50 ft)
Housing
PBT/Polypropylene, UV stabilized
Dimensions
111 mm H x 140 mm W x 25 mm D (4.38 in. H x 5.5 in. W x 1.0 in. D)
Weight
0.23 kg (0.51 lbs)
Mounting
Suitable for panel or enclosure mounting
Power
Input Power
(from the FB107's display port)
Normal Idle Mode
120 mW
Low Power Mode
42 mW
Input Voltage
8 to 30 Vdc
Environmental
Operating Temperature
-20 to 70°C (-4 to 158°F)
Storage Temperature
-30 to 85°C (-22 to 185°F)
Operating Humidity
0 to 95% relative humidity, non-condensing
Radiated/Conducted
Transmissions
Meets the requirements of IEC 61326 Electrical equipment for use in industrial locations
Radiated Emissions
Meets FCC Part 15, Class A
Vibration
Tested to ISA 75.13 1996 with an abbreviated endurance dwell test
Approvals
Product Markings for Hazardous
Locations (North America)
Class I, Division 2, Groups A, B, C, and D
Miscellaneous Approvals
RoHS (China)
2
CSA Type 4 rating when installed on enclosure per included installation sheet Form A6236.
www.EmersonProcess.com/Remote
June 2016
FB107:LCD
For customer service and technical support,
visit www.EmersonProcess.com/Remote/Support.
Global Headquarters,
North America, and Latin America:
Emerson Process Management
Remote Automation Solutions
6005 Rogerdale Road
Houston, TX 77072 U.S.A.
T +1 281 879 2699 | F +1 281 988 4445
www.EmersonProcess.com/Remote
Europe:
Emerson Process Management
Remote Automation Solutions
Unit 8, Waterfront Business Park
Dudley Road, Brierley Hill
Dudley UK DY5 1LX
T +44 1384 487200 | F +44 1384 487258
Middle East/Africa:
Emerson Process Management
Remote Automation Solutions
Emerson FZE
P.O. Box 17033
Jebel Ali Free Zone – South 2
Dubai U.A.E.
T +971 4 8118100 | F +971 4 8865465
Asia-Pacific:
Emerson Process Management
Remote Automation Solutions
1 Pandan Crescent
Singapore 128461
T +65 6777 8211| F +65 6777 0947
Remote Automation Solutions
© 2007–2016 Remote Automation Solutions, a business unit of Emerson Process
Management. All rights reserved.
This publication is for informational purposes only. While every effort has been made to ensure
accuracy, this publication shall not be read to include any warranty or guarantee, express or
implied, including as regards the products or services described or their use or applicability.
Remote Automation Solutions (RAS) reserves the right to modify or improve the designs or
specifications of its products at any time without notice. All sales are governed by RAS terms
and conditions which are available upon request. RAS accepts no responsibility for proper
selection, use or maintenance of any product, which remains solely with the purchaser and/or
end-user.