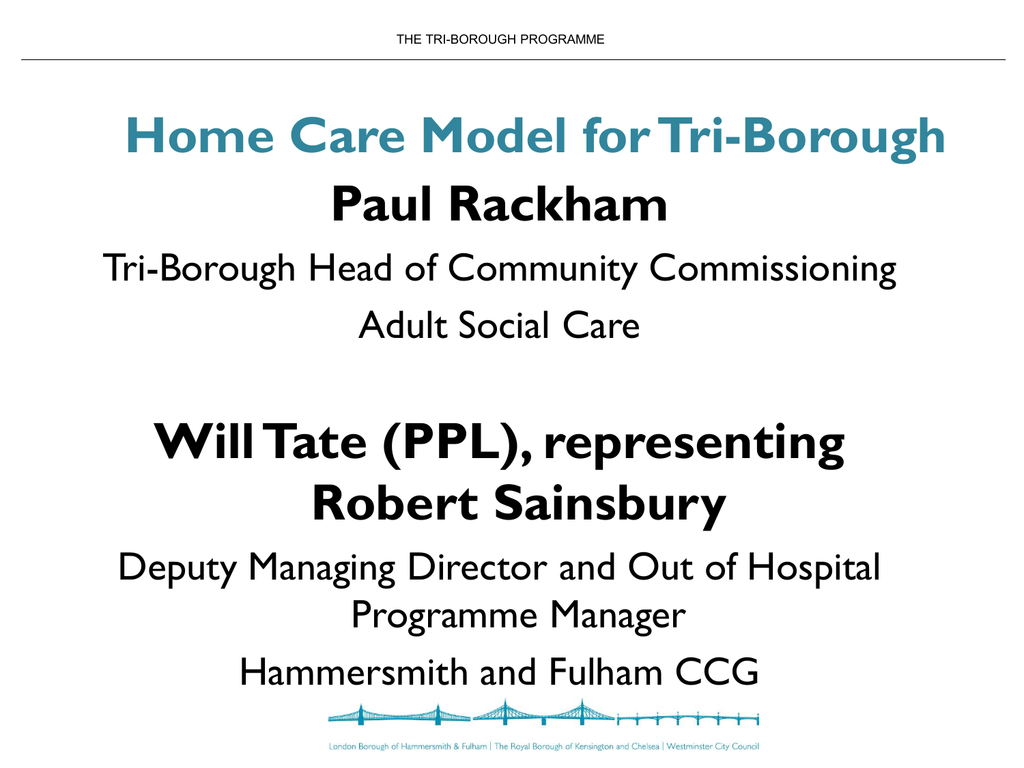 THE TRI-BOROUGH PROGRAMME
Home Care Model for Tri-Borough
Paul Rackham
Tri-Borough Head of Community Commissioning
Adult Social Care
Will Tate (PPL), representing
Robert Sainsbury
Deputy Managing Director and Out of Hospital
Programme Manager
Hammersmith and Fulham CCG
THE TRI-BOROUGH PROGRAMME
Background
•
•
•
•
•
•
•
A tri-borough approach for commissioning and operational
teams
A commitment to develop integrated approaches between
NHS and ASC community services
Demographics and the Out of Hospital strategies leading to an
increase in the number of people with complex health and
social care needs, living independently in the community
Reduction in use of Residential Care
Decreasing budgets and increasing demand so need to prevent
avoidable deterioration
Positive experience of electronic monitoring and centralised
brokerage team
Political support for improvements in home care
THE TRI-BOROUGH PROGRAMME
Future Model: Flexible Support to Live at
Home
TRI-B ASC MISSION: TO DELIVER BETTER FOR LESS
More people stay independent for longer
People have a good experience of support
Costs reduce
Commissioned Service
-Flexible and personalised, based on principles of
dignity, respect and compassion.
- Strong emphasis on setting and meeting
individual outcomes, with maximising
independence at the heart of this.
-Strong emphasis on consistency of care workers
Supported Direct Payments
-Councils provide a range of support services to
help people take up and manage a DP.
-DPs provide a positive option in more cases.
- This puts pressure on commissioned services to
perform better.
-Changed role for e- monitoring
INTERNAL RE-DESIGN AND WORKFORCE DEVELOPMENT
-to create the infrastructure to support this service model . Will mean significant changes both for
frontline and back office staff.
THE TRI-BOROUGH PROGRAMME
A Big Culture Change
•
•
•
•
•
•
Whole system approach: Improved health and wellbeing
focus and improved partnership working
Prevention: A reablement approach
Personalisation: Developing a more personalised service,
aligning and improving assessment processes and improving
Direct Payments systems
Local approach: Patch based, familiar workers, connecting
with the local community and health services
Shaping a Healthier Future strategy for Inner, North
West London is a major NHS reconfiguration initiative
NHS Community Services are changing through Primary
Care Networks
THE TRI-BOROUGH PROGRAMME
Elements of the Model
–
–
–
–
Scope: The ongoing support to people with dementia,
learning disabilities, mental health problems, challenging
behaviour, physical disabilities.
Workforce: Emphasis on the quality and skills of a
mixed workforce. Customers want regular care
workers, who know the local area and facilities and
who have a good customer relationship with them.
Health input: Close working with health and social
care professionals to provide joined up care to
customers.
Patches: Nine patches across the three boroughs, all
around 3,000 hrs per week.
THE TRI-BOROUGH PROGRAMME
Elements of the Model
–
–
–
–
–
Single Brokerage Team handling all ordering and
ongoing contact with providers.
Focus on Outcomes: As part of the assessment,
support plan and review.
Flexibility: Customers will be given a block of hours
(or budget) each month that they can use flexibly.
E-monitoring: The model will be underpinned by
electronic monitoring and a homecare management
service.
Payment: Providers will be paid automatically based
on the actual hours delivered as monitored by the
system.
THE TRI-BOROUGH PROGRAMME
Elements of the Model
•
•
Reablement approach – "doing with" – maintaining
or reducing levels of support.
Multidisciplinary working, between health and ASC,
will be central to the service.
THE TRI-BOROUGH PROGRAMME
Restricted Tender
Two Stages
•
Stage 1 – Pre Qualifying Questionnaire (PQQ)
•
Stage 2 – Invitation to Tender (ITT)
THE TRI-BOROUGH PROGRAMME
• The PQQ will normally look at the following:
- That your organisation has the correct policies and
procedures in place covering insurances, health and safety
and quality assurance, equal opportunities, safeguarding,
business continuity etc.
- Previous experience of delivering homecare, which will
be tested by a number of questions covering service
delivery, safeguarding, working in diverse communities,
workforce training and organisation, patch working etc.
- That your organisation is of sufficient financial standing.
•
Rank patches in order of preference
•
Only shortlisted for two patches
•
Maximum of five providers per patch invited to tender
THE TRI-BOROUGH PROGRAMME
• Recognise the value of mixed market
• Welcome bids from small, medium and large providers
• Consortium
- Two or more organisations joining to form a
separate legal entity.
- Contract is with the consortium not individual
organisations.
- Information from all organisations will be assessed.
• Sub-contracting
- Council has contract with one lead organisation.
- Lead organisation subcontracts with other
organisations to deliver care on their behalf.
- Lead organisation is responsible for ensuring delivery
and quality of all care provided.
THE TRI-BOROUGH PROGRAMME
For advice and guidance on this area please contact:
•
Westminster Action for Voluntary Engagement on
http://wave-vcs.org.uk/
•
Voluntary Action Westminster http://www.vawcvs.org/
•
Hammersmith Council for Voluntary Service
http://www.cavsa.org.uk/
•
Kensington and Chelsea Social Council
http://www.kcsc.org.uk/about-kensington-chelsea-socialcouncil
THE TRI-BOROUGH PROGRAMME
Invitation to Tender (ITT)
• Evaluated on 50% price, 50 % quality
• Price – based on a number of elements including
hourly rate
• Quality - your proposal for delivering the service
THE TRI-BOROUGH PROGRAMME
Contract Award and Implementation
• No more than two patches
• Patches cannot be in the same borough
• Minimum of five, maximum of nine providers
• Feedback to unsuccessful Providers
• Direct Payment and Personal Budgets
THE TRI-BOROUGH PROGRAMME
Indicative Timetable
Action
Pre Qualification
Questionnaire
Return of PQQ
Invitation to Tender
Return of Tenders
Contract Award
Implementation
Timescale
End of May 2014
2nd July 2014
11th August 2014
19th September 2014
December 2014
January 2015 – April 2015
www.capitalesourcing.com
Collaboration Questions
• What your organisation does
• What you would bring to a collaboration
• What role you want to have in these contracts
• What arrangement you would be interested in.