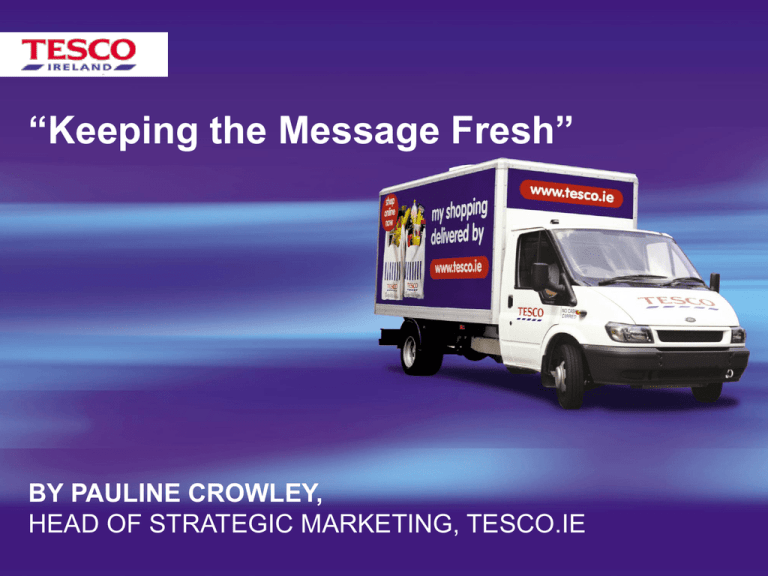 "Keeping the Message Fresh"
BY PAULINE CROWLEY,
HEAD OF STRATEGIC MARKETING, TESCO.IE
Partnership of Tesco.ie & Eircom.net
Why does the Partnership Work?
• Nation-wide Reach
• Premium Brand Awareness
• Strongest Internet Relevance
• Appealing to the values of the target market
• Two Traditional companies with "Clicks & Mortar" Brands
• Offline Heritage – just like our customers
Premium Positioning on Eircom.net
• "Always On" premium Homepage position
• Dynamic Advertising in targeted channels via Banners, Island
Adverts, and "Skyscrapers"
• Using eMail to target the eircom.net database
• Targeting of Users where they Check their eMail
Email Marketing
Banner Adverts
Skyscrapers in Content Areas get noticed
"Always On" Homepage Advert is 24/7
Multiple Sales Channels on one website
EIRCOM
EMAIL
DATABASE
EIRCOM
HOMEPAGE
Eircom.net Audience
Of 550,000 Unique Users
Channels
incl.
News-TravelWomen's
14 Million
Pages to
Advertise On
Added Value through Partnership
• Tesco.ie have "Key Events" during which eircom.net help
communications [e.g. Back to School]
• Eircom.net undertake ongoing Brand Research to hear what
Eircom.net users think of Tesco
• Eircom.net keeps users abreast of Tesco.ie price discounts on a
day to day basis
• Eircom.net customers avail of Tesco.ie Special Offers [e.g.
Delivery Free]
How We Measure Response
from Eircom.net in Tesco.ie
• Click Through from Adverts to Tesco.ie
• Response from tactical activities – [Easter-Xmas-School]
• Customer Conversion
• Response from eMail Marketing to the eircom.net Database
• Size of Basket
• Frequency of Shop
• Brand Recall
• Advertising Responsiveness [Online Research with Eircom.net]*
Results: Building Traffic to Tesco.ie
• Eircom.net Traffic has grown by over 50% since Partnership started
• Many new site users are 'Traditional' in-store Tesco customers
coming online
• Our Results show the Highest Traffic to Tesco.ie comes from the
Eircom.net Homepage [www.eircom.net]
• 2nd Highest Traffic volume comes from the Eircom eMail section –
many customers want to check email and order shopping together
• Site-wide Banners and other adverts reinforce the message with
simple supporting calls to action
Thank You!