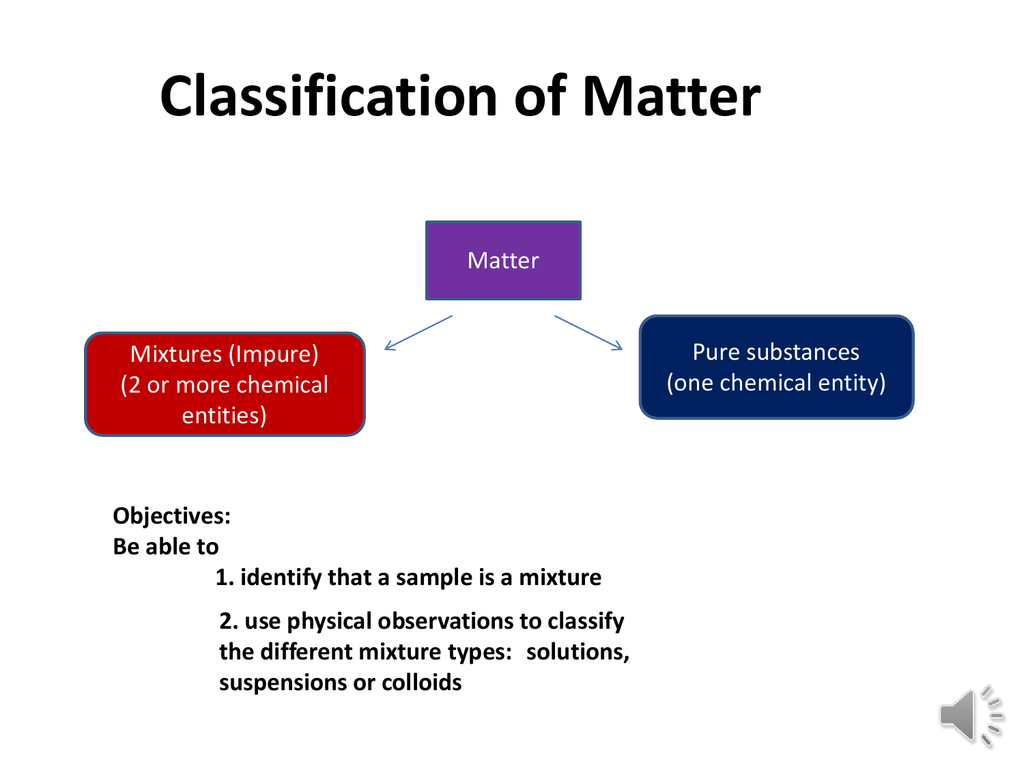 Classification of Matter
Matter
Mixtures (Impure)
(2 or more chemical
entities)
Objectives:
Be able to
1. identify that a sample is a mixture
2. use physical observations to classify
the different mixture types: solutions,
suspensions or colloids
Pure substances
(one chemical entity)
Mixtures
2 or more substances combined
uniform (same)
throughout
non-uniform
homogeneous
mixtures
heterogeneous
mixtures
colloids
suspensions
Mixtures
2 or more substances combined
uniform (same)
throughout
non-uniform
homogeneous
mixtures
solid
liquid
gas
All solutions have a solute
(lesser percentage)
dissolved in a solvent
(higher percentage)
solid
Alloys: uniform mixtures of a metal with
other metals or elements
Examples:
Brass (copper and zinc)
Bronze (copper and tin)
Steel (iron, carbon and
other metals)
Hint!! If you know it is a metal, but it is not an element on the
Periodic Table it must be ….
liquid
A liquid solution is some type of solute (solid, liquid or gas)
dissolved in a liquid solvent
All liquid solutions are clear, but they can be colored.
If the solvent is water, the solution is called aqueous
An aqueous solution can be represented by the phase subscript (aq)
For example: NaCl(aq) means a solution of NaCl (sodium chloride) solute
dissolved in water
gas
A gaseous solution has a gas as the solvent. Solutes can be liquids or gases.
An example of a gaseous solution is your breath, which is a homogeneous mixture
of air, carbon dioxide and water.
Mixtures
2 or more substances combined
non-uniform
heterogeneous
mixtures
colloids
suspensions
The main difference between a colloid and a suspension is that a suspension
will settle, or separate, over time. A colloid will appear uniform to the naked
eye, though it is not uniform on a microscopic level.
heterogeneous
mixtures
non-uniform
colloids
Colloids are generally recognized as
either gels, foams or emulsions.
A foam contains some type of gas (often air)
dispersed throughout a liquid or solid.
An emulsion is something creamy, like mayonnaise.
Colloids will always exhibit the Tyndall effect
(scattering of light) even if they appear to be clear
to the naked eye.
heterogeneous
mixtures
non-uniform
suspensions
A suspension contains easily visible parts, either layers or particles, which
separate over time.
If the label says "Shake before
using", that means it is a
suspension. An example is
medicine for babies.
Questions: Answer the following questions in your notebook. Be sure to number
your answers. This will be shown to your teacher for a homework grade.
1. What are the two main parts of a solution?
2. Other than the examples given in this PowerPoint. List two more examples of
solid solutions.
3. Identify the solute and solvent in seltzer water.
4. Air is about 79% nitrogen, 20% oxygen and 1% other gases. What
is the solvent in air? Explain your choice.
5. What is the main difference, in appearance, between a colloid and a suspension?
6. What type of mixture is the cream (the white filling) in
an oreo cookie?