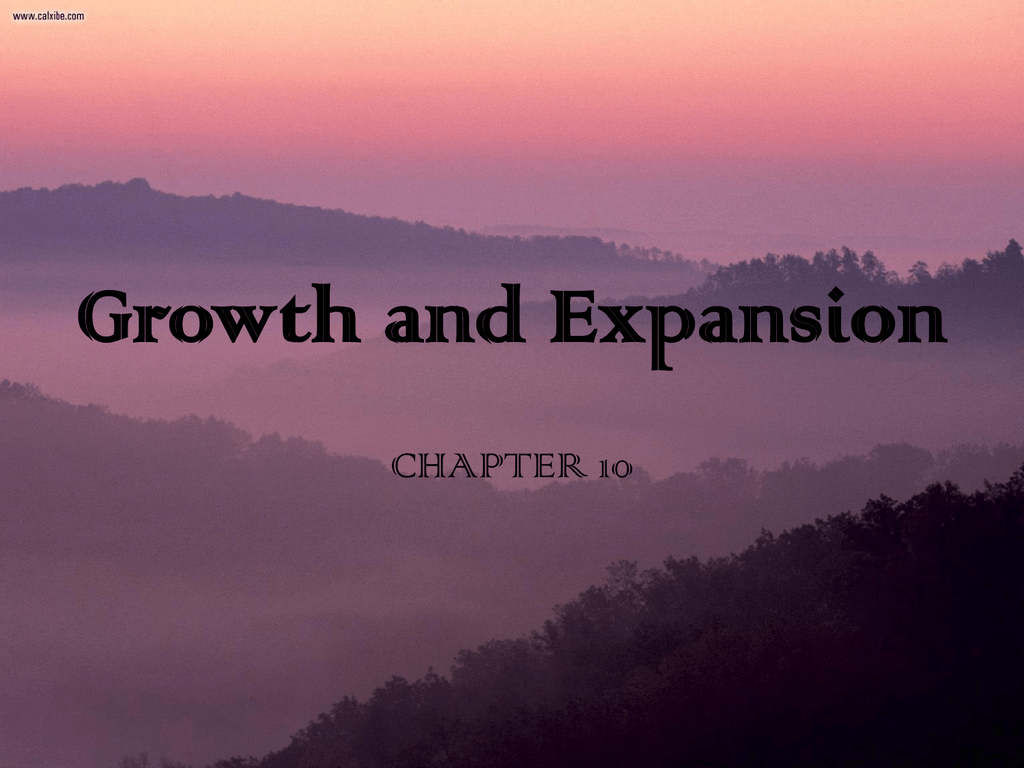 Growth and Expansion
CHAPTER 10
I.Industrial Revolution
A. CHANGE;
B. New England's geographical location
1. Why New England?
C. Eli Whitney and Interchangeable Parts
1. Define:
II. Factory System
A. Define:
B. Cities began to grow quickly?
III. Lowell "
"
A. Average "mill girl" was between
yrs. old
1. Most stayed no more than 5 years.
a.
B. Reasons for working
1.
2.
3.
C. Graphic, p. 305
Moving West
(Trans-Appalachian Frontier)
(
)
I.Heroes of the Frontier
A.Davy Crockett
1.
2.
B. Daniel Boone
1.
C. Natty Bumppo
1. Created by author James Fenimore Cooper
2. Inspired thousands – "that band of
pioneers…opening the way for the march of the
nation across the continent"
D.How are these stories and heroes important to
U.S. History?
II. Population Center
A. By 1820, new states included IN, IL, OH,
Alabama, Mississippi, and Louisiana
B. Why did people move?
1.
2.
3.
C. What is the population Center?
1. Location in US where there is equal # of
people N, S, E, W
II. Population Center
A. By 1820—new states included:
B. Why did people move?
1.
2.
3.
C. What is the Population Center?
D. According to the 2000 Census….
1. ALL states grew during the 1990s
a. immigrants; why are they hard to
measure?
b. births surpassing deaths
2. the West grew the fastest of any
region
a.
1.Outsourcing:
2.Downsizing:
III. Settling the West
A. Jefferson's Land Ordinance of 1785
1. established very clear boundaries using
longitude and latitude, NOT trees or other
natural markers
a. why important?
B. Schools (Northwest Ordinance of 1787) and
churches established
1. Reminder: government has no involvement
with churches
a.
Monroe Doctrine
I.James Monroe becomes president in 1816.
A.Negotiations with Spain added (
) and the
Oregon country
1.U.S. now extended to Pacific Ocean
B.Monroe Doctrine
1.Noncolonization:
American continents CLOSED to future European
colonization efforts
a.
2.Nonintervention:
U.S. would not interfere with internal
problems of European countries
a.
3.Emphasized the New World was SEPARATE from
the Old World
a.
4.U.S. won respect of Europe through bold
efforts
a.
b.