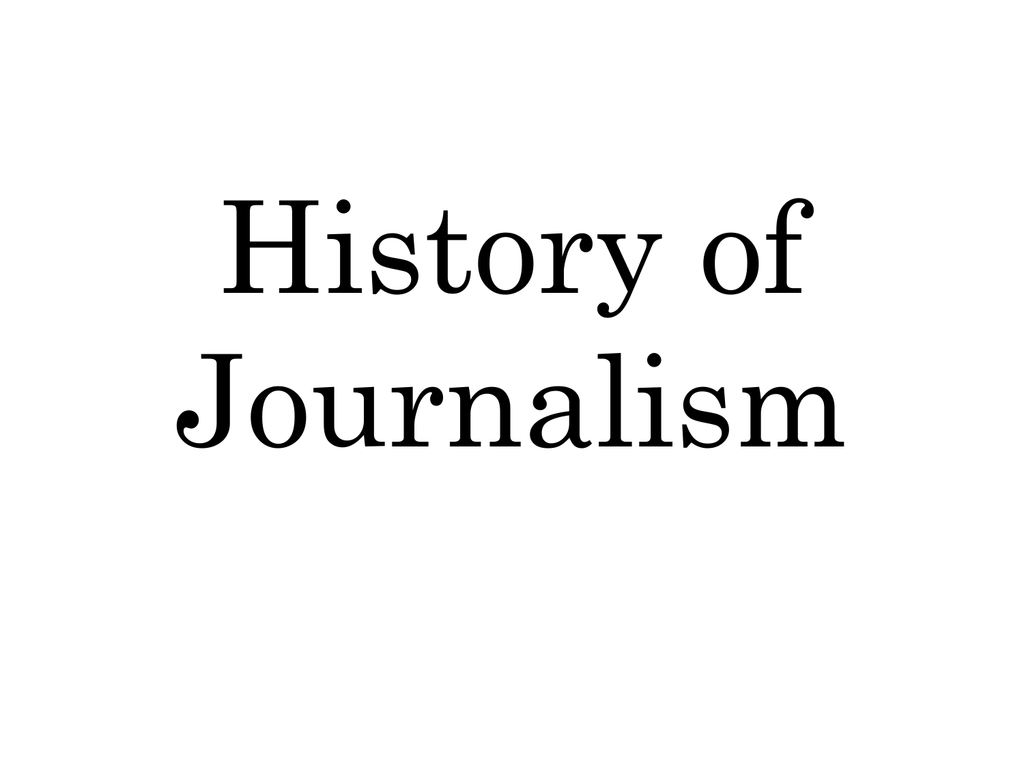 History of
Journalism
59 BC
The first newspapers
• Over 2000 years
ago, Ancient
Romans hand
wrote news
sheets that were
posted around
the city.
1439
Johannes Gutenberg
develops printing press
• Whoa! Sharing
written information
just became WAY
easier!
1500s
People start sharing
criticisms through writing
• Members of the press
criticize and make fun of
the king. Before this
time, most citizens would
never dream of talking
out against the
government .
1704
First American newspaper
• The Boston NewsLetter was one page
long and was
published once each
week.
1791
First Amendment
• The Bill of Rights is the first 10
amendments to the United States
constitution.
• Journalists see the First Amendment as
VERY, VERY IMPORTANT because it
guarantees freedom of the press.
1791
First Amendment
• Congress shall make no law respecting an
establishment of religion, or prohibiting the
free exercise thereof; or abridging the
freedom of speech, or of the press; or the
right of the people peaceably to assemble,
and to petition the Government for a
redress of grievances
1860s
Photos in the news
• During the Civil
War, a new
invention called the
camera showed
citizens the news
like never before.
1860s
Invention of the telegraph
• News picked up
speed! Reporters
sent encoded news
back to their papers
as it was happening.
Early 1900s
Daily newspapers
• Most big cities have a daily newspaper.
• Famous newspaper publishers William
Randolph Hearst and Joseph Pulitzer try
to win readers with wild stories.
1920s – 1940s
Radio
• Families
gather around
the radio to
hear the day's
news.
1950s – 1970s
Early TV news
• Less than 1 percent of households
owned a television in 1948. By 1970,
almost 90 percent of households had at
least one television.
1950s – 1970s
Journalists investigate
stories that change history
• Because of the hard
work of journalists,
American history
will forever be
changed.
1980
CNN
• Cable News Network, or CNN, makes
news available 24 hours a day. This
changes news forever.
1982
USA Today
• America's first and only national daily
newspaper starts publication.
1990s – 2000s
Internet
• News becomes instant.
Remember this?
Present day
News never stops.
• News is information.
• News is knowledge.
• News is freedom.