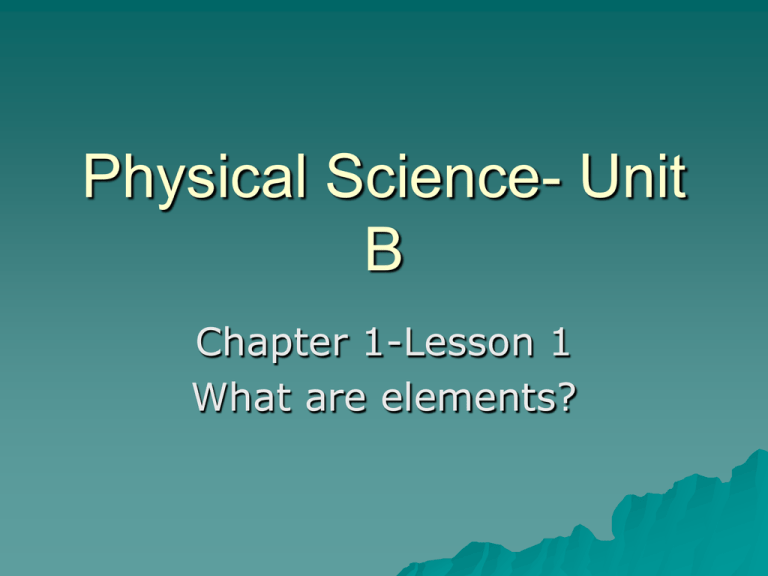 Physical Science- Unit
B
Chapter 1-Lesson 1
What are elements?
What is matter?
 Matter
is
anything that
has mass and
takes up
space
What are the building blocks of
matter?
 ELEMENTS
cannot be
broken down
into another
substance by
heat light or
electricity
What is the periodic table?
A
chart that
classifies
elements by
their
properties
 Created by
Russian
ScientistMendeleev
What are atoms?
The smallest
particles of an
element that
has the
properties of
the element
 Contains
proton,
neutrons and
electrons

How do elements differ from each
other?
By their
propertiesmetals, nonmetals, etc…
 By the # of
protons,
neutrons and
electrons in
each atom of
the element

Lesson 2:
What are compounds?
What are molecules?
 Smallest
unit of most substances
 Two or more atoms joined together
What are compounds?
 Two
or different elements that join
together
 Difficult to separate once joined
 Forms a new substance
 Atoms chemically combine
What are chemical formulas?
Examples:
H2O=water-
(two atoms of
hydrogen one oxygen)
CO2= carbon dioxide
(one carbon, 2 oxygen)
CaCO3= calcium
carbonate (1 Calcium, 1 carbon, 3
oxygen atoms)
Lesson 3:
What are mixtures and
solutions?
What are mixtures?
2
or more
substances
that are
mixed and
CAN be
separated
 Ex. salad
What are the different types of
mixtures?
 Homogeneous-
same amount of
particles
throughout
(milk)
 Heterogeneousa mix of particles
in different
amounts
What is a solution?
A
mixture in
which
substances
break up into
their most basic
parts that can't
be seen
 Particles spread
evenly
throughout
Lesson 4:
How can substances be
described?
What are physical properties of
matter?
• characteristics of matter
that you can observe with
your senses (texture, shape,
luster, hardness,
magnetism…)
•Also mass and weight
What are physical changes?
•A change in one or more
physical properties
•No new substance is
formed
•Ex. Snowman melting,
folding or ripping paper,
grinding peanuts
What are chemical properties?
•Describes the way a
substance reacts with
other substances
•Ex. Statue of libertycopper that turned green
What are chemical changes?
• a change that produces a
brand new substance with
new properties
•Ex. Baking a cake, food
burning, baking soda and
vinegar!