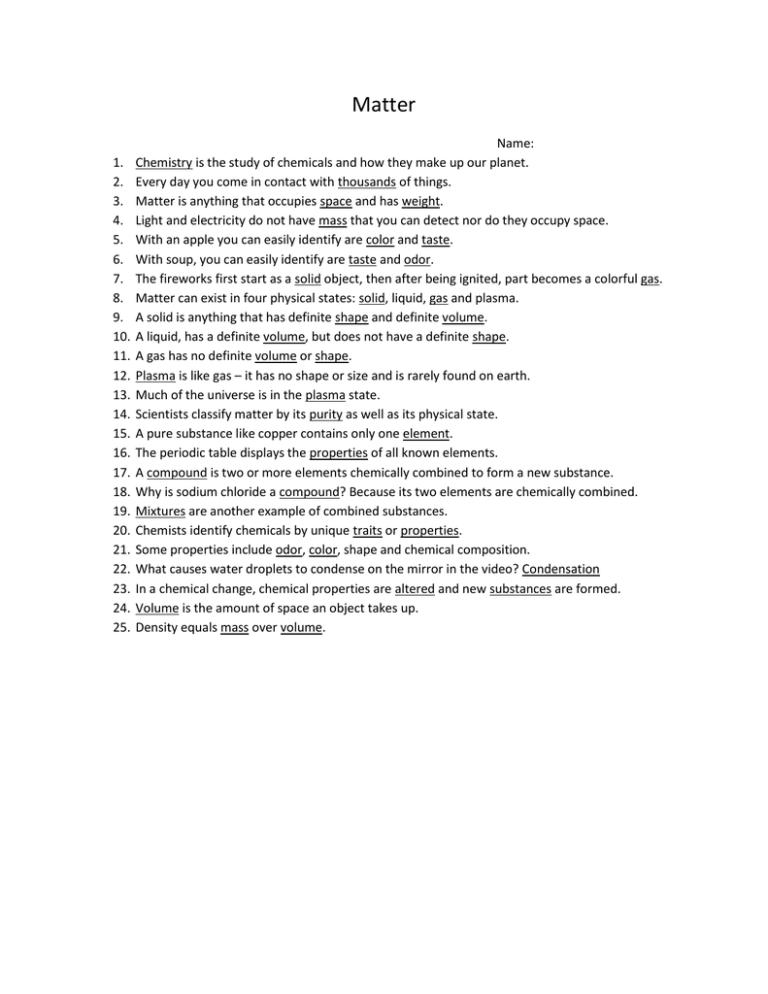 Matter
1.
2.
3.
4.
5.
6.
7.
8.
9.
10.
11.
12.
13.
14.
15.
16.
17.
18.
19.
20.
21.
22.
23.
24.
25.
Name:
Chemistry is the study of chemicals and how they make up our planet.
Every day you come in contact with thousands of things.
Matter is anything that occupies space and has weight.
Light and electricity do not have mass that you can detect nor do they occupy space.
With an apple you can easily identify are color and taste.
With soup, you can easily identify are taste and odor.
The fireworks first start as a solid object, then after being ignited, part becomes a colorful gas.
Matter can exist in four physical states: solid, liquid, gas and plasma.
A solid is anything that has definite shape and definite volume.
A liquid, has a definite volume, but does not have a definite shape.
A gas has no definite volume or shape.
Plasma is like gas – it has no shape or size and is rarely found on earth.
Much of the universe is in the plasma state.
Scientists classify matter by its purity as well as its physical state.
A pure substance like copper contains only one element.
The periodic table displays the properties of all known elements.
A compound is two or more elements chemically combined to form a new substance.
Why is sodium chloride a compound? Because its two elements are chemically combined.
Mixtures are another example of combined substances.
Chemists identify chemicals by unique traits or properties.
Some properties include odor, color, shape and chemical composition.
What causes water droplets to condense on the mirror in the video? Condensation
In a chemical change, chemical properties are altered and new substances are formed.
Volume is the amount of space an object takes up.
Density equals mass over volume.