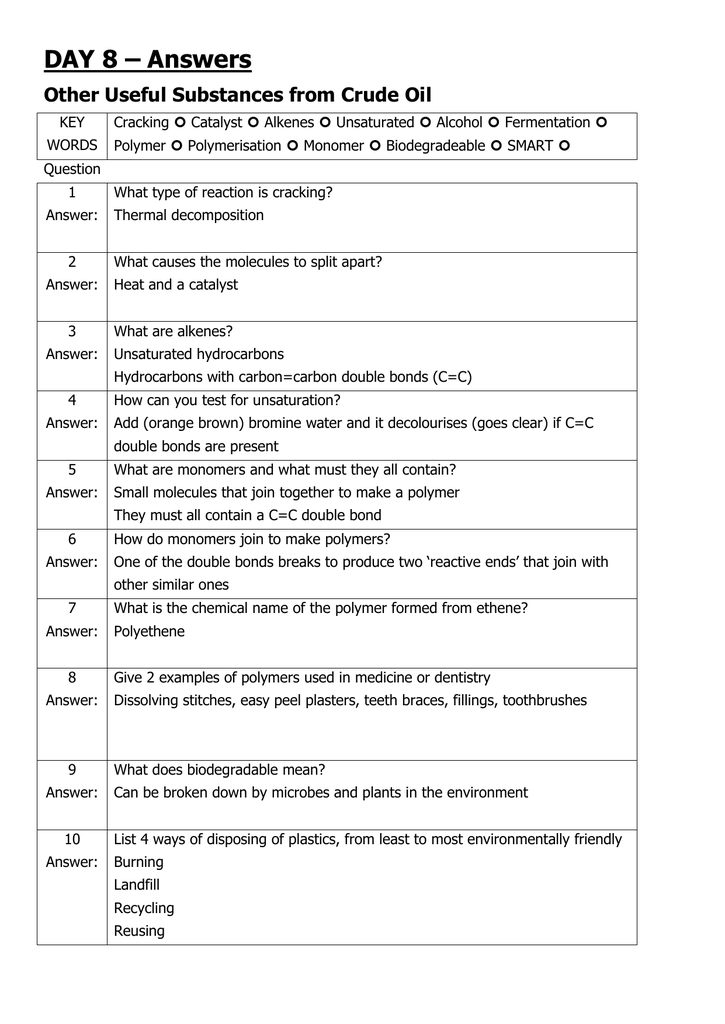 DAY 8 – Answers
Other Useful Substances from Crude Oil
KEY
WORDS
Cracking  Catalyst  Alkenes  Unsaturated  Alcohol  Fermentation 
Polymer  Polymerisation  Monomer  Biodegradeable  SMART 
Question
1
Answer:
2
What type of reaction is cracking?
Thermal decomposition
What causes the molecules to split apart?
Answer:
Heat and a catalyst
3
What are alkenes?
Answer:
Unsaturated hydrocarbons
Hydrocarbons with carbon=carbon double bonds (C=C)
4
Answer:
How can you test for unsaturation?
Add (orange brown) bromine water and it decolourises (goes clear) if C=C
double bonds are present
5
What are monomers and what must they all contain?
Answer:
Small molecules that join together to make a polymer
They must all contain a C=C double bond
6
Answer:
How do monomers join to make polymers?
One of the double bonds breaks to produce two 'reactive ends' that join with
other similar ones
7
Answer:
8
Answer:
9
Answer:
10
Answer:
What is the chemical name of the polymer formed from ethene?
Polyethene
Give 2 examples of polymers used in medicine or dentistry
Dissolving stitches, easy peel plasters, teeth braces, fillings, toothbrushes
What does biodegradable mean?
Can be broken down by microbes and plants in the environment
List 4 ways of disposing of plastics, from least to most environmentally friendly
Burning
Landfill
Recycling
Reusing
DAY 9
Plant Oils and their Uses
KEY
WORDS
Oils  Unsaturated  Bromine water  Hydrogenation  Nickel catalyst 
Saturated  Emulsion  Emulsifier  Hydrophilic  Hydrophobic 
Question
1
What 2 methods are used to extract vegetable oils
Answer:
2
Why are vegetable oils important as foods and fuels?
Answer:
3
Give 3 ways food cooked in oil differs from food cooked in water?
Answer:
4
What is meant by an unsaturated oil
Answer:
5
What can you use to test an oil for unsaturation?
Answer:
6
What type of chemical reaction is hydrogenation?
Answer:
7
Why are oils hydrogenated?
Answer:
8
How are emulsions made?
Answer:
9
How do emulsifiers work?
Answer:
10
Answer:
How are emulsions different from the liquids it is made from?