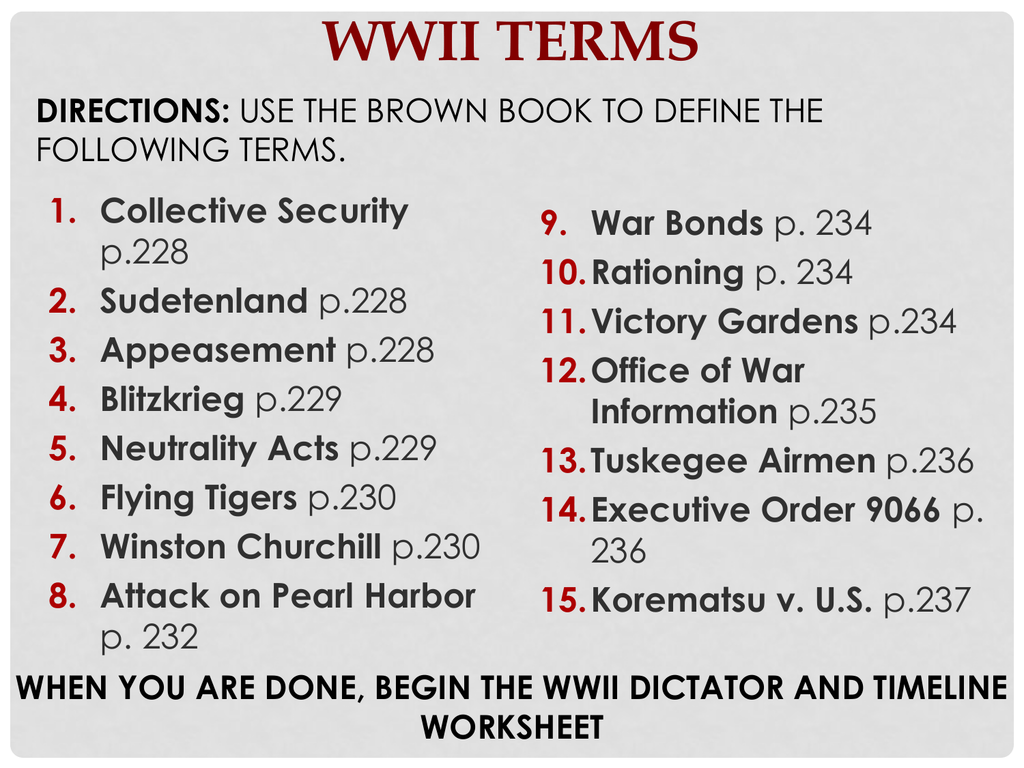 WWII TERMS
DIRECTIONS: USE THE BROWN BOOK TO DEFINE THE
FOLLOWING TERMS.
1. Collective Security
9. War Bonds p. 234
p.228
10. Rationing p. 234
2. Sudetenland p.228
11. Victory Gardens p.234
3. Appeasement p.228
12. Office of War
4. Blitzkrieg p.229
Information p.235
5. Neutrality Acts p.229
13. Tuskegee Airmen p.236
6. Flying Tigers p.230
14. Executive Order 9066 p.
7. Winston Churchill p.230
236
8. Attack on Pearl Harbor
15. Korematsu v. U.S. p.237
p. 232
WHEN YOU ARE DONE, BEGIN THE WWII DICTATOR AND TIMELINE
WORKSHEET
CH 12: AMERICA IN WWII
1941-1945
ORIGINS OF WORLD WAR II
4 main reasons for the beginning of World War II:
1. WWI (Treaty of Versailles)
2. Rise of the Dictators
3. Failure of the League of Nations without U.S.
4. Appeasement Fails
1. WWI & TREATY OF VERSAILLES
• Countries who lost WWI
• Citizens had a very emotional response
• felt scared and weak after WWI
• Easily taken advantage of by their governments
• Veterans of WWI in Europe and Asia
• Saw war firsthand, became hardened
• Violence becomes regular part of politics
• Sets the table for World War II
• Axis Powers are created:
• Germany
• Italy
• Japan
Main countries involved
2. RISE OF DICTATORSHIPS
1.
Soviet Union • First Communist state
• Joseph Stalin
• Communist
• Brutal totalitarian
3.
Japan
• Insulted and rejected for
their part in WW1
• Hediki Tojo
• Imperialist
1. Germany • Took blame for WWI
• military decreased
• Depression
• Adolf Hitler
• Nazi
• Aggressive leader,
wanted to dominate
Europe
4.
Italy
• Received nothing from
the Treaty of Versailles.
• Benito Mussolini
• Fascist
3. FAILURE OF THE LEAGUE OF
NATIONS
• League of Nations
• Group of allied nations
• Purpose: Prevent future wars
• Too weak to stop dictators
• USA refused to join
4. APPEASEMENT FAILS
• Hitler's goal=expand Germany
• Took over Austria in 1938
• Wanted the Sudetenland (part of Czechoslovakia)
• Britain and France said no but backed down when Hitler
threatened with war.
• Munich Conference
• Britain and France gave Hitler land (part of
Czechoslovakia) hoping for peace
• Appeasement
• Giving in to the enemy
• Failed…
GERMANY & SOVIET UNION
• Hitler wanted more
land!
• Entered a NonAggression Pact with
the Soviet Union
• Hitler and Stalin secretly agree
to invade and divide Poland
together
• Agreed to be allies
• 1939
• WWII starts in Europe
• Germany and the
Soviet Union take
Poland
GERMANY BREAKS THE
NON-AGGRESSION PACT
• 1941: Germany invades Soviet Union
• Hitler's biggest mistake.
AMERICA'S NEUTRALITY
• USA wanted to avoid getting involved in the
war
• FDR was too concerned with ending the Great
Depression
• Laws passed to keep us out of war
JAPAN
• Country with many
people and few
resources
• Eventually they look
to other countries for
more resources
• Begin invading Asian
countries
• In response the USA
cuts off trade with
Japan
• Japan plans a
surprise attack on US.
ATTACK ON PEARL
HARBOR
• December 7. 1941
• Pearl Harbor, Hawaii
• 2 waves of Japanese airplanes
attacked the US Pacific fleet
• 18 Ships sank or severely damaged
• 260 airplanes damaged/destroyed
• 6,000 Americans injured or killed
Petty Officer Doris Miller
Hero of Pearl Harbor
Highly awarded
AMERICA DECLARES WAR
• December 8, 1941 (the
day after the attack)
• "A day that will live in
infamy" -FDR
• U.S. declares war on
Japan
• Axis Powers:
• Germany
• Italy
• Japan
• Allied Powers:
• U.S.A
• Great Britain
• France
• USSR (Soviet Union)
THE HOME FRONT
• Many people volunteered to
help the war effort.
• Citizens helped pay for the
war by purchasing war
bonds.
• The government used ration
books to ration food and
goods to save some for
soldiers.
• Victory Gardens planted by
citizens to provide themselves
with vegetables and fruits.
WOMEN IN WWII
• While the men went to war women worked in the
factories
• Rosie the Riveter represented these working women
• Worked as volunteers and nurses in the armed services
• Started making money
ETHNIC MINORITIES
• African-Americans
• segregated units
• Tuskegee Airmen
• fly escort planes for the bombers
• Vernon Baker
• receives Medal of Honor
• Doris Miller
• Native Americans
• enlisted in higher proportion than other groups
• Navajo Code Talkers
• Used their Native language to communicate so enemies
couldn't understand
• Mexican Americans fought in all battles
OFFICE OF WAR INFORMATION
Office of War Information
• Controlled American propaganda about the war.
• Posters, newsreels and radio broadcasts designed to
support American patriotism and make people hate the
Axis powers.
BELL RINGER
Thinking back…to chapter 4
Match each right/freedom to the correct Amendment:
1.
2.
3.
4.
Right to bear arms
Freedom of Religion
Right to a jury
Arrests and
searches
5. Freedom of petition
6. Rights of people
accused of crimes
A.
B.
C.
D.
E.
F.
G.
H.
I.
J.
1st Amendment
2nd Amendment
3rd Amendment
4th Amendment
5th Amendment
6th Amendment
7th Amendment
8th Amendment
9th Amendment
10th Amendment
WWII
• America and the Allies fought both in Europe and in
the Pacific
WAR IN EUROPE
Axis Power in 1942
• USA starts with German
troops
• Allied forces take
Northern Africa first
• Then Cross the
Mediterranean Sea and
take Sicily then Italy.
• Soviet Union pushes
through Poland from
the East
• D-Day Invasion on the
Normandy coast put
Allies in position to
attack the Axis from the
west.
D-DAY INVASION
TWO FRONT WAR
• Two Front War
• Allies push Germans
from the West
• Soviet Union pushes
Germans from the East
• Allied leaders
continue to push
German army to the
north
WAR IN EUROPE
• Battle of the Bulge
• Final major battle of the
war
• on German border with
France and Belgium
• December, 1944
• May 1945
• Germans surrender
• V-E Day
• Victory in Europe
• Hitler commits suicide
HOLOCAUST
• After the war we discover evidence of the
Holocaust.
• Hitler's "solution" to the Jewish "problem"
• Hitler blamed Jews for Germany's problems
• Attempted genocide of Jews
• Effort to murder an entire people or nationality
• Placed in concentration camps, forced to do hard labor,
experimented on, etc.
• Hitler was responsible for the deaths of
•
•
•
•
•
6 million Jews
700 thousand Gypsies
100,000 Homosexuals
100,000 of African and Hispanic dissent
Also, political prisoners and the mentally-disabled
HOLOCAUST
https://www.
youtube.co
m/watch?v=
JctyAwH1d2
o
HOLOCAUST
• Watch the following clip then finish the prompt:
• https://www.youtube.com/watch?v=JctyAwH1d2o
• Write the following prompt and complete the
statement:
• If I were an Allied soldier who discovered a
concentration camp I would_______________
because___________________.
• Your response can be more than one word.
BELL RINGER
• WWII TEST WEDNESDAY (ADay)/THURSDAY (BDay)
• Watch CNN Student News
• Answer or complete one of the following questions:
1.
2.
3.
4.
Why is Iowa important the presidential election?
What is a negative aspect about the Iowa Caucuses?
How does music affect your brain?
I found the story about _______ interesting because
_____________.
NUREMBERG TRIALS
• The end of the war revealed
the full extent of Nazi terrorism.
• Surviving Nazi leaders were put
on trial
• Many were hanged or imprisoned.
• The trials demonstrated that
individuals are responsible for
their actions, even in times of
war.
NUREMBERG TRIALS
DIVISION OF GERMANY
• After the war, Germany
is divided into four zones
• Each zone is occupied by
Axis powers
• U.S., Britain, France, Soviet
Union
• They worked to "denazify"
Germany
JAPANESE AMERICANS
• After the attack on Pearl Harbor, many Americans
feared Japanese Americans
• The government forced many Japanese Americans to live in
Internment Camps
• Executive Order 9066
• Korematsu v. U.S. was a court case that attempted to
declare the camps unconstitutional but it failed
WAR IN THE PACIFIC
• Use the McGraw Hill book to complete the handout
on the War in the Pacific.
• The last question is an opinion question and should
not match someone else's
• It should also be 5 sentences long
WAR IN THE PACIFIC
• Japan was
successful the first
two years of war.
• Bataan Death
March
• American and
Filipino prisoners
were marched 60
miles through the
jungle with no food
• About 5000
Americans died.
WAR IN THE PACIFIC
• US gains superiority against
Japan
• War tactic: Island-Hopping
• Liberating pacific islands from
Japanese rule
• Troops "hop" from island to
island
• Battle of Midway
• turning point for USA
• Led by Admiral Nimitz
• Douglas MacArthur
• Army commander in the Pacific
• Assault on Okinawa
• Attack on Japanese
• similar to D-Day
MANHATTAN PROJECT
• Albert Einstein
• (German refugee)
• informs President Roosevelt that the
Germans are developing an atomic
bomb.
• Organizes the Manhattan Project
• Scientists to develop atomic bomb
• Roosevelt died several months after
his fourth electoral victory
• President Harry S Truman is left to
decide about dropping the bomb.
THE BOMB IS DROPPED
• In Hiroshima and Nagasaki
• 230,00 killed
• Truman felt that it saved American lives.
• Japan surrenders in August of 1945
OCCUPATION OF JAPAN
• General MacArthur was
assigned the task of
rebuilding
• Japan lost their overseas
empire.
• Military leaders were put on
trial and punished.
• Japan renounced the use of
nuclear weapons
• Agreed not to wage war.
NEWSPAPER ASSIGNMENT
• Imagine you are a journalist in the 1940s. Your job is
to write 3 articles about WWII.
• You will select 3 of the following topics and write 3
separate stories.
• For each topic, you must include the answers to all of the
questions.
• You also need to ad an image or an advertisement.