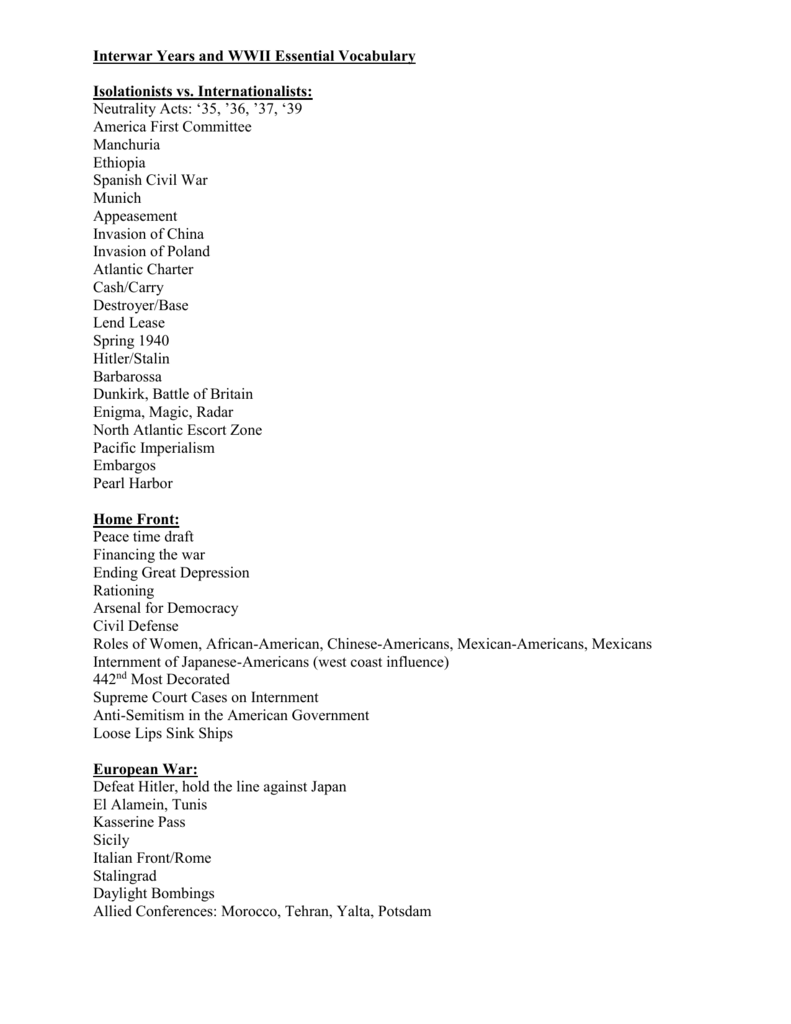 Interwar Years and WWII Essential Vocabulary
Isolationists vs. Internationalists:
Neutrality Acts: '35, '36, '37, '39
America First Committee
Manchuria
Ethiopia
Spanish Civil War
Munich
Appeasement
Invasion of China
Invasion of Poland
Atlantic Charter
Cash/Carry
Destroyer/Base
Lend Lease
Spring 1940
Hitler/Stalin
Barbarossa
Dunkirk, Battle of Britain
Enigma, Magic, Radar
North Atlantic Escort Zone
Pacific Imperialism
Embargos
Pearl Harbor
Home Front:
Peace time draft
Financing the war
Ending Great Depression
Rationing
Arsenal for Democracy
Civil Defense
Roles of Women, African-American, Chinese-Americans, Mexican-Americans, Mexicans
Internment of Japanese-Americans (west coast influence)
442nd Most Decorated
Supreme Court Cases on Internment
Anti-Semitism in the American Government
Loose Lips Sink Ships
European War:
Defeat Hitler, hold the line against Japan
El Alamein, Tunis
Kasserine Pass
Sicily
Italian Front/Rome
Stalingrad
Daylight Bombings
Allied Conferences: Morocco, Tehran, Yalta, Potsdam
Second Front
D-Day
Ardennes/Bulge
New Market
Rhine
Liberation of Camps
River Elbe
Fall of Berlin
V-E Day
Pacific War
Douglas MacArthur
Fall of the Philippines
Bataan Death March
James Doolittle/Raid
Midway
Coral Sea
Island Hopping
Tarawa Atoll (Gilbert Islands)
Amphtrac
Kwajalein Atoll (Marshall Islands)
Marianas Islands (Saipan, Tinian, Guam)
Guadalcanal
New Guinea
Recapture the Philippines (Leyte Gulf)
Kamikaze
Iwo Jima
Curtis LeMay: napalm
Okinawa
Japanese Terms for Surrender
Manhattan Project
Atomic bomb decision
USS Indianapolis
Tinian
Enola Gay
Little Boy & Fat Man
Hiroshima
Nagasaki
V-J Day
Post-War
Dumbarton Oakes Conference
International Military Tribunal
Nuremberg War Crimes Trials
Tokyo War Crimes Trials
Interwar Years and WWII Essays/Essential Questions
1. Did our neutrality contribute to a longer war?
2. How did the "Home Front" help win the war?
3. How did the United States take the approach of defeat Hitler first?
4. While aggressively challenging Hitler, how did the United States hold the line against
and eventually defeat Japan?
5. What motivated world leaders to both create the United Nations and hold war crimes
trials after WWII?
Remedial
1. Categorize the isolationist vs. internationalist ideas into the following categories:
Neutrality Policy
Appeasement Events
Supporting the Allies (British)
The Road to War
2. Categorize home front efforts: Building a military, supplying a military, homeland defense
3. Identify Allied successes against Hitler on each of the following fronts: Southern Front,
Eastern Front, Western Front.
4. Identify American actions in the Pacific as stopping Japanese expansion, controlling the sea
lanes, and defeating Japan.
5. Identify the failures of the Leagues of Nations and the policy of appeasement. Identify war
time atrocities committed by both Japan and Germany.
Enrichment
1. Compare and contrast America's neutrality policies in WWI and WWII
2. Cracks in the home front: Zoot Suit Riots, Japanese Internment, Black Market, Segregated
Military.
3. From the list of battles below, select one and demonstrate how it was a turning point in the
European Theater by explaining how it was geographically and strategically important.
Conclude by explaining how it fit into the Allied goal of defeating the NAZI's.
El Alamein, Monte Cassino, Normandy, Battle of the Bulge
4. Provide detailed examples of how Japanese history, philosophy, religion, and belief in racial
superiority created an unquestioningly faithful devotion to the Emperor and his orders.
5. What if the Axis powers won the war and the Allies lost? Who would the Axis Powers have
put on trial for crimes against humanity and for what reasons?