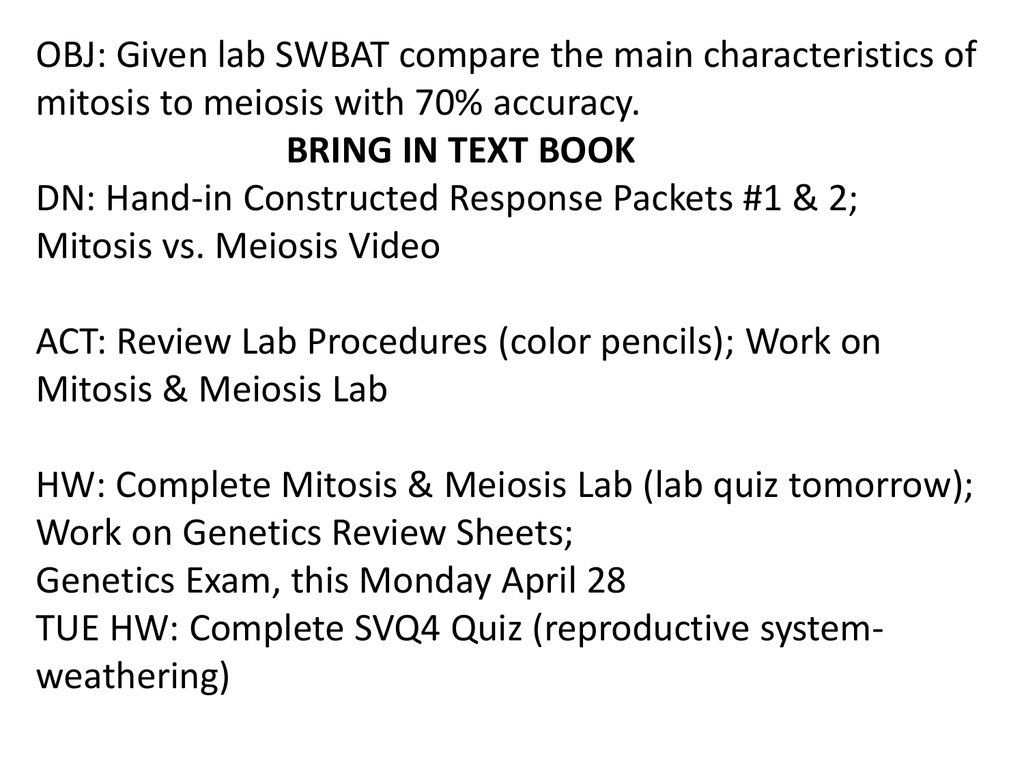 OBJ: Given lab SWBAT compare the main characteristics of
mitosis to meiosis with 70% accuracy.
BRING IN TEXT BOOK
DN: Hand-in Constructed Response Packets #1 & 2;
Mitosis vs. Meiosis Video
ACT: Review Lab Procedures (color pencils); Work on
Mitosis & Meiosis Lab
HW: Complete Mitosis & Meiosis Lab (lab quiz tomorrow);
Work on Genetics Review Sheets;
Genetics Exam, this Monday April 28
TUE HW: Complete SVQ4 Quiz (reproductive systemweathering)
Lab Notes
Offspring contains trillions of human body cells
Each human body cell = 46 chromosomes
Human sex cell (gametes) = 23 chromosomes
Human male sex cell = sperm (23)
Human female sex cell = egg (23)
_____________________________________
Mitosis (cell division, asexual): 46 → 46+46
My toes (Mitosis) are identical !!
_____________________________________
Me
sis (sexual): Sperm
23+23
→
46+46+46+46
Egg
Zygote Polar
Bodies
Sperm and egg = Me i o sis
Lab Notes: Page 1 Bottom Chart
Mitosis
Body cell
Meiosis
Sex cell
4
4
4
0
4
4
2
0
Lab Notes
1. mitosis: 2 daughter cells;
meiosis: 4 daughter cells
2. Sex cells (gametes)
3. Sex cells combine to produce a fertilized
egg (body cell; zygote); no fertilization
4. Rabbit sex cell= 22 chromosomes
5. So that when fertilization occurs, a 46
chromosome zygote forms; if a one
chromosome sex cell does not occur,
fertilization does not take place or a dead
fetus/embryo occurs (miscarriage).