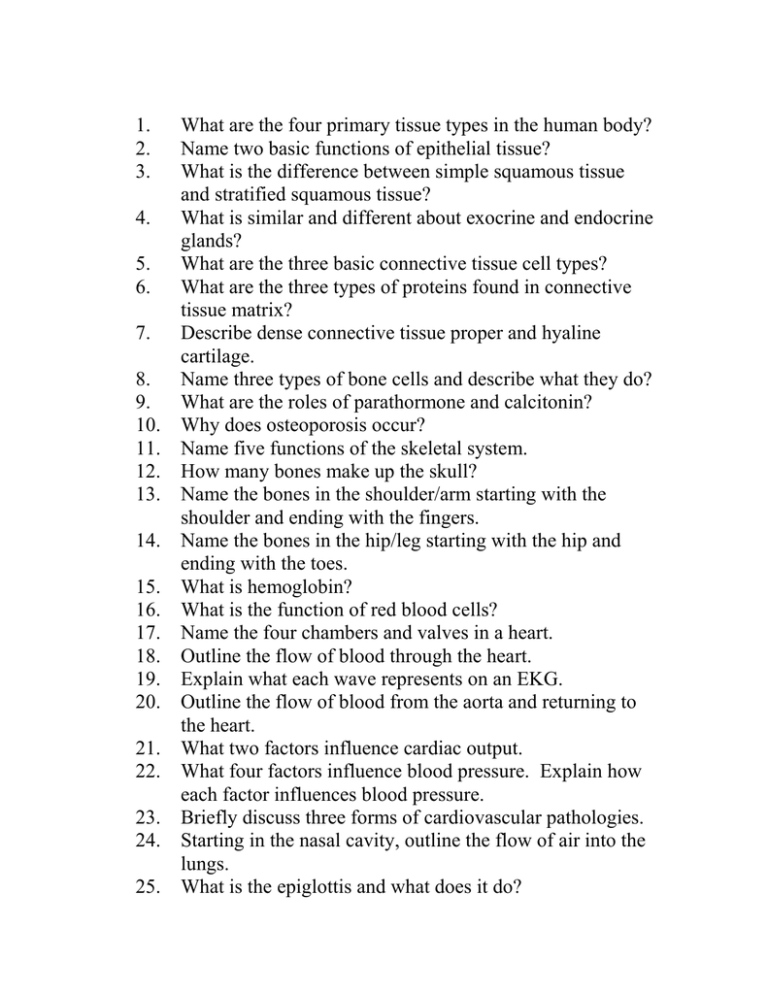 1.
2.
3.
4.
5.
6.
7.
8.
9.
10.
11.
12.
13.
14.
15.
16.
17.
18.
19.
20.
21.
22.
23.
24.
25.
What are the four primary tissue types in the human body?
Name two basic functions of epithelial tissue?
What is the difference between simple squamous tissue
and stratified squamous tissue?
What is similar and different about exocrine and endocrine
glands?
What are the three basic connective tissue cell types?
What are the three types of proteins found in connective
tissue matrix?
Describe dense connective tissue proper and hyaline
cartilage.
Name three types of bone cells and describe what they do?
What are the roles of parathormone and calcitonin?
Why does osteoporosis occur?
Name five functions of the skeletal system.
How many bones make up the skull?
Name the bones in the shoulder/arm starting with the
shoulder and ending with the fingers.
Name the bones in the hip/leg starting with the hip and
ending with the toes.
What is hemoglobin?
What is the function of red blood cells?
Name the four chambers and valves in a heart.
Outline the flow of blood through the heart.
Explain what each wave represents on an EKG.
Outline the flow of blood from the aorta and returning to
the heart.
What two factors influence cardiac output.
What four factors influence blood pressure. Explain how
each factor influences blood pressure.
Briefly discuss three forms of cardiovascular pathologies.
Starting in the nasal cavity, outline the flow of air into the
lungs.
What is the epiglottis and what does it do?
26. What is the difference between a bronchiole and a
bronchus? What is an alveolus?
27. Describe the basic mechanics involved in inspiration and
expiration.