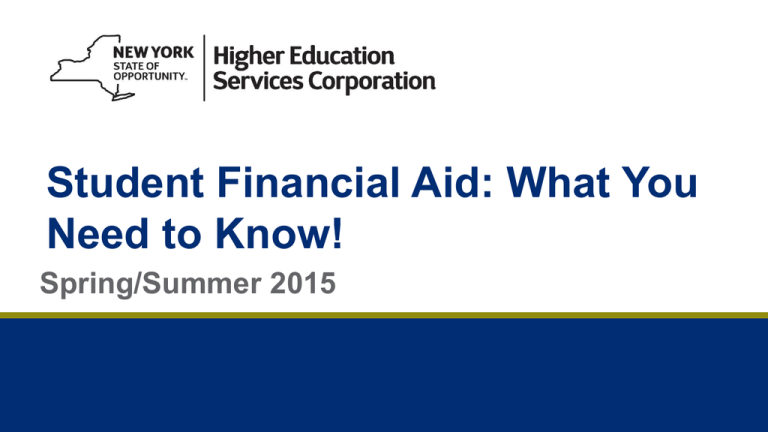 Student Financial Aid: What You
Need to Know!
Spring/Summer 2015
2
What is Financial Aid?
– Financial aid helps pay the cost of
attending college
– Some financial aid is based on need
– Some financial aid is awarded based
on other criteria, such as grades or
talent
3
Types of Financial Aid
– Scholarships – free money
– Grants – free money
– Work Study
– Loans
4
Sources of Financial Aid
– Federal government
– New York State
– Colleges (Institutional Aid)
– Private sources
5
Common Financial Aid Applications
• FAFSA – for federal student aid, the most commonly
filed aid application
• New York State TAP application – for aid at colleges
in New York State
• CSS Profile – institutional aid application required by
some colleges
• Scholarship Applications – private, institutional or
state programs
6
What is the FAFSA?
• Free Application for Federal Student Aid
• Used to determine need-based aid eligibility
•
Calculates the Expected Family Contribution (EFC)
• Apply starting January 1st of senior year
•
Check with each college for due dates
• Available online at FAFSA.GOV
•
Be careful of scam websites!
7
FAFSA.GOV
8
FAFSA4caster @ FAFSA.gov
9
FAFSA: Student Sections
• Student Information & Eligibility
– Basic info: address, email, name of high school, citizenship
status
• College Information
– Up to 10 colleges may be listed; can be updated by correction
• Dependency Determination
– Questions that will determine student's dependency status
10
FAFSA: Parent, Income, & Signature
Sections
• Parent Information & Income
– Marital status, name, date of birth, SSN, state of residence
– Household size, Number in college
– Income from most recent tax return, untaxed income, asset
information
• Student Income
• Signature Section
– Sign using the student and parent's FSA ID
11
Common Questions: FAFSA
• If we don't think we qualify for need-based
financial aid, do we still file the FAFSA?
– Many families mistakenly believe they do not
qualify
– Consult with colleges, FAFSA may be needed
for merit-based aid
12
Common Questions: Assets
• Do you report your home value or retirement
accounts on the FAFSA as an asset?
– No, your primary residence and tax deferred
retirement accounts are excluded from FAFSA
• How are 529 college savings plans treated?
– The value of 529 Plans, for all children, need to be
reported as a parent investment on the FAFSA
13
Tips for Maximizing FAFSA Eligibility
• Students applying to the FAFSA should have zero
income and assets, if possible
– Avoid UGMA/UTMA custodial accounts or trust funds
• Tax-deferred retirement accounts (IRAs, 401Ks, etc.) are
the best place to shift assets
• Lower savings account value by paying down debts or
prepaying mortgages
• Don't be afraid of 529 accounts!
14
Expected Family Contribution (EFC)
• Amount family can reasonably be expected to
contribute toward student's college expenses
• Used to determine eligibility for federal grants,
need-based aid at college
• Based on your responses to the FAFSA
questions
• Stays the same across colleges
15
Determining Need-based Aid Eligibility
Cost of Attendance (COA)
– Expected Family Contribution (EFC)
= Financial Need
16
Cost of Attendance (COA)
– Tuition & Fees
– Room & Board
– Books, Supplies
– Transportation
– Miscellaneous
Personal Expenses
17
Examples of Financial Need
COA
- EFC
= Financial
Need
College
A
$ 11,000
College
B
$30,000
College
C
$60,000
5,000
5,000
5,000
$ 25,000
$55,000
$ 6,000
18
Financial Aid
Programs
19
Federal Student Aid Programs
• Pell Grant
• Supplemental Educational Opportunity Grant
(FSEOG)
• Work-Study
• Perkins Loan
• Direct Stafford Loan
• Direct PLUS Loan
20
Studentaid.ed.gov
21
NYS Student Aid Programs
• Tuition Assistance Program (TAP)
– Need-based, up to $5,165/year
– For New York State residents only
– Full or part-time study at approved school in
New York State
– Based on NYS Income Tax information
22
Apply for New York State Aid
23
Other NYS Student Aid Programs
• NYS Science, Technology, Engineering and Mathematics
(STEM) Incentive Program
• NYS Scholarships for Academic Excellence
• NYS Achievement and Investment in Merit Scholarship
(NYS-AIMS)
• NYS Masters in Education Teacher Incentive
Scholarship Program
• NYS Math & Science Teaching Incentive Program
24
Visit hesc.ny.gov for more info
25
Applying for Institutional Aid
• Depends on funding and eligibility criteria at each
college
– Is the college need-blind or need-sensitive in admissions?
– Does the college meet full need for low-income
applicants?
– Are there any merit-based opportunities for families that
don't qualify for need-based financial aid?
• May require more applications than the FAFSA
– Is the CSS Profile required?
26
The CSS Profile
• Private application used by some colleges for awarding
institutional aid
• Collects more income, asset, expense info than FAFSA
– Non-custodial parent income, retirement account, home values,
etc.
• Application is not free, fee waivers are available
• Apply starting October 1st of senior year online at
collegeboard.org
27
CSS Profile @ collegeboard.org
28
Tip: Use Net Price Calculators
29
SUNY Net Price Calculator
30
Other Sources: Outside Aid
• Private scholarship programs are widely available
– sponsored by charity, business, religious, civic and
minority organizations
• Each have their own application process, eligibility
criteria, and deadlines
• Inquire with each college about impact on financial aid
package
• Be organized and start applying early!
31
Scholarship Searching
• Online scholarship search websites
– Fastweb.com
– Collegeboard.org
– Scholarships.com
• Check your local library, employer or union
• Avoid scholarship scams
– Unnecessary fees, ID theft
32
Questions?